News
10 Visually Stunning Sci-Fi Movie Scenes That Weren't CGI
Summary
Practical effects can create visually powerful and memorable scenes, as demonstrated by the destruction of the White House in Independence Day.
The commitment to realism in films like Apollo 13 and Inception, through the use of practical methods instead of CGI, adds authenticity and impact.
Filmmakers like Christopher Nolan prioritize tangible artistry and real human energy, ensuring a genuine cinematic experience that surpasses digital tricks.
In today's sci-fi films, fancy CGI and special effects usually steal the spotlight, but not always. Think Marvel Cinematic Universe or Star Wars; two franchises that are all about digital dazzle. But there's a rare breed of sci-fi that doesn't heavily rely on flashy set pieces such as those. Before the advancement of film technologies, many successful films weren't equipped with CGI capabilities, but still wowed with unique, creative techniques. It's a choice that screams authenticity and adds a dose of creativity and realism to the mix.
Despite CGI taking the lead in a majority of movie scenes, a select few distinguish themselves by creating spectacular visuals in a more practical way. Remarkably, these choices not only work, but also reaffirm that, even without CGI, a well-crafted story and practical effects can create a timeless cinematic experience that surpasses tech-heavy trends.
10
The White House Destruction
Independence Day (1996)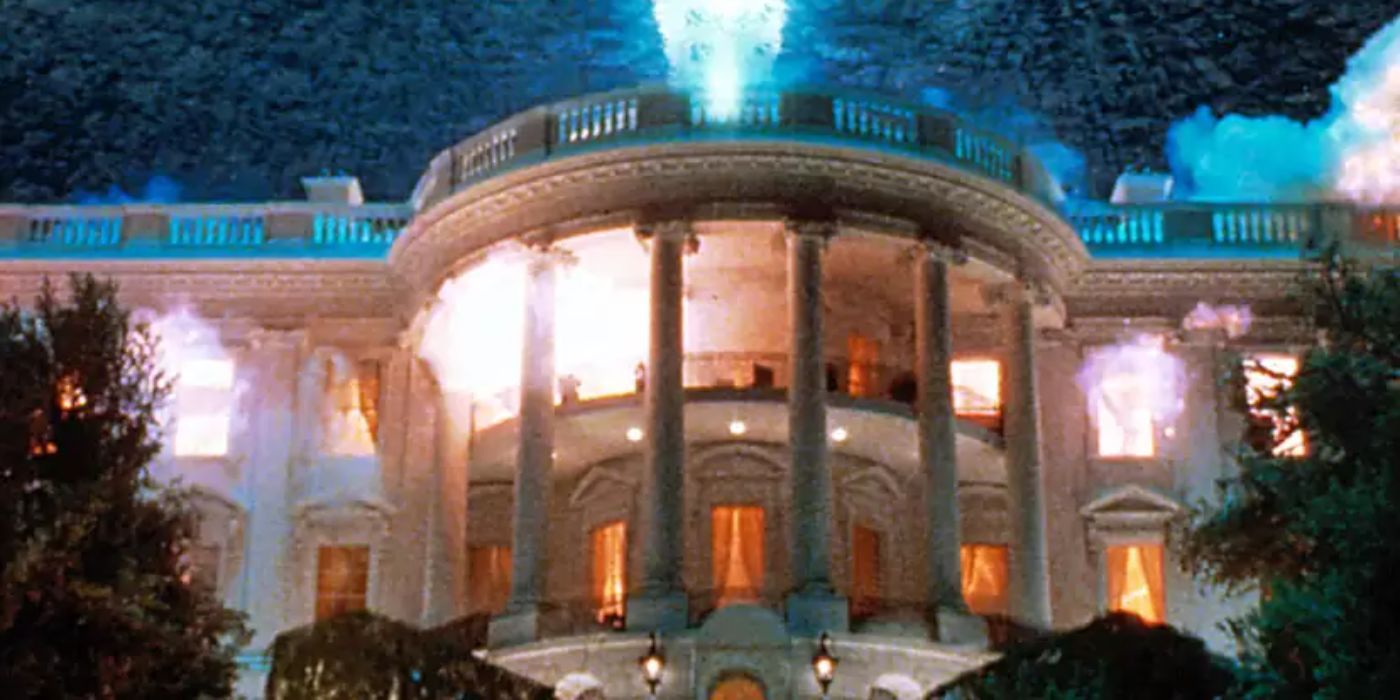 Independence Day
Release Date

June 24, 2016

Director

Roland Emmerich

Cast

Bill Pullman, Sela Ward, Vivica A. Fox, Jessie Usher, Charlotte Gainsbourg, Liam Hemsworth, Maika Monroe, Judd Hirsch, Brent Spiner, William Fichtner, Jeff Goldblum, Joey King

Rating

PG-13
The scene in which the White House is destroyed in Independence Day is a great example of using practical effects. The filmmakers made a detailed, miniature copy of the White House, and then blew it up, showing their commitment to hands-on craftsmanship. This choice, avoiding computer effects, made the scene visually powerful and memorable. It's a clear demonstration of the choice to prioritize tangible artistry over digital tricks, with the explosive destruction of the model White House proof of dedication to practical effects in creating impactful, on-screen moments.
9
Zero Gravity
Apollo 13 (1995)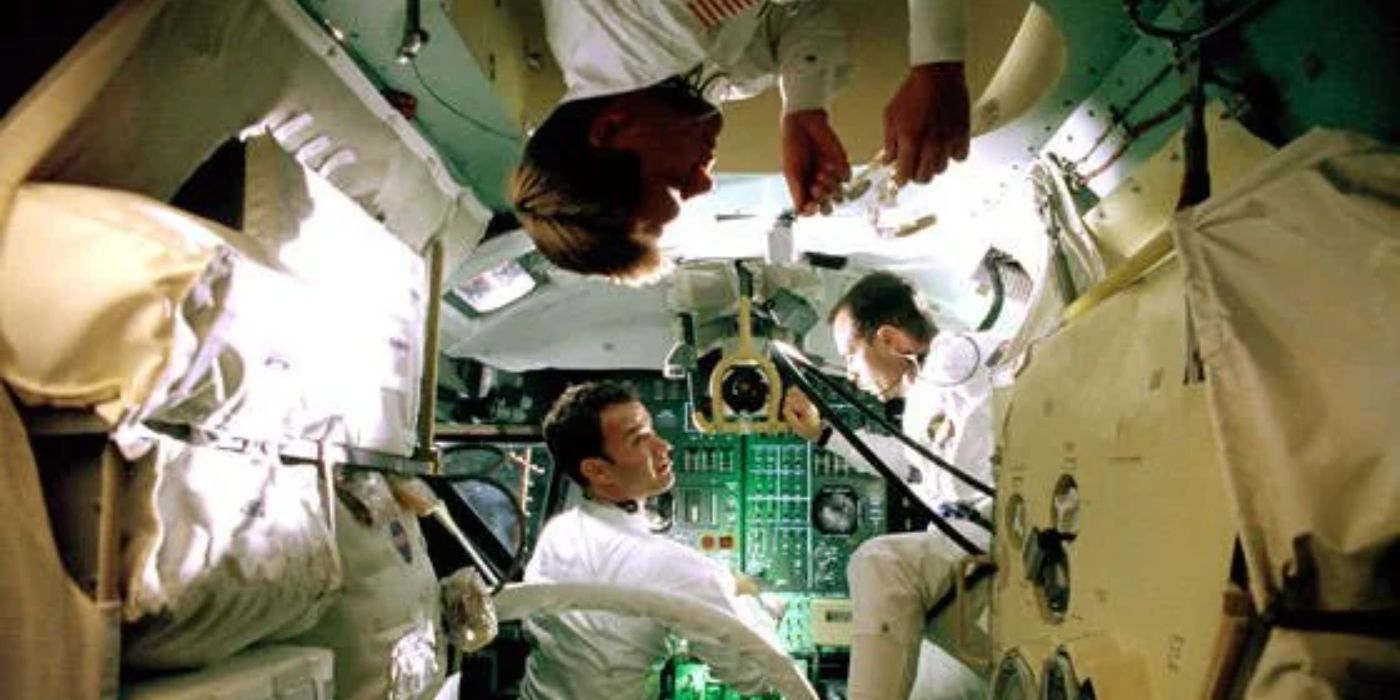 Apollo 13
Release Date

June 30, 1995

Director

Ron Howard

Cast

Ed Harris, Tom Hanks, Kathleen Quinlan, Bill Paxton, Kevin Bacon, Gary Sinise

Rating

PG
In Apollo 13, the filmmakers opted for practical methods instead of CGI or wires to achieve the zero-gravity effect shown in the film. A padded, windowless Boeing 707, known as the Vomit Comet, ascended to 30,000 feet and provided a brief 23-second window to shoot the scenes. This process was repeated approximately 40 times by the actors and crew. Director Ron Howard employed the reduced-gravity plane from NASA, who used it for astronaut training, to ensure that the weightlessness was as real as possible (via Science and Media Museum). Despite its limitation of keeping actors weightless for only 25 seconds at a time, this hands-on approach showcases the creative team's dedication to realism.
8
The Rotating Corridors
Inception (2010)
Inception
Release Date

July 16, 2010

Director

Christopher Nolan

Cast

Tom Hardy, Elliot Page, Joseph Gordon-Levitt, Cillian Murphy, Ken Watanabe, Marion Cotillard, Leonardo DiCaprio

Rating

PG-13
Christopher Nolan, a huge advocate of practical effects, contributes to the immersive and visually striking quality of his films with this approach. A perfect example is the spinning hallway fight in Inception, an incredible feat achieved with a tangible revolving set. While undoubtedly challenging to film, Joseph Gordon-Levitt insisted on doing the scenes without a double, delivering an impressive performance (via Slate). The actor took two weeks to familiarize himself with the set, physically train, and work on his wire skills. Nolan's commitment to practical effects aligns with his belief that "there's no substitute for real human energy and performance," showing the authenticity and impact of his filmmaking choices.
Related: Inception Ending Explained – Is Cobb Still Dreaming?
7
The Corn In This Scene Was Planted By Christopher Nolan
Interstellar (2014)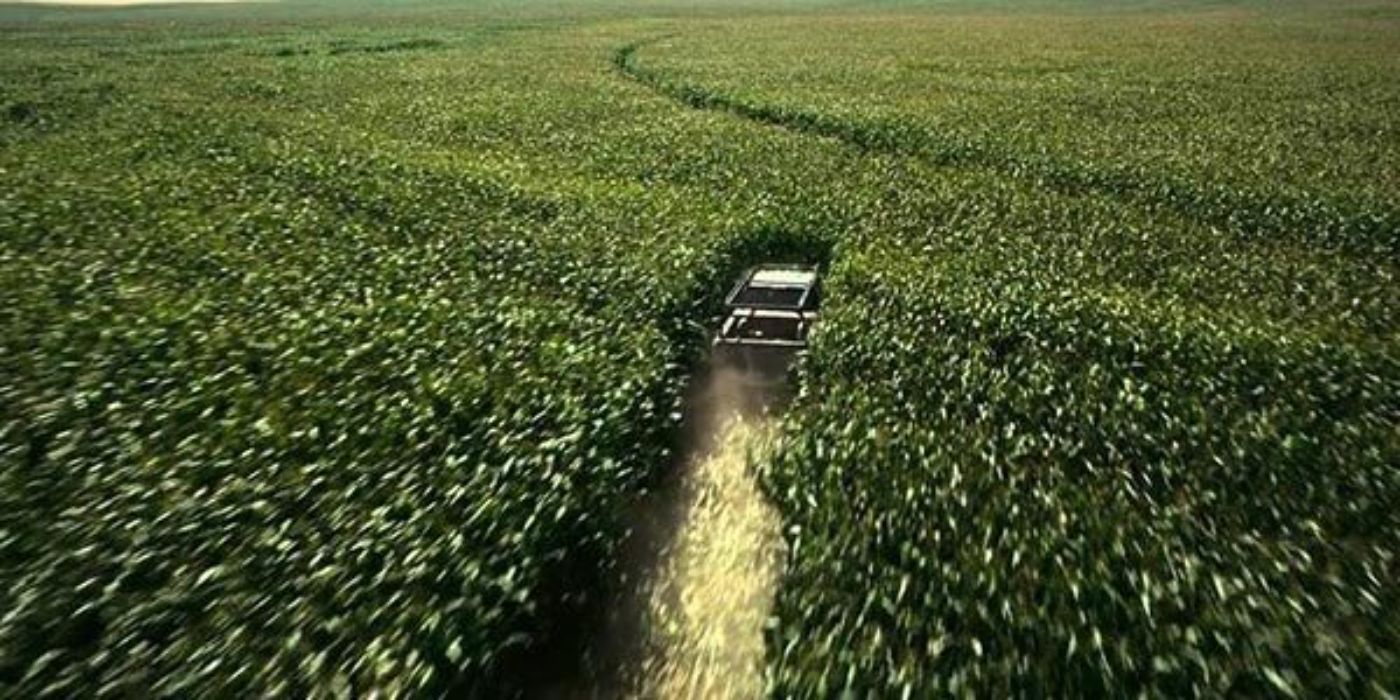 Interstellar
Release Date

November 7, 2014

Director

Christopher Nolan

Cast

Anne Hathaway, Matthew McConaughey, Jessica Chastain, Ellen Burstyn, Michael Caine, Bill Irwin

Rating

PG-13
Another Christopher Nolan movie that reiterates his dedication to practical filmmaking practices, Interstellar showcases the commitment to authenticity. According to Far Out Magazine, Nolan was inspired by Zack Snyder actually growing corn crops for the 2013 film Man of Steel, planting 500 acres of corn for the sake of cinematic realism. Post-filming, he ingeniously sold the harvested corn, not only recouping the budget, but also turning a profit. This strategic and hands-on approach showcases Nolan's dedication to genuine cinematic experiences, emphasizing his balance of creativity and resourceful budget management.
6
Ripley's Behind The Back Basketball Shot
Alien: Resurrection (1997)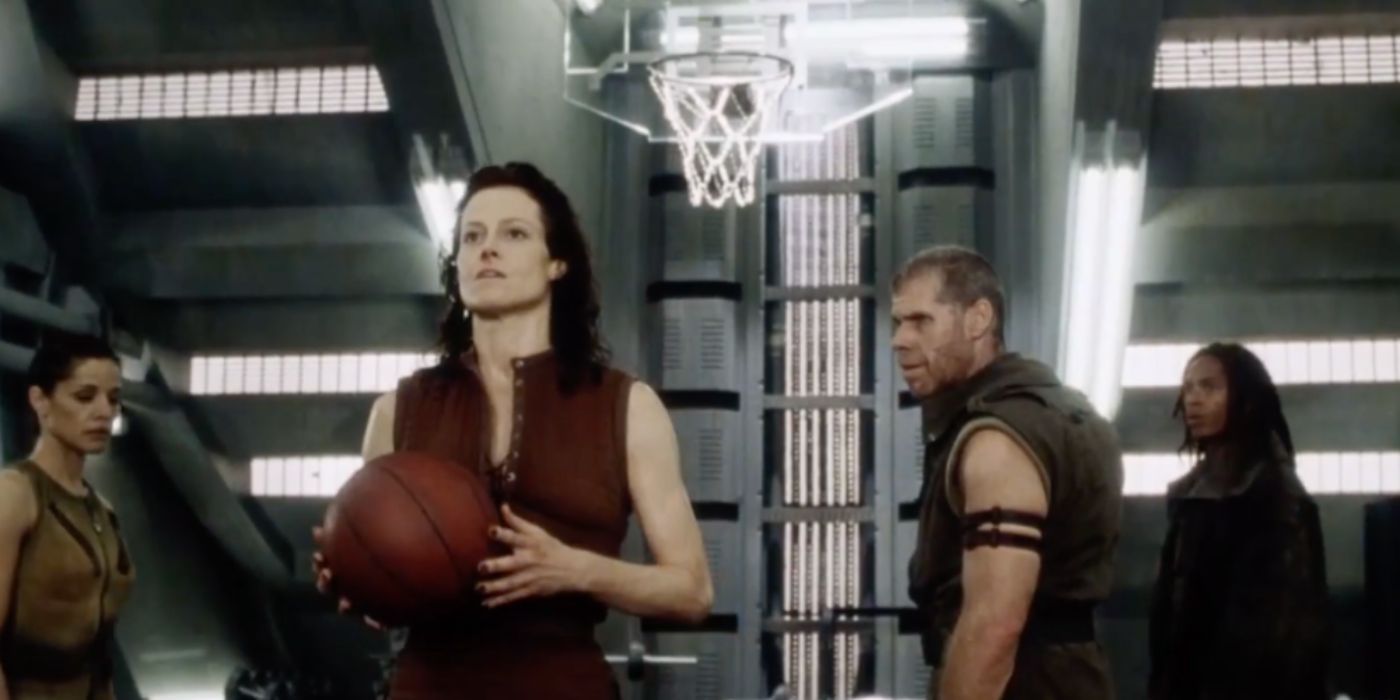 Alien Resurrection
Release Date

November 6, 1997

Director

Jean-Pierre Jeunet

Cast

Sigourney Weaver, Winona Ryder

Rating

pg-13
In Alien: Resurrection, Sigourney Weaver invested two weeks of practice for a smooth basketball scene, accomplishing the shot in a single take, with no camera tricks or CGI involved (via Premiere Magazine, February 1997 issue). Despite the film's lackluster reception within the Alien franchise, this particular moment features a clone of Ellen Ripley showcasing enhanced strength and reflexes through a distinctive no-look, behind-the-back basketball shot. Weaver, the franchise star, bypassed the easy route of computer imagery or creative camera tricks, opting for intensive training to ensure an authentic performance. On set, she faced an unexpected challenge when the shot's distance surpassed her practiced range, adding an extra layer of difficulty to the impressive on-screen moment.
5
The Greenhouse Landscape Is A Real Place
Blade Runner 2049 (2017)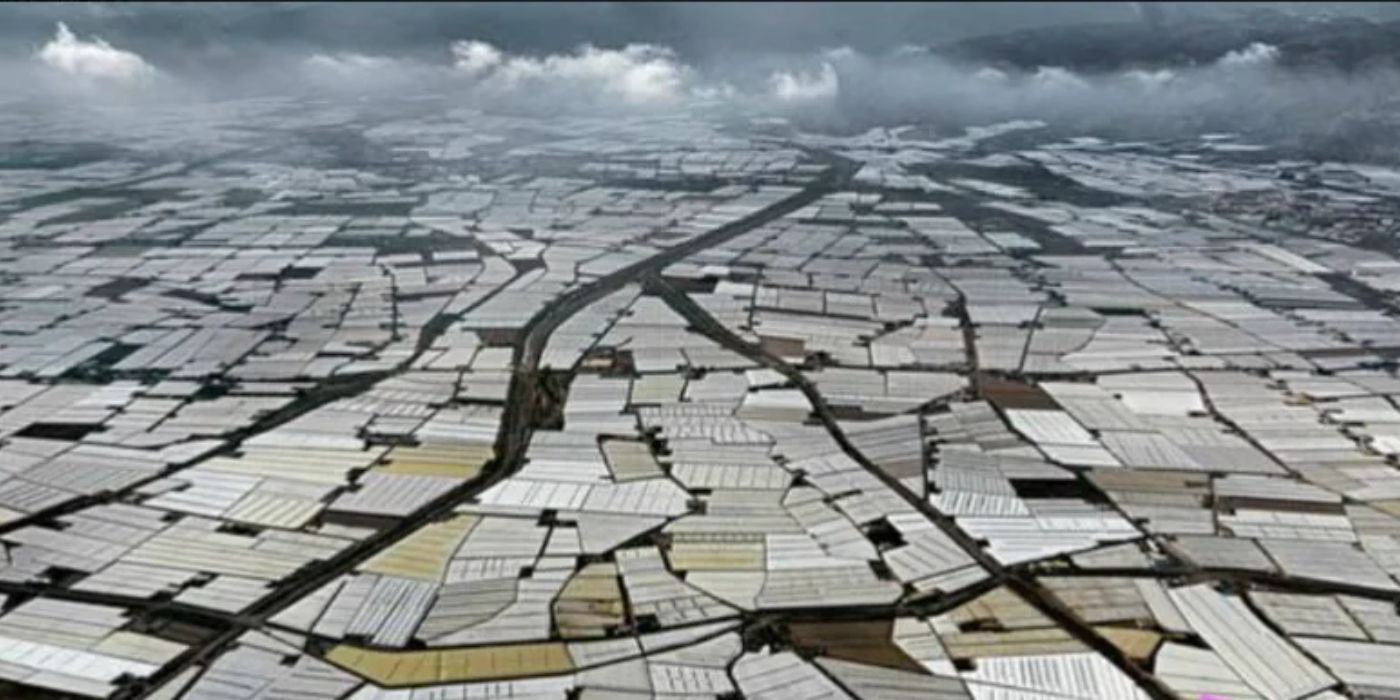 Blade Runner 2049
Release Date

October 6, 2017

Director

Denis Villeneuve

Cast

Ryan Gosling, Harrison Ford, Jared Leto, Ana De Armas, Robin Wright, Lennie James, Dave Bautista, Carla Juri, Hiam Abbass, Barkhad Abdi, David Dastmalchian, Mackenzie Davis, Sylvia Hoeks

Rating

R
The greenhouses featured at the start of Blade Runner 2049 are real sites located in Almeria, Spain. These operational greenhouses play a crucial role in supplying a significant portion of Europe's fruit and vegetable production. While the actual structures serve a practical agricultural purpose, the movie incorporated CGI to depict additional greenhouses, illustrating the scarcity of farmland and fertile soil in the 2049 version of Los Angeles. The real-life Spanish greenhouses are of such considerable size that they are observable even through satellite imaging from outer space. This blending of authentic locations with digital augmentation highlights the film's creative approach to portraying a futuristic and resource-deprived urban landscape.
4
The Knife Fight Scene
Mission: Impossible 2 (2000)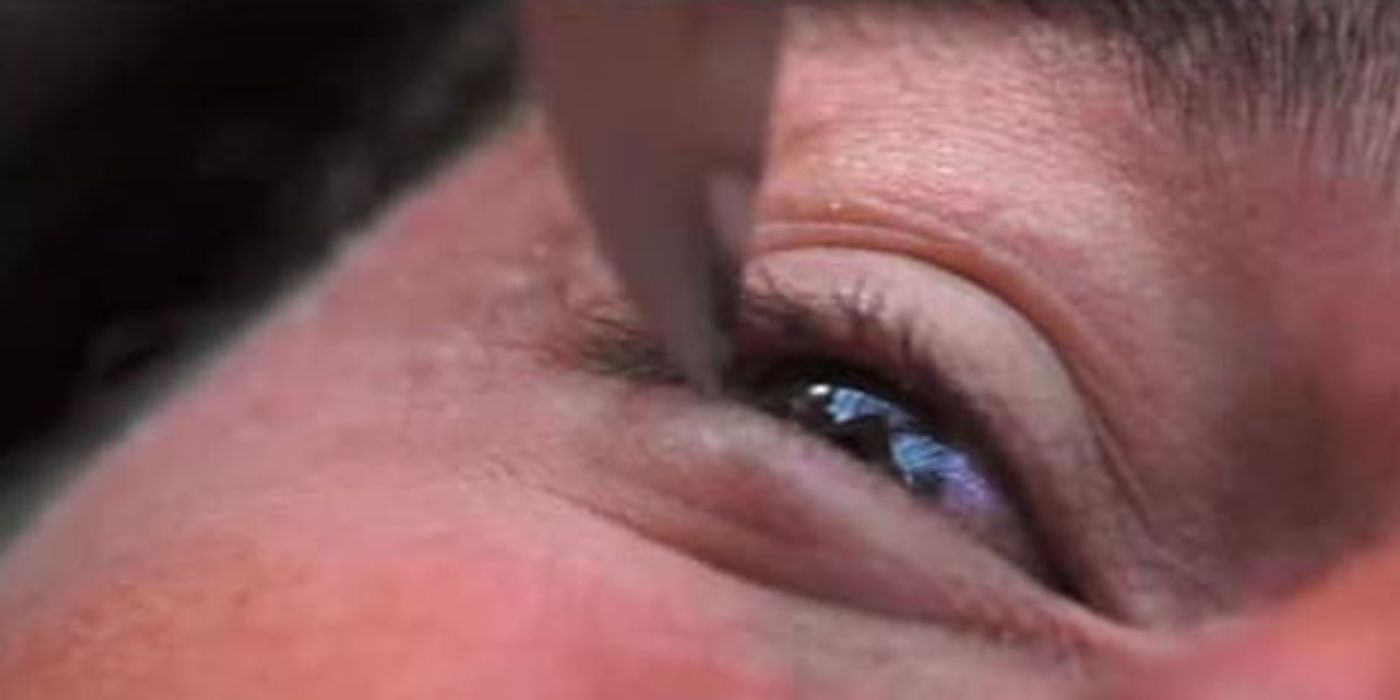 Mission: Impossible II
Mission: Impossible II
Release Date

May 24, 2000

Director

John Woo

Cast

Tom Cruise, Thandie Newton, Richard Roxburgh, Ving Rhames, Dougray Scott

Rating

PG-13
In Mission: Impossible 2, Tom Cruise proposed a daring addition to the knife fight scene to director John Woo. In fact, Woo called Cruise "stubborn" because the actor was so insistent on the knife being as close to his eye as possible, according to a M:I2 behind-the-scenes video. This heart-stopping moment, where a knife nearly grazes Cruise's eye, was accomplished without CGI. Instead, a steel cable was attached to the knife for precision. Though less elaborate than some Mission: Impossible stunts, this simple yet terrifying effect, with the blade hovering just inches from Cruise's eye, adds a visceral intensity. It epitomizes John Woo's flamboyant style, contributing to the bold and daring spirit of Mission: Impossible 2 within the franchise.
3
Surgery On The Terminator's Head
Terminator 2: Judgment Day (1991)
Terminator 2
Release Date

July 3, 1991

Director

James Cameron

Cast

Linda Hamilton, Robert Patrick, Joe Morton, Arnold Schwarzenegger, Edward Furlong

Rating

R
Filming scenes with reflections poses a unique challenge for filmmakers, with figuring out how to conceal the camera while capturing the mirror's perspective. Typically, the solution involves removing the mirror and placing actors where the glass would be. However, Terminator 2: Judgment Day took a different approach. Despite being a film renowned for cutting-edge special effects, one of its most intriguing shots employed clever camera trickery rather than costly CGI.
Related: Terminator 2: Judgment Day Ending, Explained
In a deleted scene featuring Sarah Connor conducting repairs on the Terminator's head, her reflection is distinctly visible in the mirror while she works in the foreground. This shot was achieved by involving Linda Hamilton's identical twin sister (via Digg). Acting in the foreground, she replicated her sister's movements on a prop of Arnold Schwarzenegger's head and shoulders, skillfully concealing the camera from the reflective surface.
2
Harry Accidentally Inflates Aunt Marjorie
Harry Potter and the Prisoner of Azkaban (2004)
Harry Potter and the Prisoner of Azkaban
Release Date

March 1, 2004

Director

Alfonso Cuarón

Cast

Daniel Radcliffe, Emma Watson, Rupert Grint, Gary Oldman, Robbie Coltrane, Michael Gambon, Richard Griffiths, Alan Rickman, Fiona Shaw, Maggie Smith, Timothy Spall, Emma Thompson

Rating

pg-13
While all the films in the Potteverse utilize CGI, the memorable scene from Harry Potter and the Prisoner of Azkaban where Harry unintentionally inflates Aunt Marjorie is an exception. The production team invested four months crafting a specialized 50-pound non-CGI inflation suit for Aunt Marge, portrayed by actress Pam Ferris. This intricate suit comprised three stages of prosthetics, featuring pumps and degassing chambers for each layer, along with expandable rubber bladders for her face. The design aimed at achieving a realistic visual effect without relying solely on digital means. While digital effects were employed for some aspects of her floating and wire removal, the core of the transformation relied on the elaborate and carefully crafted physical inflation suit.
1
The Sick Triceratops
Jurassic Park (1993)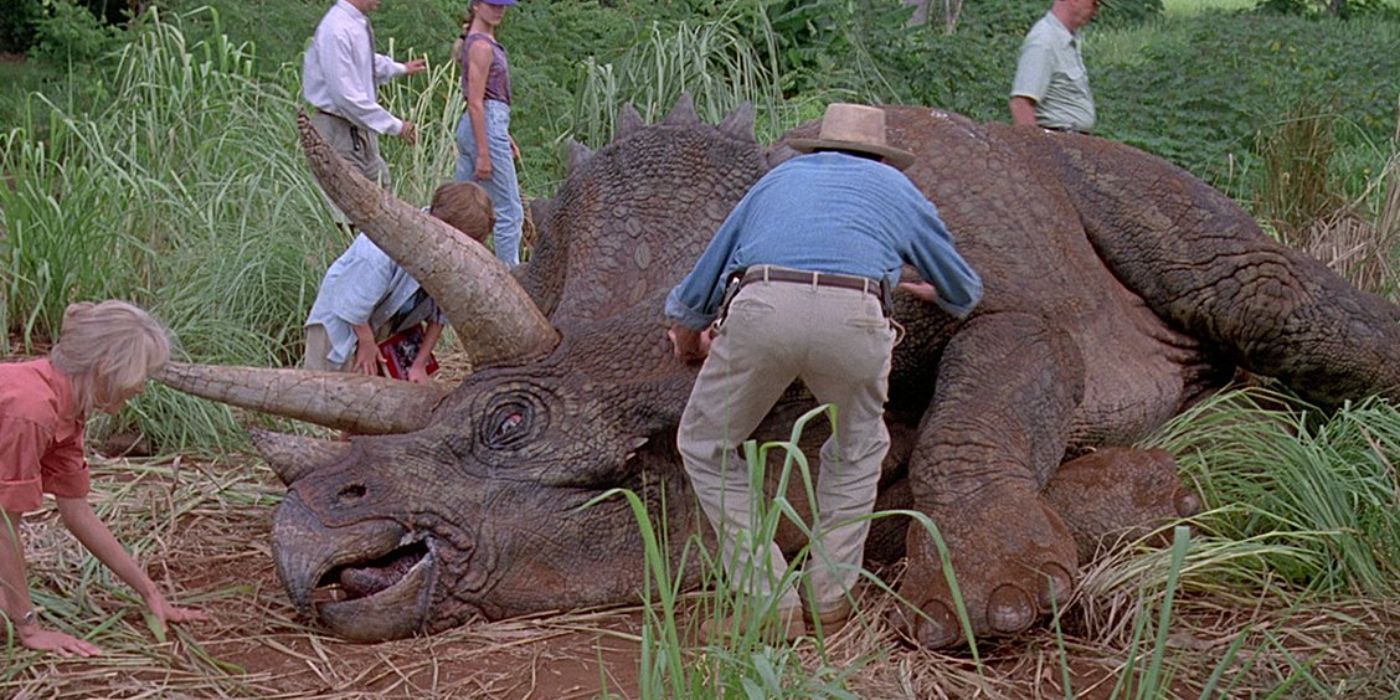 Jurassic Park
Release Date

June 11, 1993

Director

Steven Spielberg

Cast

Richard Attenborough, Sam Neill, Laura Dern, Samuel L. Jackson, Jeff Goldblum

Rating

PG-13
In Jurassic Park, the sick triceratops that Ellie Sattler tends to is an enormous puppet featuring hand-sculpted skin and control rods beneath its flanks (via Stan Winston School of Character Arts). Notably, the entire film predominantly relied on practical effects, including puppets and animatronics, to bring the dinosaurs to life. The triceratops, along with many other dinosaurs, was a testament to this craftsmanship. Despite the film's groundbreaking use of CGI for its time, it was sparingly applied, a part of only six minutes of the entire movie. This emphasis on practical techniques underscored the filmmakers' dedication to achieving a tangible and authentic portrayal of the prehistoric creatures in Jurassic Park.
Sources: Science and Media Museum, Slate, Far Out Magazine, Digg, Stan Winston School of Character Arts