News
90 Day Fiancé's Jasmine Makes Out With Shrek In Bizarre Augmented Reality Video
Summary
Jasmine from 90 Day Fiancé is seen kissing the fictional character Shrek in a bizarre video, raising questions about her loyalty to Gino.
Jasmine's insecurities and suspicions about Gino have led to frequent arguments, but they are still planning to get married in season 10.
Jasmine's recent hair makeover, inspired by Shrek character Lord Farquaad, has received mixed reactions from fans, with some praising her for embracing her real hair.
Jasmine Pineda from 90 Day Fiancé is cheating on Gino Palazzolo in a bizarre new video. Jasmine and Gino's storyline began in 90 Day Fiancé: Before the 90 Days season 5. They met under strange circumstances on a sugar baby/sugar daddy platform and began a long-distance relationship before Gino went to Panama to meet her. Jasmine expected Gino to spend money on her and her demands only grew after she lost her teaching job. Jasmine also felt insecure about herself and suspected Gino would leave her for someone else, leading to a rise in quarrels between them. Gino and Jasmine, however, did stay together and are to get married in season 10.
However, before that can happen, Jasmine is spending time with a new man. Jasmine's page IG @jasmine.gino recently shared a shocking clip featuring her kissing the fictional ogre character Shrek.
Jasmine talks to Shrek, who's not in the frame in the clip, and tells him that she "can't" do it because Princess Fiona is her friend. The video then shows Shrek entering the frame to pounce on Jasmine and passionately making out with her. Jasmine resists his advances at first but then gives in to the kisses. She holds Shek close as she starts kissing him back. The weird video had a fan asking, "What kind of sex fantasy is this ??" in the comments.
Related: 20 Best Reality TV Shows Right Now
Jasmine Pineda Recent Debuted Shrek-Inspired Hair Makeover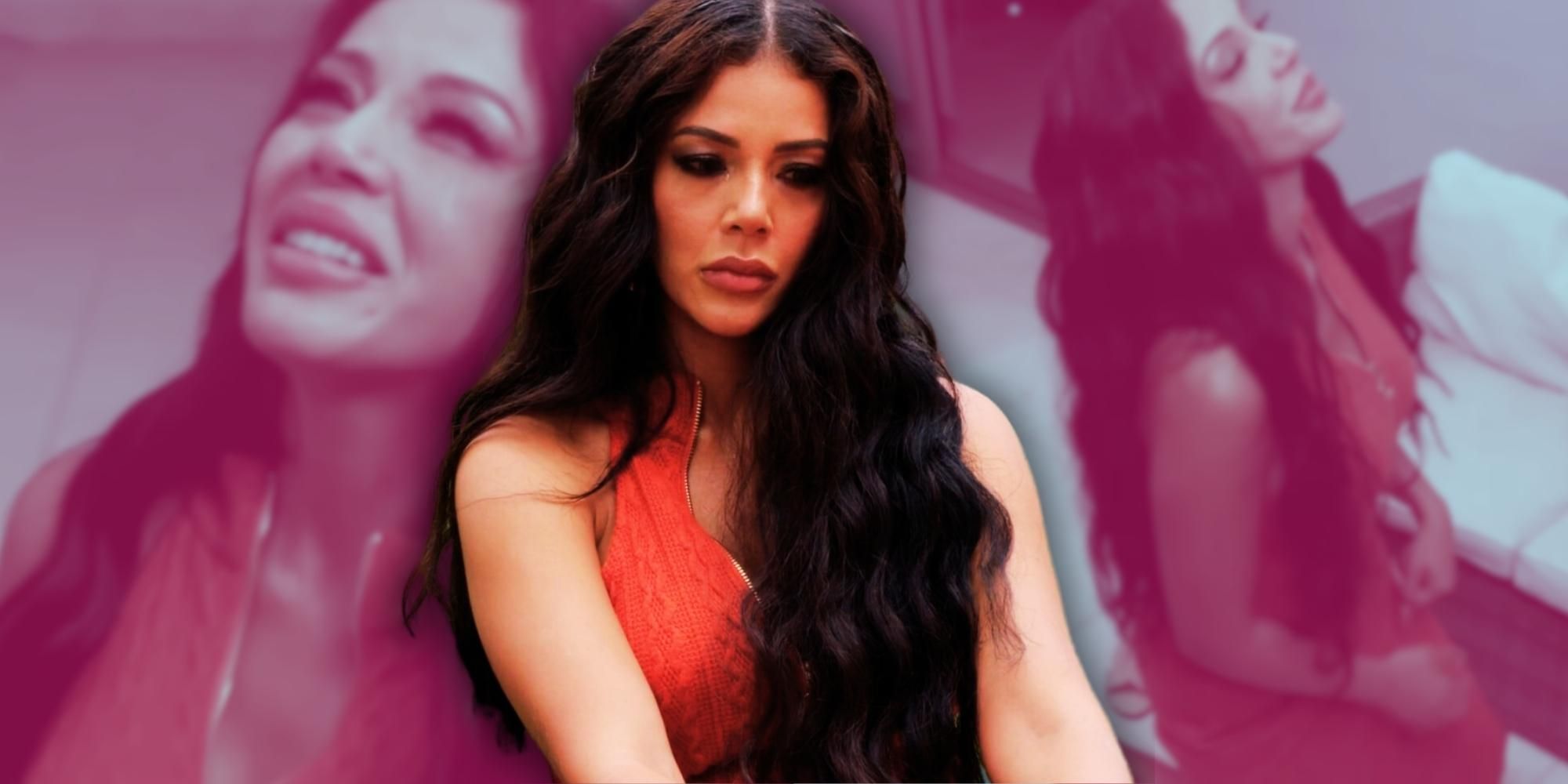 Someone else commented, "I knew she was cheating on Gino…" Fans deduced Jasmine must have been bored to death to have created such a strange video. A fan joked that Jasmine was trying to get a Green Card from Shrek. One fan even thought Shrek looked a lot like reality TV star Gino. It could explain Jasmine's recent obsession with the Shrek franchise and its characters. Jasmine has gotten rid of her infamously long and expensive hair extensions. She now sports her natural hair in season 10 and social media as well. Jasmine recently revealed her new hair makeover. She now sports long, curtain bangs.
While Shrek character Lord Farquaad doesn't have bangs, Jasmine joked her hairstyle was heavily inspired by him. She shared side-by-side photos of herself and Lord Farquaad to prove her point. Jasmine's fans disagreed with the comparisons. They thought the short hair looked great on Jasmine. Jasmine has been battling alopecia for the last few years and fans are loving how she's flaunting her real hair without a care in the world. Jasmine is not afraid to show her bald patches on her Instagram. She's also not scared of poking fun at herself. It's what makes Jasmine so likable despite her on-screen personality coming across as annoying.
Jasmine and Gino have been fighting a lot on 90 Day Fiancé. She found a tube of lip gloss underneath the seat of his car and immediately decided Gino was cheating on her. While Gino was able to convince her that she was the only woman he'd been with in the last three years, Jasmine has now discovered that Gino went to a bachelor party at a strip club before she came to the U.S. Jasmine seems to have lost all her trust in her husband to me. It makes sense that Jasmine is choosing to have an affair with Shrek behind Gino's back.
90 Day Fiancé airs Sundays at 8 p.m. EST on TLC.
Source: @jasmine.gino/Instagram
90 Day Fiance

Release Date:

2014-01-12

Cast:

Shaun Robinson

Main Genre:

Reality

Genres:

Romance, Drama, Reality TV

Seasons:

9

Network:

TLC

Streaming Service(s):

TLC GO

Franchise(s):

90 Day Fiancé

Directors:

Rogue Rubin, Kevin Rhoades, Jessica Hernandez

Showrunner:

Kyle Hamley