News
Everything The Red Room Pretended To Be (& Why)
Summary
The Red Room in Hill House is a deceptive entity that mimics different rooms based on each family member's desires and lures them in to feed off them.
Nellie's Red Room is a toy room, Luke's is a treehouse, Theo's is a dance studio, Steven's is a game room, and Shirley's is a family room.
The Red Room's true face is a decaying room with black mold, but it constantly changes its appearance to appear pleasing to its victims.
The Haunting of Hill House Red Room spent the entire Netflix series pretending to be something else depending on which member of the Crain family it interacted with. From the start of the show, the eerie Red Room frustrates everyone in the Crain family. No one understands why it is locked and not even the house's skeleton key (or a hammer) could open the big red door. Throughout the story, however, each member of the family, excluding patriarch Hugh, finds themselves spending a great deal of time inside the room. They just don't know it.
Based on the novel by Shirley Jackson, The Haunting of Hill House tells the story of the Crain family. They suffered through a great tragedy in 1992 when they moved into the haunted Hill House as they worked to renovate their own home and they all fled from the home. The Netflix series picked up 26 years later when the Crain siblings and their dad find themselves lured back to the home when another tragedy occurs. It is then that they all realized their problems all led to one place – the Red Room in Hill House.
RELATED: The 25 Biggest Netflix Shows of All Time
The Haunting Of Hill House Red Room, Explained
Created and directed by horror master Mike Flanagan for Netflix, The Haunting of Hill House skillfully handles one of the show's most shocking twists by hiding it in plain sight. The always-locked Red Room was secretly designing rooms catered to each of the Crain children and their mother Olivia. It did this over and over to lull the Crains into a false sense of security. The Red Room was locked, but it needed the Crains to spend time inside, so it could feed off of them. They each had their own room perfectly suited to them to spend time in, and there was a sinister reason why.
The Red Room needed to become the room that each family member wanted most to ensure they spent plenty of time inside. Only when the house was ready to finish them off completely would the Red Room open its real door and let them see inside. This happened in "Screaming Meemies" when Olivia walked into the room and brought Nellie, Luke, and the Dudleys' doomed Hill House daughter Abigail with her. It happened again 26 years later in "Silence Lay Steadily" when the Crain family woke from nightmares to find themselves in the Red Room once again. This time, they were all able to see what it really looked like.
Watch on Netflix
Nellie
A Toy Room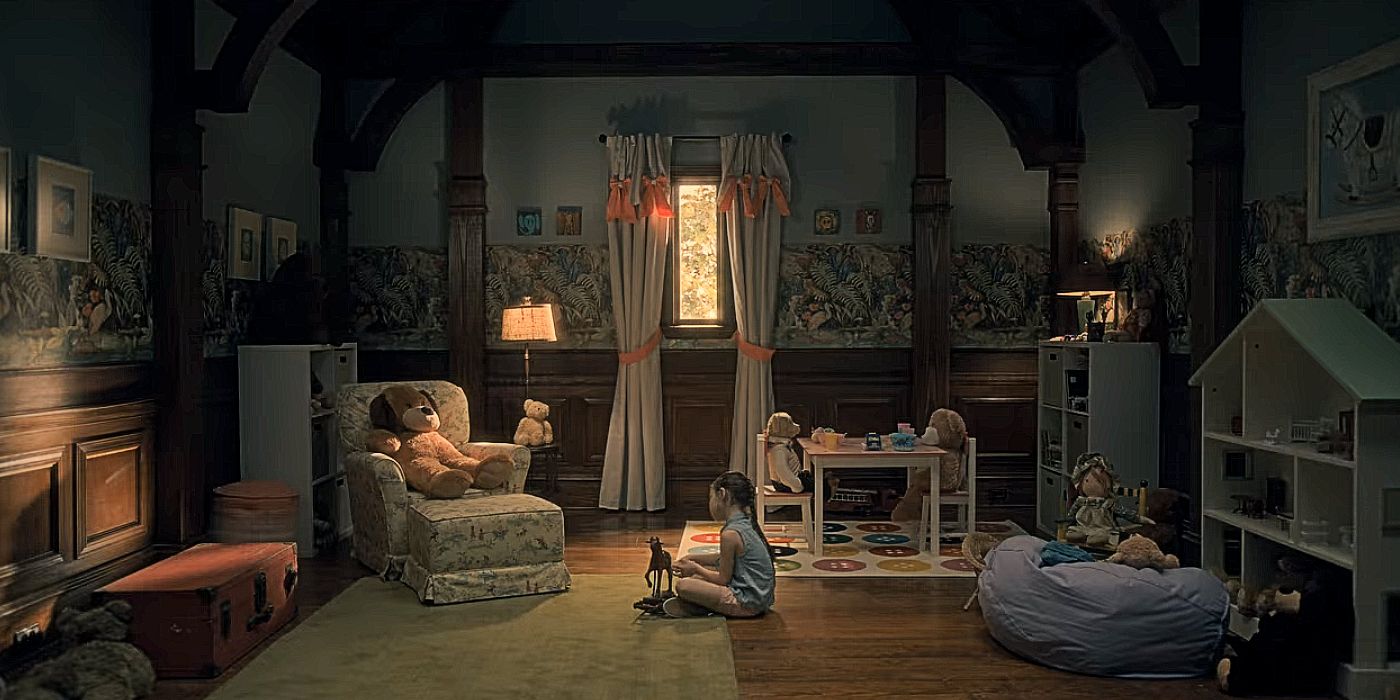 Nellie's Red Room is her toy room. The only toys in Nell's Red Room (shown during The Haunting of Hill House's ending) are the types of toys she liked to play with. She had a dollhouse, stuffed animals, and curtains with pink tassels. Nellie always wanted to play tea party, and her toy room had a small pink and white table with a tea set on top. Nellie's family hadn't been in the house long enough to put together a toy room for her, but that didn't stop the Red Room from making one. Adult Nell was the first of the Crain children to figure out the Red Room's secret when she returned to Hill House and became a ghost after being murdered by Olivia.
Luke
A Treehouse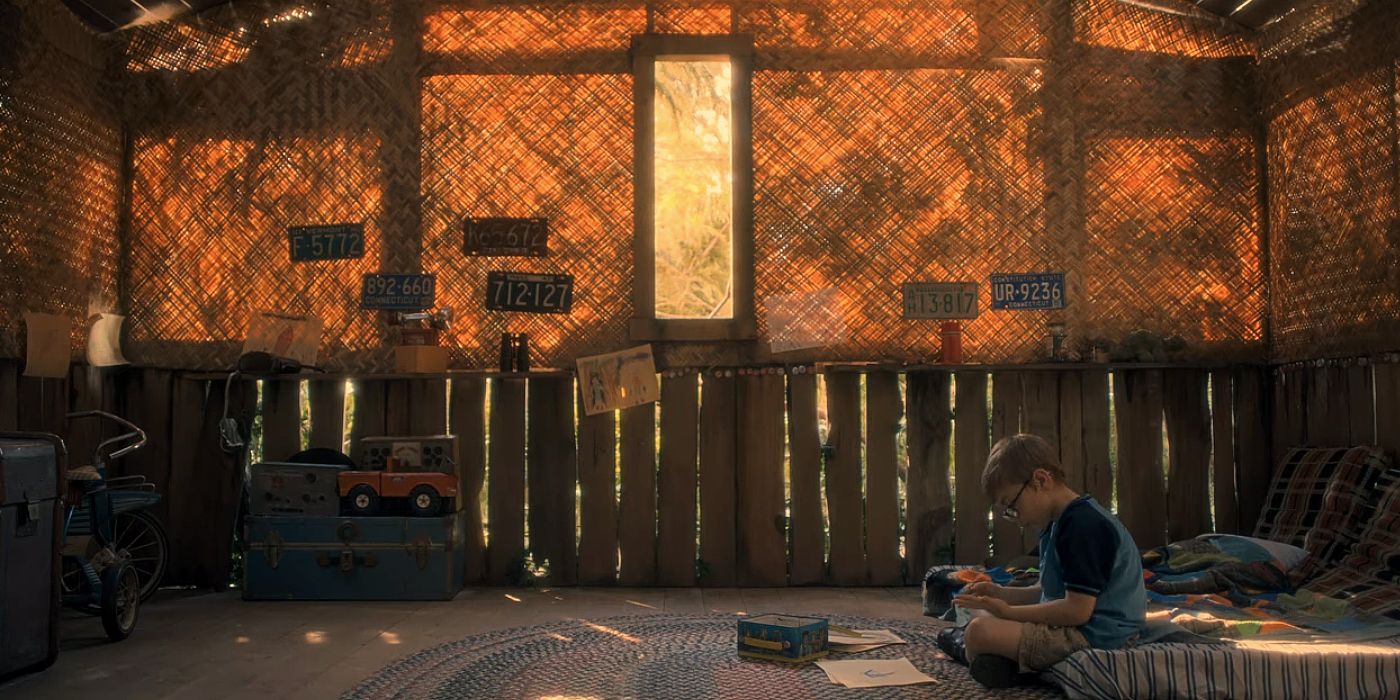 Luke's Red Room in Hill House is his backyard tree house. When the treehouse was first mentioned, it was described as the tree house that Hugh built for Luke. Luke would sit in his tree house coloring pictures and hanging them up on the walls. At one point, Olivia asked young Steven and Mrs. Dudley whether either of them had seen Luke, and Steve replied that Luke was probably in his tree house. Olivia laughed, thinking Steve was joking. It was an early hint that the tree house was not what it seemed to be.
Steve climbed into the tree house to tell Luke that their mom was looking for him. Steve then remarked that it never occurred to her that Luke was in his tree house. Later on in the series, Hugh revealed to adult Steven that there never was a tree house. He never built them one. The Red Room built Luke his tree house, not his dad.
Theo
A Dance Studio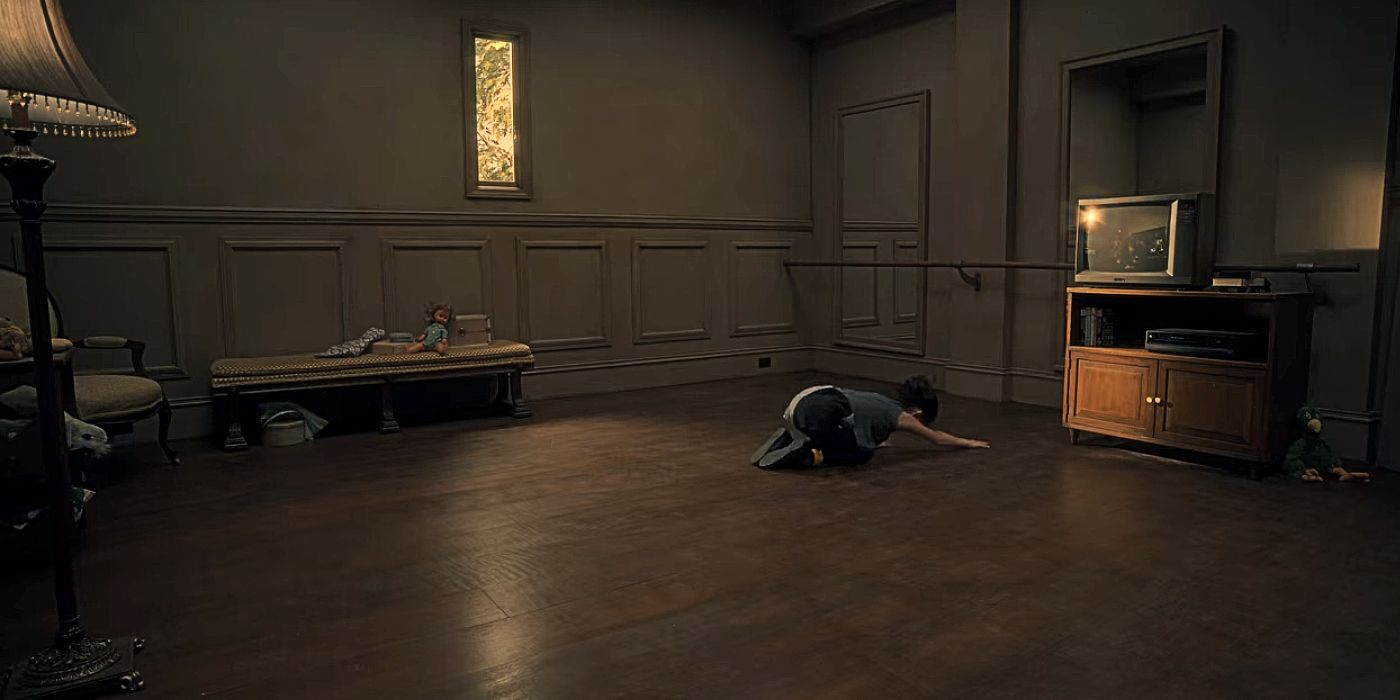 For Theo, the Red Room is a dance studio, an important detail about Theo's character. The wooden studio floor was empty, and the little furniture that was in the room was pushed out of the way, against the walls. Theo played music and dance videos on the TV while she practiced. The studio even had large mirrors and a barre. Adult Theo spent a lot of nights going clubbing at a bar where she could dance. Adult Shirley commented that there was a never-ending parade of women Theo would bring home from the bar, showing that she went there frequently.
Theo even went clubbing after a particularly difficult day at work when she learned that one of her patients was being abused by her foster father. Theo went to the club because dancing was her way of de-stressing. Based on the home's previous residents (who still lived there as Hill House ghosts), it wouldn't have made any logical sense for Hill House to have a dance studio. However, there was a dance studio at Hill House because the Red Room created one specifically for Theo.
Steven
A Game Room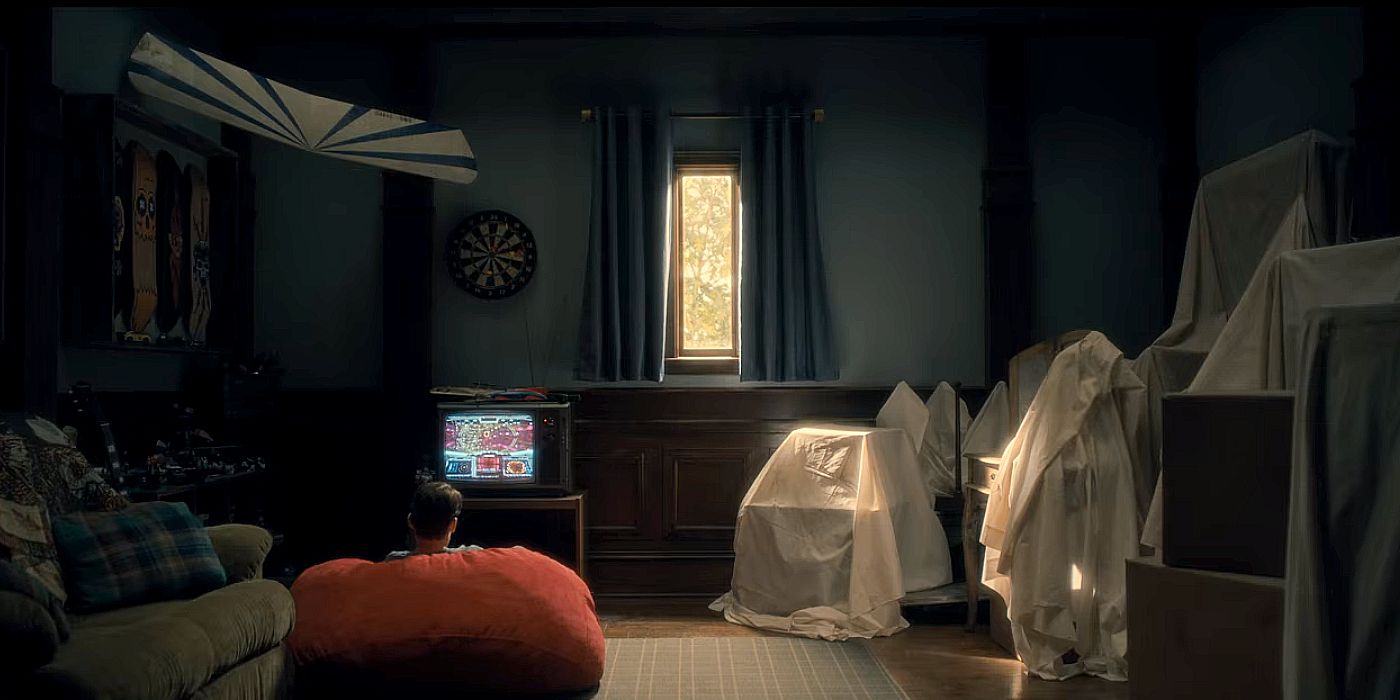 Steven's Red Room is his gaming room. The room contained a beanbag, guitar, dartboard, skateboards, and a TV complete with video games. Big brother Steven spent his free time sitting in the beanbag chair right in front of the television playing video games. The house's previous owner, an elderly, bedridden woman, did not need a room filled with modern toys and video games. Steven had a room where he could go sit alone and play games because the Red Room decided to make him one.
Shirley
A Family Room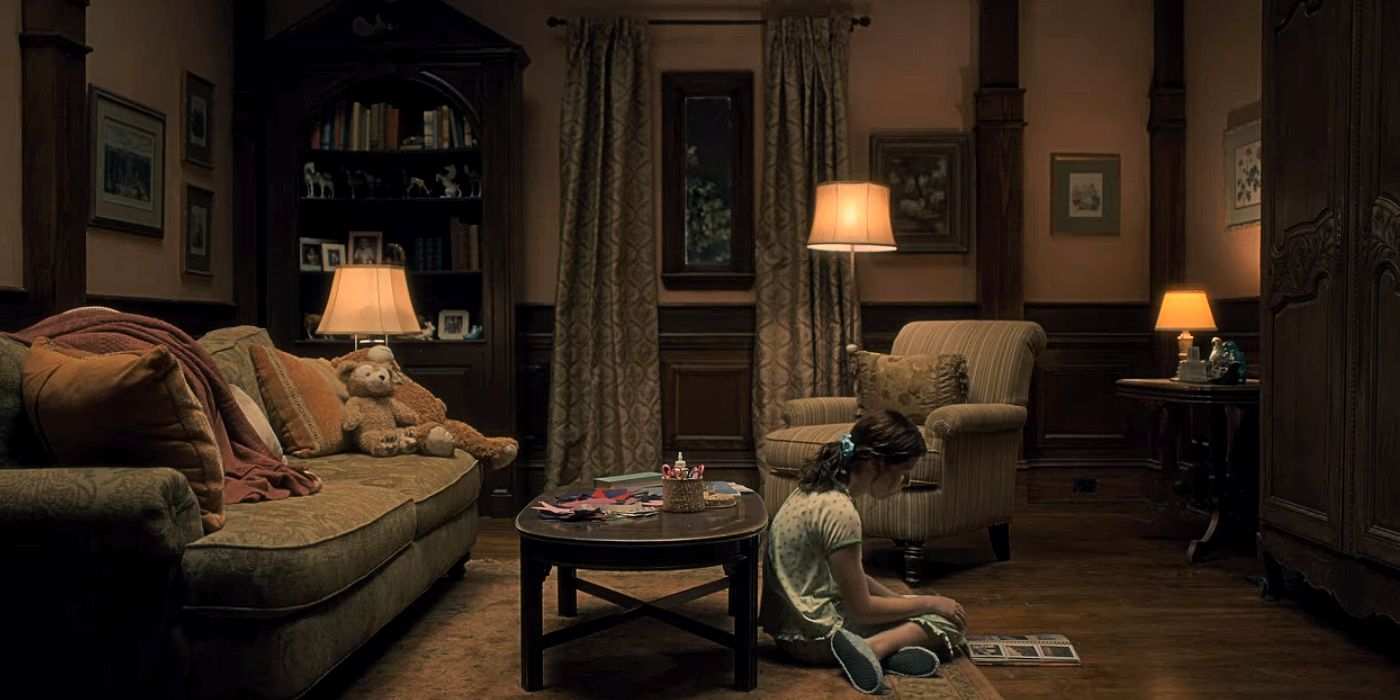 Shirley's Red Room was the family room. Shirley was the caretaker of the family. Adult Shirley was the only one of the Crain siblings with children, and she followed after her mother. Olivia constantly drew blueprints for her family's "forever home," and grown-up Shirley did the same using a model she crafted. She wanted the perfect space for her family, so her comfortable space was a family room. It held books and craft supplies, a comfortable couch, and family photos. Shirley's family room was her place to relax. The Red Room put them there for Shirley to make sure she felt safe.
Olivia
A Reading Room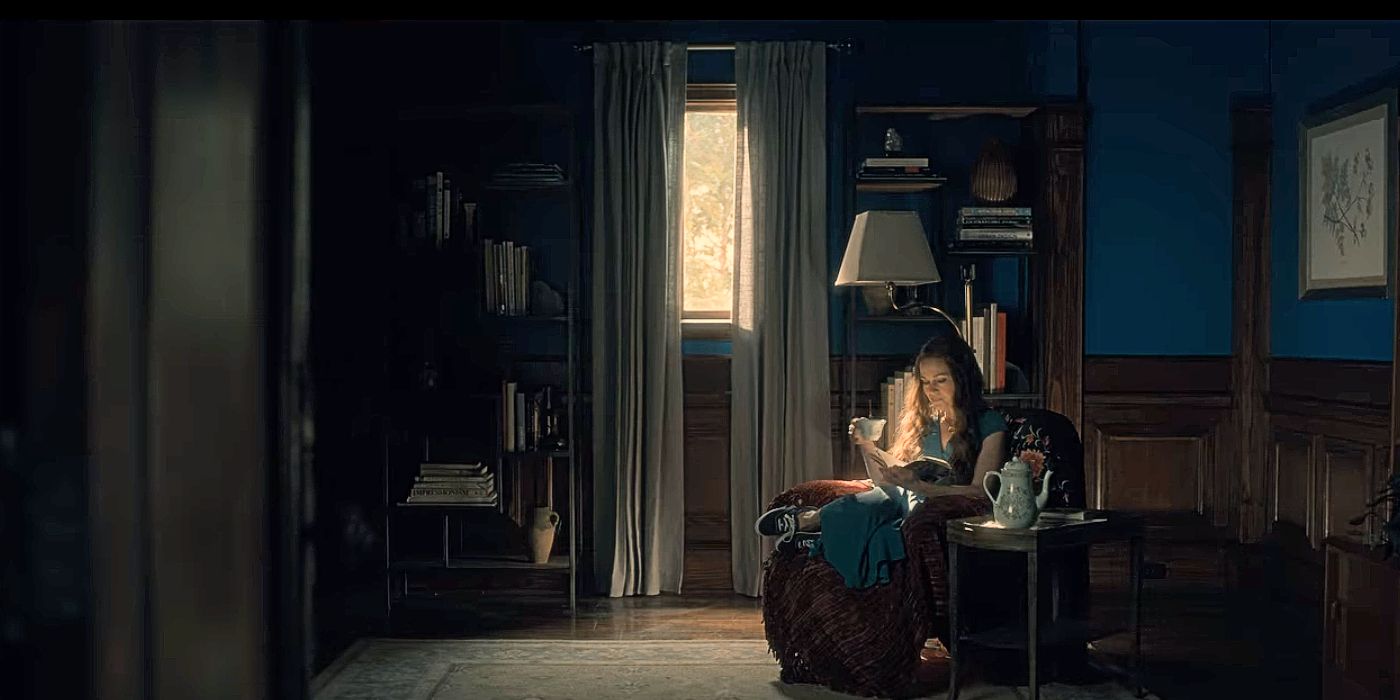 Olivia was one character viewers thought deserved a better ending in The Haunting of Hill House, and like the others, she uses her Red Room as a place to go when she feels stressed. Olivia's Red Room is a reading room she uses as an escape. She could sit and read in the quietness. In "Screaming Meemies," Poppy stood with Olivia in her reading room and told Olivia that she loved what she had done with the room. Olivia asked Poppy if she was dreaming when Poppy told her that she used it as a dressing room, then a nursery. Olivia wasn't the one who made it into a reading room. It already was Olivia's personal library because the Red Room made it that way.
The Red Room's True Face
While creators worked hard to ensure the reveal wouldn't be spoiled too soon, they left hints throughout The Haunting of Hill House. All the rooms that the Red Room pretended to be were shot from a similar angle to show the uniquely shaped vertical window. In the final episode, adult Nell explained that the Red Room was the stomach of the house, but the Red Room's real face had decaying walls covered in black mold. It needed to lure the Crains in, so it could feed on them. They wouldn't have spent time in a rotting room; thus, the Red Room constantly changed its appearance to be more pleasing to unsuspecting victims.
The Haunting of Hill House

Release Date:

2018-10-12

Cast:

Michiel Huisman, Carla Gugino, Henry Thomas, Elizabeth Reaser, Oliver Jackson-Cohen, Kate Siegel, Victoria Pedretti, Lulu Wilson, Mckenna Grace

Genres:

Drama, Supernatural, Horror

Rating:

TV-MA

Seasons:

1

Story By:

Shirley Jackson, Mike Flanagan

Writers:

Mike Flanagan

Streaming Service:

Netflix

Directors:

Mike Flanagan

Showrunner:

Mike Flanagan