News
Fan-Favorite Gotham Academy Character Returns for a Brand New Man-Bat Story
Summary
DC Comics brings back beloved character Maps Mizoguchi to aid Batman in a new case at the Gotham Academy campus in February 2024.
Maps Mizoguchi, a breakout star of the Gotham Academy series, continues to make appearances in the DC Universe and has a promising future as a Gotham hero.
The return to Gotham Academy showcases DC's commitment to developing new stories and characters within the Gotham setting, including the legacy of Man-Bat and the rising star of Maps.
DC Comics returns to the much-beloved Gotham Academy campus in February 2024, where fan-favorite character Maps Mizoguchi will aid Batman on a new case. Alongside fellow student Tristan Grey, the "team" will attempt to uncover the twisted legacy of Kirk Langstrom — otherwise known as Man-Bat.
Gotham Academy returns to DC's pages in February's Batman: The Brave and the Bold #10, which is part of an anthology series featuring Batman and his many allies across the DC Universe. Written and drawn by Gotham Academy (and Maps Mizoguchi) co-creator Karl Kerschl, the three-part story will feature Maps and Tristan in a new mystery with Man-Bat at its center.
BATMAN: THE BRAVE AND THE BOLD #10 (2023)

Release Date:

February 27th, 2024

Writers:

KARL KERSCHL, TORUNN GRONBEKK, DELILAH S. DAWSON, and DAN WATTERS

Artists:

KARL KERSCHL, FERNANDO PASARIN, and RICARDO LOPEZ ORTIZ

Cover Artist:

SIMONE DI MEO

Variant Covers:

FRANCESCO MATTINA, CHRISTIAN WARD, KELLEY JONES

Gotham Academy is back in session in the first part of Karl Kerschl's thrilling three-part Batman adventure, guest-starring Maps Mizoguchi and Tristan Grey! Kirk Langstrom, formerly Man-Bat, now clean of his serum for years, is teaching at Gotham Academy. But Man-Bat is menacing the city. Has Dr. Langstrom fallen off the wagon, or is there a deeper, far more sinister, plan afoot? Plus, get ready for a conspiracy only Lois Lane could solve, a tale of rip-roaring adventure starring Artemis, and a Batman Black & White tale from Dan Watters and Ricardo López Ortiz!
DC's full solicitation for the issue also includes details about stories featuring Lois Lane and Artemis of Bana-Mighdall. Gotham Academy fans can expect to follow this three-part story in Batman: The Brave and the Bold through April of 2024.
Related: Batman Takes on His Strangest Case in THE BAT-MAN: FIRST KNIGHT
Maps Mizoguchi Returns to Aid Batman Once More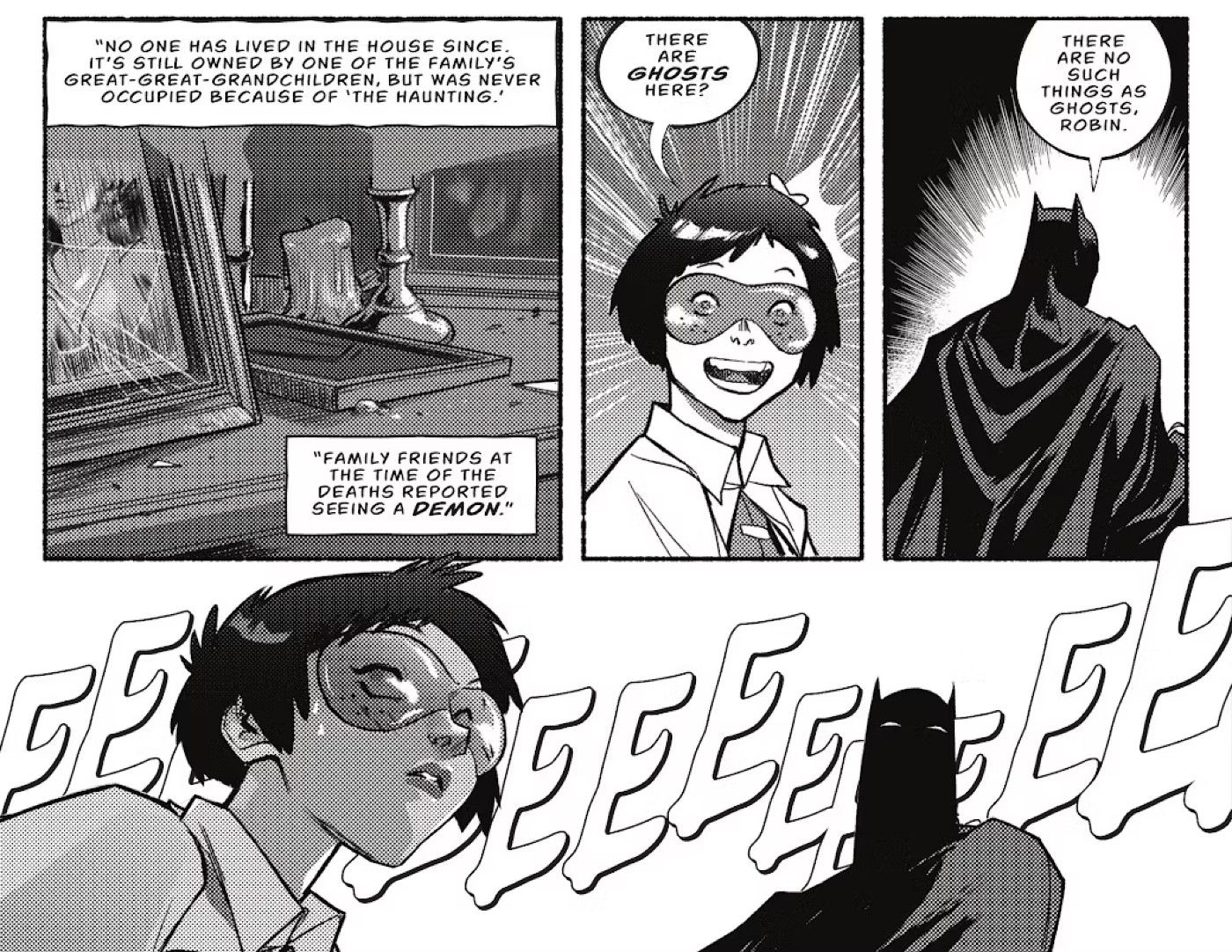 Mia "Maps" Mizoguchi is the undeniable breakout star of 2014's Gotham Academy series by Becky Cloonan, Brendan Fletcher, Kerschl and Babs Tarr. The plucky daughter of the Mizoguchi family, her irrepressible curiosity and love of fantasy and mystery makes her a natural part of Gotham's detective-noir environment. Despite the Gotham Academy series concluding in 2017, Maps has continued to make numerous appearances throught the DCU, such as fighting Killer Moth alongside Cassandra Cain in Batgirls #11 by Cloonan, Michael W. Conrad, Neil Googe, Scott Godlewski, Wayne Faucher, Rico Renzi, and Becca Carey.
Most recently, Maps' future self — using the superhero identity "Meridian" — has been lending a hand rescuing Black Canary's sister in Birds of Prey by Kelly Thompson, Leonardo Romero, Jordie Bellaire, and Clayton Cowles. Maps is a much-beloved character and has clearly been showing up more frequently throughout 2023. Maps' future in the DCU has been consistently teased in various issues: sometimes she appears as Robin, while her new appearance as Meridian suggests that she will eventually carve a new identity for herself.
DC Heralds Maps Mizoguchi's Future as a Gotham Hero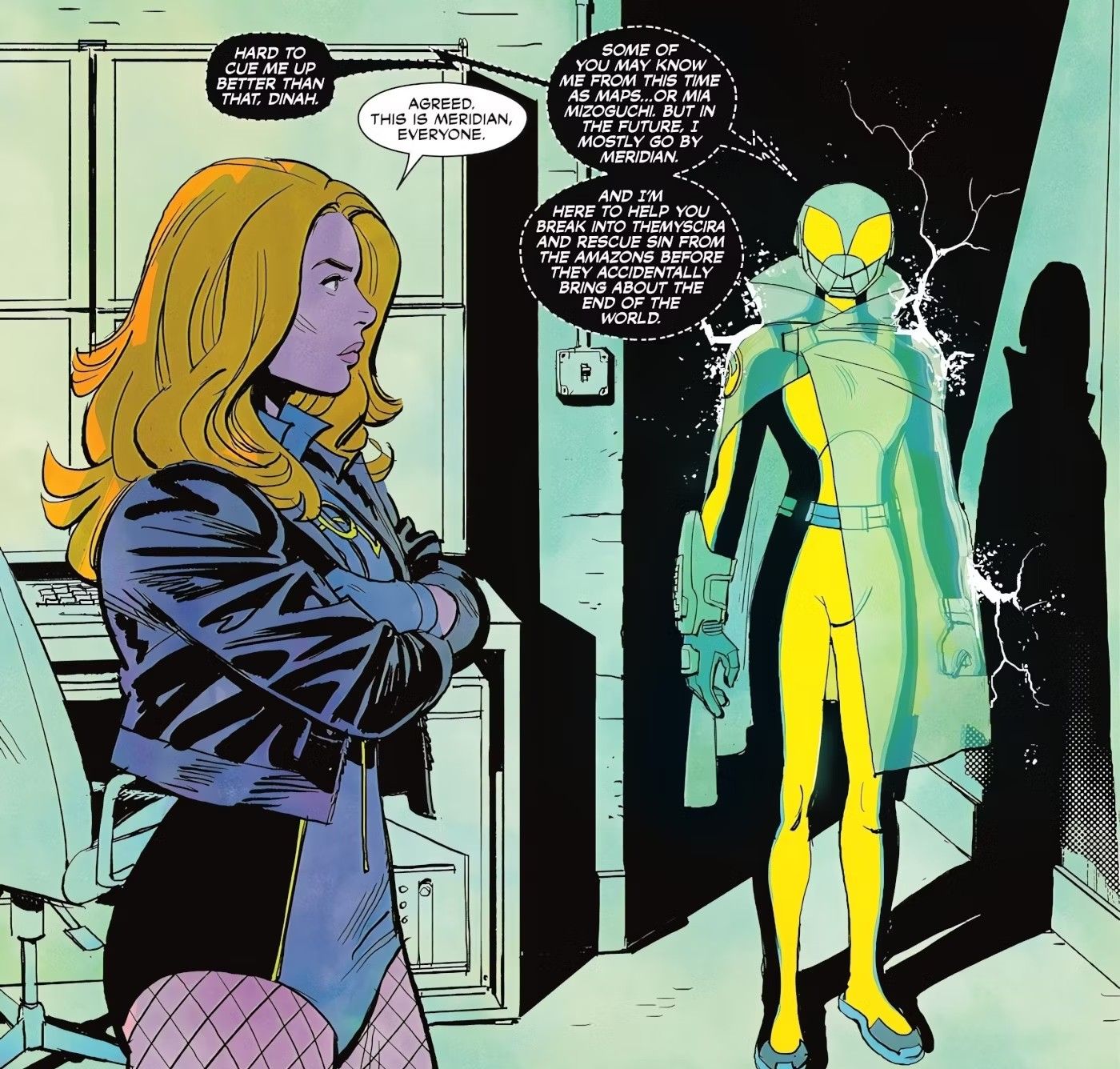 All this emphasis on Maps' future exploits, alongside increasingly frequent appearances, strongly implies that DC has not forgotten about her popularity and is invested in telling more stories with her in a featured role. Gotham Academy set the stage for a new generation of Gotham heroes and remains one of DC Comics' most fertile and compelling settings. Batman's return to Gotham Academy's haunted halls is an exciting commitment to further developing this aspect of Gotham, from Tristan Grey's Man-Bat legacy to Maps' continually rising star.
Batman: The Brave and the Bold #10 is available February 27th, 2024 from DC Comics.