News
Frasier Reboot Episode 7's Big Lilith Twist Was Set Up In The Original Show's Final Season
Warning! Spoilers ahead for the Frasier reboot episode 7.
Summary
Frasier and Lilith unexpectedly kiss in episode 7, revealing the long-standing attraction between the divorced couple.
Lilith's return after 19 years sparks a verbal battle between her and Frasier, but their insults eventually lead to them making out in Freddy's bedroom.
The kiss is a result of their internal insecurities and rekindled feelings, but their son walking in on them forces them to separate for now. Their potential reunion in the reboot remains uncertain.
Frasier and Lilith unexpectedly kiss towards the end of the Frasier reboot episode 7 — something that was long set up in the original show's final year. Bebe Neuwirth returns to the Cheers/Frasier universe 19 years after she last played her iconic role as Lilith Sternin. The franchise's resident ice queen clearly hasn't missed a beat when it comes to dishing out effective burns and insults, particularly towards her ex-husband. However, amid a series of verbal battles between the former lovers, the Frasier reboot episode 7, "Freddy's Birthday," shifts gear with the pair, or so it seems.
Neuwirth's one-time guest appearance in the Frasier reboot was long confirmed. That being said, Paramount+ kept the details of Lilith's involvement until the last minute. Ultimately, it made sense that she showed up for Freddy's birthday, albeit the specifics of her arrival were less than ideal, especially for Frasier. Grammer and Neuwirth were in their best form as Frasier and Lilith, so naturally, the Frasier reboot takes advantage of their chemistry as one of the most interesting divorced couples on TV. Still, nothing could have prepared viewers when they kissed after a whole day of bickering.
Frasier and Lilith Unexpectedly Make Out In Episode 7
Frasier and Lilith straightened themselves and decided to keep away from each other.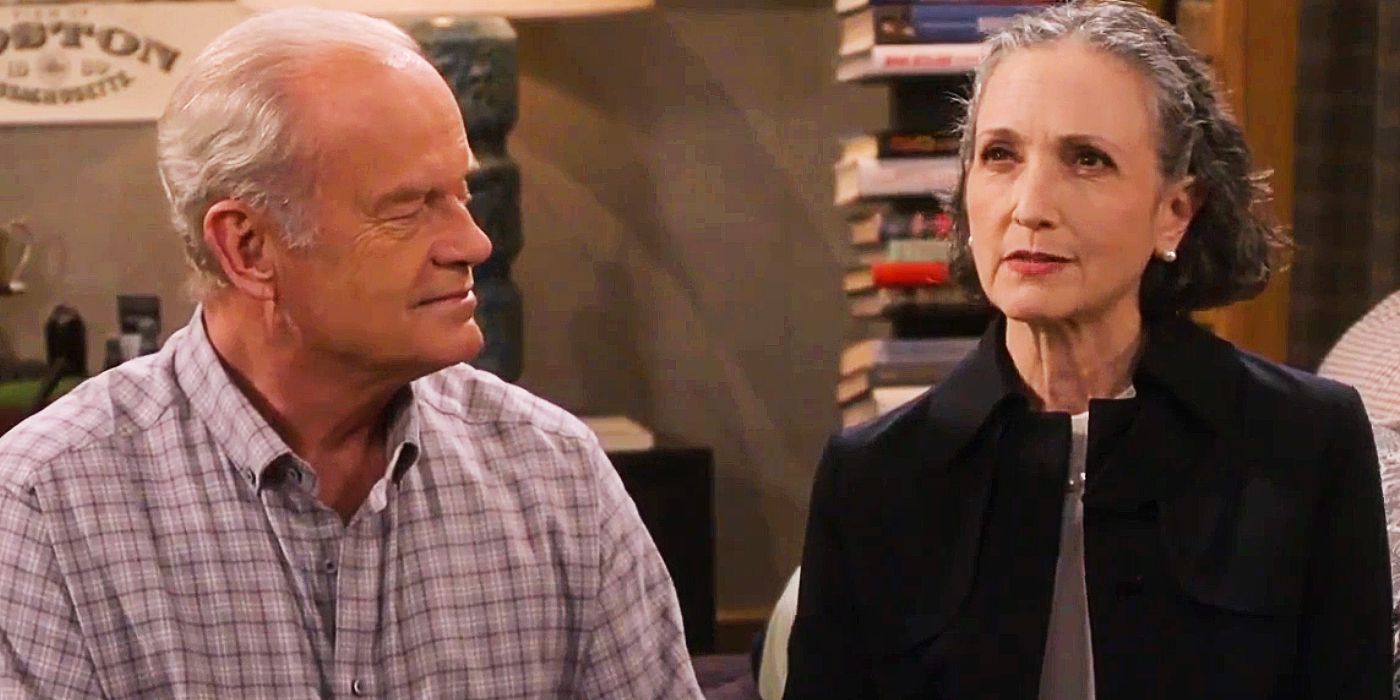 In a massive plot twist, Frasier and Lilith start to make out in Freddy's bedroom after they are both kicked out of Freddy's bowling party due to their incessant insults hurled at each other. As both prolific psychiatrists, they eventually admit to their motivations to one-up each other in front of their grown-up son. Lilith was trying to assert her territory, threatened by the fact that Freddy now lives with his dad. Meanwhile, Frasier let his insecurities about missing so much of his son's life in Boston get the best of him. Fueled by their respective internal issues, they ended up ruining Freddy's birthday celebrations.
Apparently, their serious conversation somehow brought back their old romantic feelings for each other. As they reminisce on the past and become candid about their regrets, the pair is struck by their mutual attraction, leading to them kissing in Freddy's bedroom. Unfortunately for them, before things get too far, their son walks in on them — understandably surprised and frustrated. Astonished by what happened, Frasier and Lilith straightened themselves and decided to keep away from each other — at least for now. Whether that actually sticks moving forward is currently unclear, but it rules out Lilith's return to the Frasier reboot anytime soon.
Frasier and Lilith's Attraction Was Evident The Last Time They Were On The OG Show
Lilith routinely visited her ex-husband in Seattle.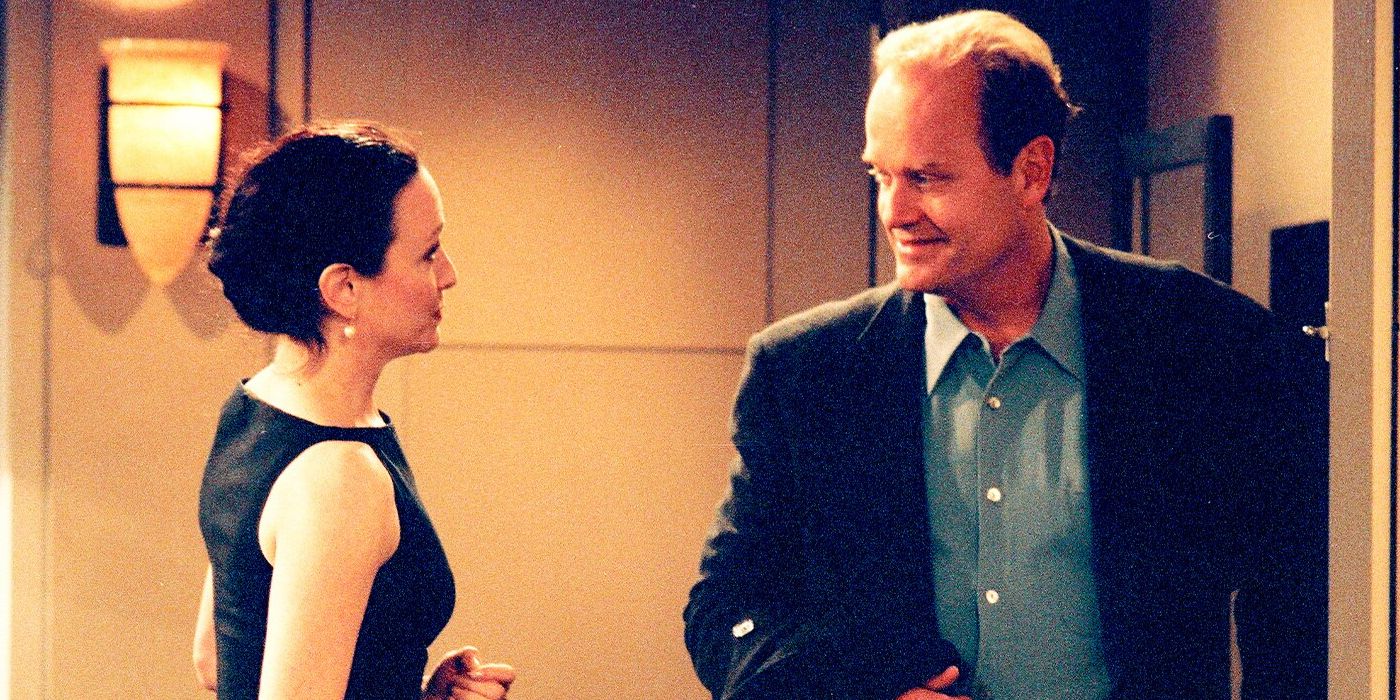 Lilith and Frasier's divorce was ugly and primarily due to her affair with her co-worker. Despite not being a series regular in the original series, it was able to consistently develop their dynamic as former lovers, with Lilith routinely visiting her ex-husband in Seattle for help when she was dealing with personal or professional issues. Throughout this time, the show floated the idea that they may actually get back together — something that the reboot is following suit. Lilith's final appearance in Frasier season 11, "Guns N' Neuroses," they were friendly with each other, with the comedy even tackling the possibility of a future with them together.
Will Frasier and Lilith Get Back Together In The Reboot?
Lilith is seemingly unattached during her Frasier reboot appearance.
Whether the Frasier reboot further explores Frasier and Lilith's feelings is unclear, but it's certainly an interesting narrative to tackle in the future. Although seeing them get romantic in Frasier episode 7 is shocking, especially for Freddy, these bouts of attraction between the pair aren't actually anything new, as evidenced in their many interactions in the old show. Perhaps they have always had feelings for each other, and it's something that they will never lose. Unfortunately, they just can't get past the initial hindrance from their checkered past. Between this and their newfound proximity to each other, it isn't going to be difficult for the pair to get back together.
It's difficult to predict there's a future where Frasier and Lilith are together, considering that their relationship has always had these tendencies. That being said, the fact that they haven't really fully closed the door on each other makes it easier for the Frasier reboot to reunite them, should it be part of its storytelling. The fact that Charlotte and Frasier have broken up and Lilith is seemingly unattached during her Frasier reboot appearance increases the chances of this happening. Hopefully, however, Paramount+ properly develops this story instead of using it as another plot twist. Otherwise, it risks them falling into old patterns and resulting in another split.
The Frasier reboot drops new episodes every Thursday on Paramount+.
Frasier

Release Date:

1993-09-16

Cast:

Kelsey Grammer, Jane Leeves, David Hyde Pierce, Peri Gilpin, John Mahoney, Jack Cutmore-Scott, Anders Keith, Jess Salgueiro, Toks Olagundoye, Nicholas Lyndhurst

Genres:

Comedy

Rating:

TV-PG

Seasons:

11

Story By:

David Angell, Peter Casey, David Lee, Glen Charles, Les Charles

Writers:

David Angell, Peter Casey, David Lee

Network:

NBC

Streaming Service(s):

Paramount+

Directors:

David Lee, Kelsey Grammer, James Burrows, Pamela Fryman

Showrunner:

Christopher Lloyd, Chris Harris, Joe Cristalli