News
Gladiator Director Ridley Scott Reveals His Hot Take On Joaquin Phoenix's Villain 23 Years Later
Summary
Ridley Scott sees Commodus, played by Joaquin Phoenix in Gladiator, as the most sympathetic character in the movie due to his neglectful relationship with his father.
Commodus was a victim of his father's actions and misdeeds, which ultimately led to his treacherous behavior and regicide.
Gladiator 2 will not feature the characters of Maximus or Commodus but instead focus on Commodus's nephew Lucius and potentially pit him against the tyrannical rule of co-Emperor Caracalla.
Gladiator director Ridley Scott has revealed his very different take on Joaquin Phoenix's villainous Commodus 23 years after the movie was first released. Earning Phoenix a Best Supporting Actor nomination at the 73rd Annual Academy Awards, Gladiator marked the first collaboration between the celebrated actor and Scott, who would later tap him to star in his latest historical epic, Napoleon. In the pair's first collaboration, however, Phoenix played the power-hungry son of the Roman Emperor Marcus Aurelius, who murdered his father to secure his claim to rule.
Despite being depicted as a ruthless and sociopathic despot, Scott offered a more sympathetic take on the character during a recent interview with Deadline. He claims that, much like Russell Crowe's Maximus, Commodus was also a victim who was betrayed and abandoned by his father long before committing his treasonous act of regicide. While explaining that Commodus' actions were the result of his father's actions and misdeeds, he suggests that Phoenix's character was actually "the most sympathetic character of all." Check out his explanation below:
I saw [Commodus] as the most sympathetic character of all, in Gladiator. He was a product of neglect, total neglect of a father that he adored. Then finally in the film, the father would say, I'm going to neglect you even further. You will not be the prince of Rome. And then the father realizes in his old age that he needs some form of absolute. So he does something fatal. He kneels before the boy asking for forgiveness. That was fatal because the boy has never seen his father ask for that kind of close discussion. So he suffocates him. So from that moment on, I thought Joaquin was the most sympathetic person during the movie. What he did and what followed, what came out of it, the nature of it had been created by his father…

Commodus was the neglected son, the product of complete neglect. And then to be told, you can't follow me, and here is who will take my place? That is more than a slap in the head. It's terrible. And in those days, particularly when succession was so righteous and expected…

Maximus and Commodus [were both victims]. Don't forget, Maximus is the person who didn't want it. He wanted to go home.
Will Gladiator 2's Emperor Caracalla Live Up To Phoenix's Villainous Commodus?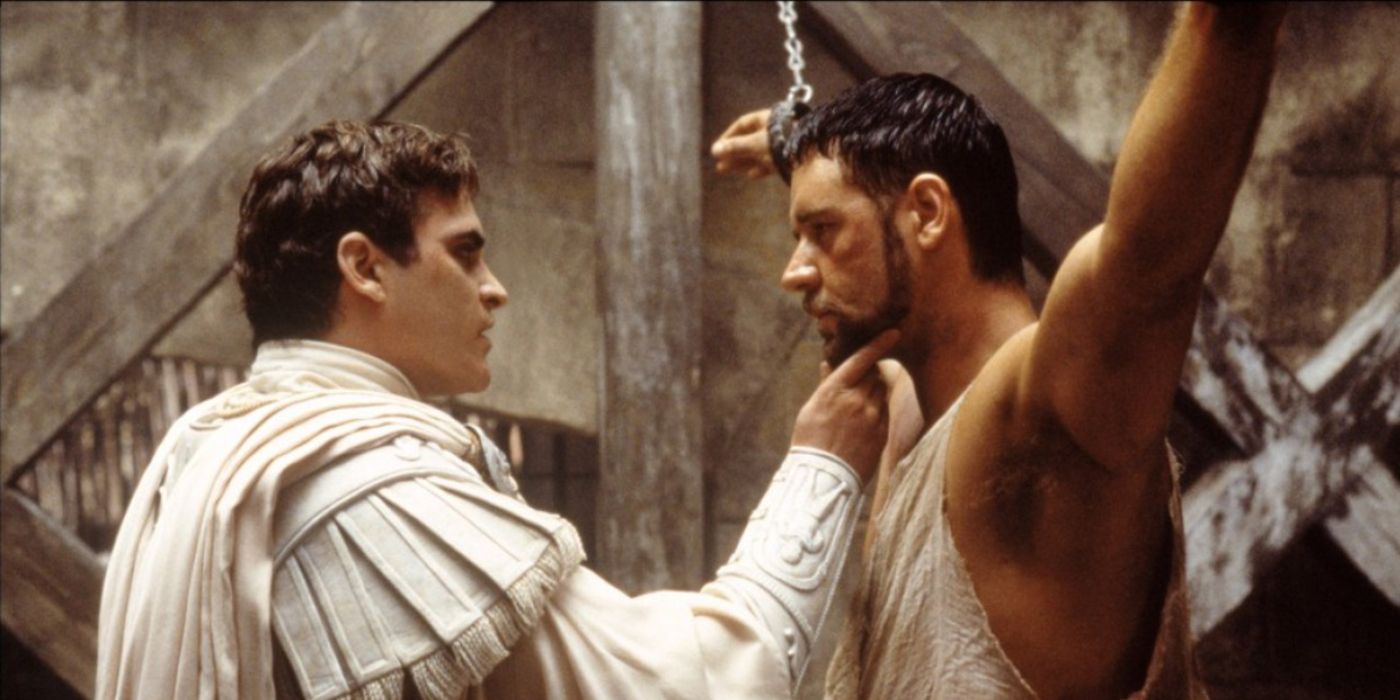 Set decades after the events of the original Gladiator, neither Crowe's Maximus nor Phoenix's Commodus will appear in the upcoming sequel. Instead, the story is reportedly set to focus on Commodus' nephew Lucius, now a full-grown man played by Paul Mescal. If Gladiator's real-life Roman history is any indication, co-Emperor Caracalla (played by Stranger Things' Joseph Quinn) seems the most likely candidate to fulfill that role.
Gladiator 2 will feature the return of Connie Nielsen as Lucilla and Derek Jacobi as Senator Gracchus.
Named as co-Emperor with his younger brother Geta (Fred Hechinger) following the death of their father, Emperor Septimius Severus, the siblings' joint rulership was one marked by jealousy, extreme paranoia, and ongoing hostilities that almost resulted in the Roman Empire being divided in half. After just two years, however, Caracalla orchestrated his brother's murder and ordered the brutal slaughter of thousands of his supporters. Caracalla even banned his Geta's name from being spoken under threat of punishment of death and sought to erase all traces of his existence from the annals of history.
Ironically, similar to the original Gladiator's Commodus, Emperor Septimius Severus' decisions became consequential and led to Caracalla's tyrannical path. Whether Scott elects to portray Quinn's character in a similar sympathetic light remains to be seen. If Scott intends to stick closely to the original history, this background will provide a fascinating scenario that can place Mescal's Lucius and potentially pit him against Caracalla's own sociopathic rule in the upcoming Gladiator 2.
Gladiator
Release Date

May 5, 2000

Director

Ridley Scott

Cast

Russell Crowe, Derek Jacobi, Oliver Reed, Connie Nielsen, Joaquin Phoenix, Djimon Hounsou, Richard Harris

Rating

R

Runtime

155 minutes

Genres

Action, Drama, Epic, History

Writers

William Nicholson, John Logan, David Franzoni

Story By

David Franzoni

Budget

$103 million

Studio(s)

DreamWorks Distribution, Universal Pictures, Scott Free Productions, Red Wagon Entertainment

Distributor(s)

DreamWorks Distribution, Universal Pictures

Sequel(s)

Gladiator 2
Source: Deadline