TV News
Good Omens Stylized Art Shows The Range Of Crowley & Aziraphale's Relationship
Summary
Good Omens artwork portrays the evolving relationship between Aziraphale and Crowley, capturing both the highs and lows of their connection.
The artwork effectively depicts the tension and tenderness between Aziraphale and Crowley through the use of contrasting color tones.
The timeline of their relationship spans throughout human history, from brief interactions to a deep friendship, showcasing a heartwarming and bittersweet love story.
A new piece of stylized Good Omens artwork details the full range of Aziraphale and Crowley's growing relationship. Michael Sheen and David Tennant portray the leading characters in Prime Video's adaptation of Terry Pratchett and Neil Gaiman's 1990 fantasy novel. Between Biblical tales, major events in human history, mundane romances, and the eve of the Apocalypse, Aziraphale and Crowley have remained close since the birth of galaxies at the very beginning of everything.
With Good Omens season 2 ending on a heartbreaking note for the series' ineffable couple, @andy.c.white's recent piece of artwork captures the highs and lows that a relationship between an angel and demon could bring.
To show the tenser moments, the piece captures a scene where a frustrated Crowley held Aziraphale against a wall in season 1, before reimagining the now-bittersweet kiss from Good Omens season 2's finale. The use of colder, paler tones for the tense stand-off and vivid colors for the kiss effectively captures how the two characters change between each moment.
Aziraphale & Crowley's Slow-Burn Romance Is A Tale Spanning Human History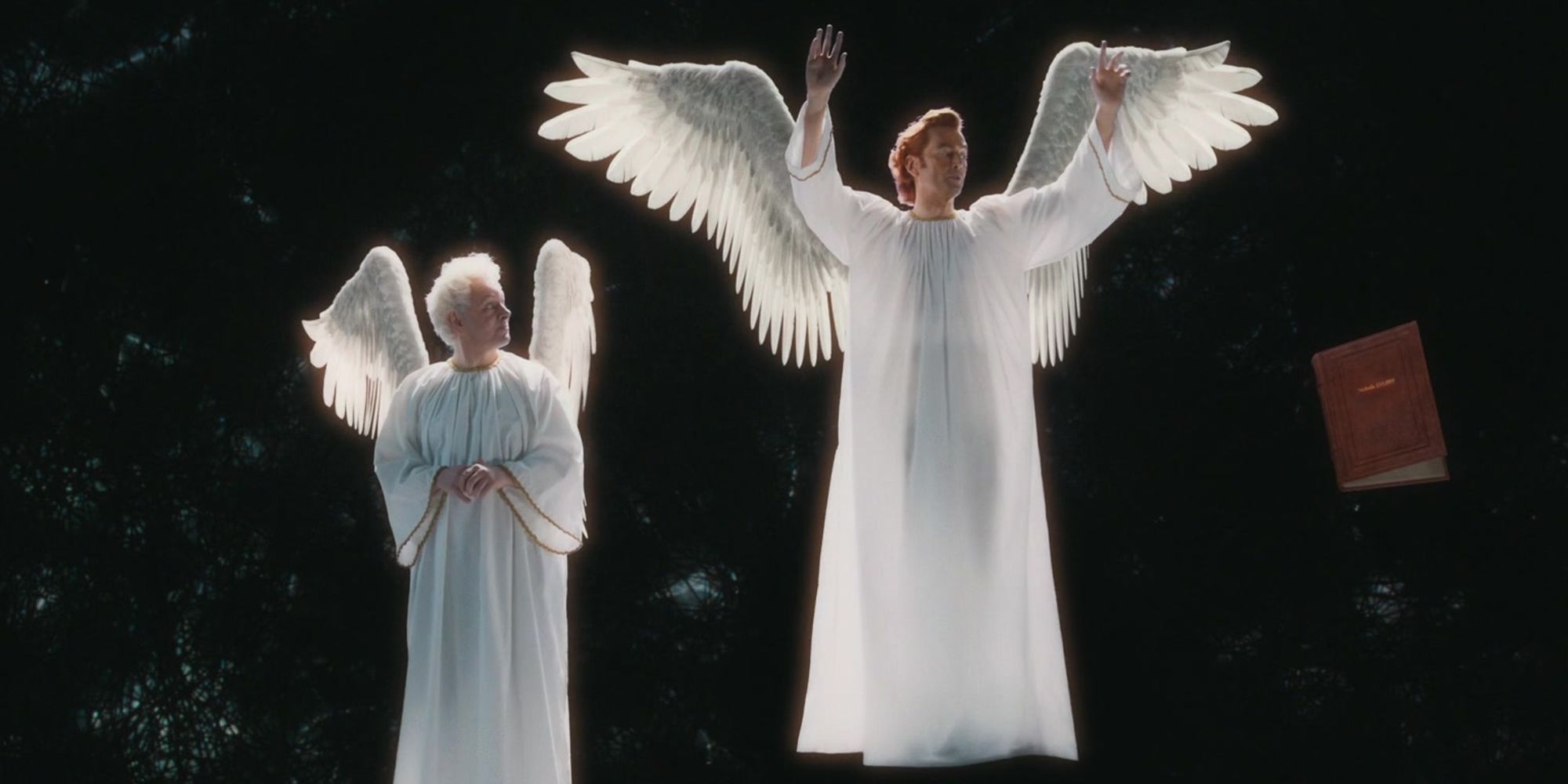 While their early meetings during the dawn of the universe saw the pair only share brief interactions, it was following Crowley's saunter down to Hell that sparks between the two truly ignited. From the expelling of humanity from the Garden of Eden to the tale of Job, the Good Omens duo would come across one another as they went about their duties for their respective sides. These meetings would lead the two of them to ask the other whether their sides were truly just, poking and challenging one another across Good Omens' flashbacks.
Related: Good Omens Timeline Explained: Everything That Happens In Chronological Order
These chance meetings would continue until the days of Queen Elizabeth I, when the two entered a pact to help one another when necessary, pushing their relationship from acquaintanceship into friendship. This would only grow over the years until modern times, where after rescuing and aiding one another for hundreds of years, they would stand against Heaven and Hell to save the world. Ultimately, even though Good Omens season 2 would see the pair part ways on bad terms, being surrounded by love showed Aziraphale and Crowley that there was more to their feelings than just a friendship.
Good Omens has created a detailed timeline that shows how Aziraphale and Crowley gradually fell together, telling a heartwarming, sometimes bittersweet love story between two powerful beings. As such, the above artwork is a perfect representation of just how the duo has changed across the series. While Prime Video has not reached a verdict on Good Omens season 3, it's clear there is still more story to tell with Aziraphale and Crowley's ever-growing romance.
Source: @andy.c.white/Instagram