News
How Kurt & Wyatt Russell Worked Together On Their Monsterverse Character
Summary
Matt Fraction explains how Kurt and Wyatt Russell worked together to develop their shared character in Monarch: Legacy of Monsters.
The father and son duo rehearsed together, mirroring each other's performances and actively collaborating on the role.
The casting of Kurt and Wyatt Russell in the same role is an entertaining and uncommon choice, which adds intrigue to the series and bridges the generational gap in the story.
Matt Fraction explains how Kurt and Wyatt Russell worked together to develop their shared Monarch: Legacy of Monsters character. Jumping between timelines, the Apple TV+ series depicts the aftermath of Godzilla's attack on San Francisco, and the sightings of Massive Unidentified Terrestrial Organisms in the 1950s. The father and son portray Lee Shaw, an Army officer and member of the eponymous organization, at different stages of his life. Along with Kurt and Wyatt Russell, the cast of Monarch: Legacy of Monsters includes Anna Sawai, Ren Watabe, Kiersey Clemons, Elisa Lasowski, and Anders Holm.
In a recent interview with Men's Health, Fraction revealed how Kurt and Wyatt Russell developed their character for Monarch: Legacy of Monsters. He explained how the father/son duo would rehearse together, and slightly mirror each other at times. Fraction also praised their ability to play the same role, noting that "It was more than a gimmick for us." Read Fraction's comments regarding Kurt and Wyatt Russell's performances below:
They would do lines together, [ask] 'How would you do this?' They would go back and forth. They would read each other's parts. They just really worked the whole time to make this thing. As much fun as it is to write that, to bring it into the world of acting— this is just a treat, you know? I think it's certainly a stunt-y idea. But it's fun. Man, they were willing to play. We had really active collaborators in the Russells. It's a great relationship, and it's fun to hang out with them.

Then, to watch them do this stuff — there'll be moments where Wyatt would kind of do a Kurt impression. It's like, 'Oh, it's Lee pretending to be Shaw, but he's not there yet. He's trying to be a tough guy.' Then there'll be other moments where Kurt, for all the Kurtness, would find something beautiful, tender, and human in Cate, Kentaro, or May, and suddenly he would soften up. It's like, 'Oh my God, look at that!' right? Thank God Kurt and Wyatt understood it. It was more than a gimmick for us. [We told them] 'We want you guys to build this thing together,' and they were they absolutely wanted to—and went for it.
Why Casting Kurt & Wyatt Russell In The Same Role Works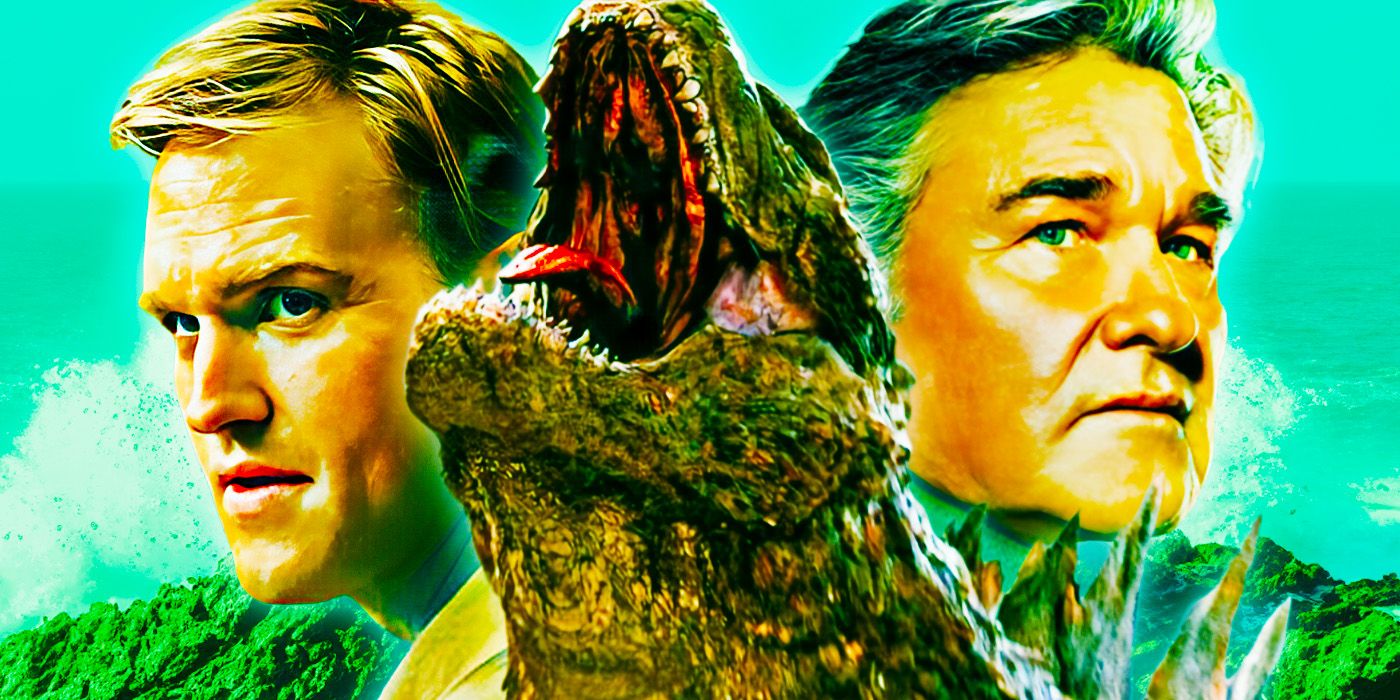 As Fraction mentioned, having Kurt and Wyatt Russell portray Lee Shaw, at different ages, is entertaining, and his comments about their ability to work on the character together suggest that the actors' performances may be similar throughout. It's uncommon to find father/son pairs taking on the same role, and audiences familiar with both Russells will likely enjoy seeing them in this part. Matt Shakman, who directed Monarch: Legacy of Monsters, previously revealed that the show was looking at unrelated actors, but casting Kurt and Wyatt Russell presented an exciting opportunity.
Previously, Wyatt Russell appeared in 1998's Soldier, portraying the younger version of Kurt Russell's Todd.
During the show's first two episodes the younger version of Lee Shaw encounters multiple, terrifying creatures, and it's worth wondering what else he will experience as it progresses. In 2015, it's revealed that he's connected to Cate (Sawai) and Kentaro (Watabe), and after meeting, he begins to tell them about Monarch and their father. With actors who look and can behave somewhat similarly, the role of Lee Shaw feels more real, which helps to bridge the generational gap of the story at hand.
Considering the Monsterverse's existing audience, and the scarcity of father/son actors playing counterparts, this series could attract an even larger viewership thanks to the intrigue of seeing Kurt and Wyatt take on the same role. It will be interesting to see how the father/son duo continue to portray Lee Shaw, as the Monarch: Legacy of Monsters timeline gets further explored.
Source: Men's Health