TV News
How Reservation Dogs Season 3 Made Its Biggest Cameo Yet A Reality
Warning: This article contains spoilers for Reservation Dogs season 3 episode 9.
Summary
Ethan Hawke appeared as Elora's father Rick on the most recent episode of Reservation Dogs.
The casting director of Reservation Dogs reveals that getting Ethan Hawke for a major cameo in season 3 was a surprisingly easy process.
Ethan Hawke was already interested in working with the show's co-creator Sterlin Harjo.
The casting director for Reservation Dogs has explained how they got their most recent major cameo. The series, which premiered in 2021, follows teens from the Muscogee Nation who live in small-town Oklahoma. After Elora (Devery Jacobs) learned that her father Rick was alive at the beginning of season 3, the episodes have built toward a potential reunion that came to pass in the most recent episode, "Elora's Dad." All that buildup led to a huge cameo, as it turns out Rick was played by Before Sunrise and The Black Phone star Ethan Hawke.
TV Insider recently sat down with casting director Angelique Midthunder to discuss her major coup with Reservation Dogs season 3. She explains that while other big names were considered, Ethan Hawke was a "perfect fit." Getting him on the show was the "easiest process that we've had" because Hawke was already interested in working with the show's co-creator Sterlin Harjo. Read Midthunder's full quote below:
We knew that it had to be somebody really great. We didn't know that this would be the final season. We knew that Elora's dad is kind of a big deal in the storyline, and what a fun opportunity to bring in somebody really cool, a non-native actor into this world.

That was the initial conversation that [series creator Sterlin Harjo and I] had. I went through my process and gave him ideas upon ideas, and Ethan Hawke was [on my list]. So I think Sterlin was like, "This is great, let's get Ethan Hawke." And I mean, it was just the easiest process that we've had on the show. Ethan and Sterlin have been eager to work together. So it was a no-brainer and it was just a perfect fit.

When we get a guest star opportunity like this… it's a departure from what I'm typically doing. So I do have a lot of fun with my list and with my team, we all brainstorm and we like to aim high. [There was] no one else that we went out to. No one else that we really considered. Sterlin was like, "If we can get Ethan, that would be amazing." And he made it work. Everyone made it work.
The Stage Was Set for Ethan Hawke's Reservation Dogs Cameo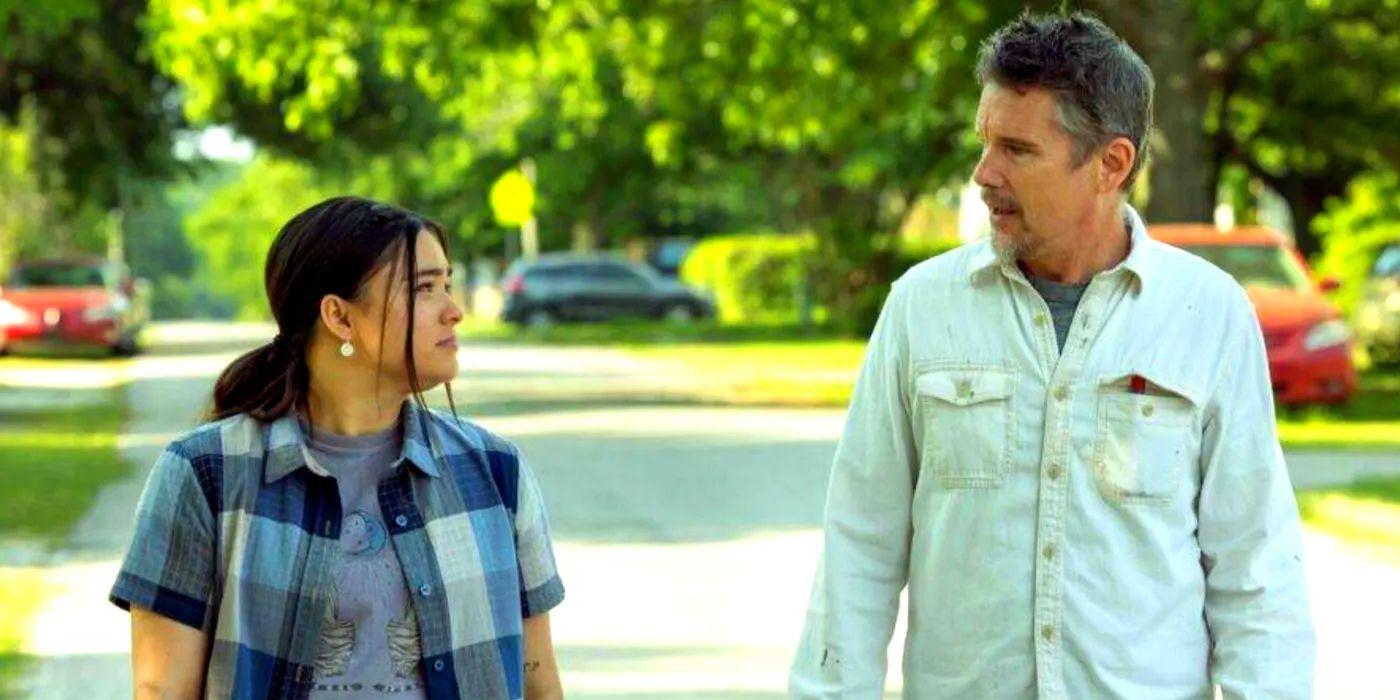 The short-lived series has a proven ability to attract unique talent for its star-studded cameos. Already, the Reservation Dogs cast has featured appearances from Friday Night Lights star Garrett Hedlund, Prey's Amber Midthunder, Will & Grace cast member Megan Mullally, and comedian and podcaster Marc Maron. However, getting Ethan Hawke to appear in the latest episode of the show is still a major accomplishment for Midthunder.
This is especially true considering the fact that Hawke has typically favored big-screen roles over television appearances. In the first 33 years of his career after making his feature debut in 1985's Explorers, Hawke only appeared on 4 episodes of television. However, the tide began to turn in 2019 when he made a cameo as his The Purge character James Sandin in an episode of the USA Network show adapted from the movie franchise.
After that, the floodgates opened and he began to appear in more and more television. In addition to starring in the seven-episode miniseries The Good Lord Bird, he played Batman on 14 episodes of Batwheels and joined the Moon Knight cast as the Marvel villain Arthur Harrow. Without these roles increasing his comfort in taking on television projects, Hawke may never have agreed to appear on Reservation Dogs.
Source: TV Insider