News
Hunger Games Villain Getting A Prequel Movie Before Heroes Defended By Young Snow Actor
Summary
Actor Tom Blyth defends President Snow's prequel story in The Hunger Games: The Ballad of Songbirds & Snakes, highlighting the beauty of fictional characters and their ability to explore complex aspects of humanity.
The film delves into President Snow's tragic backstory, portraying his subtle transformations and the pivotal moments that shape his path toward tyranny.
Giving the villain his own film offers a fresh perspective on The Hunger Games franchise, potentially attracting an audience interested in exploring a different side of the story.
The Hunger Games: The Ballad of Songbirds & Snakes star Tom Blyth has defended his character, Coriolanus Snow, getting a prequel before any of the franchise's main heroes. The newest installment in the franchise follows a young Snow as a mentor during the 10th Hunger Games, being assigned to District 12's Lucy Gray Baird. However, the film's main focus is on his evolution into the cunning President of Panem he is in the core series.
Speaking with Entertainment Weekly, Blyth defended President Snow getting a prequel thanks to The Ballad of Songbirds & Snakes' release before the main heroes of the series could get origin stories of their own. The actor emphasizes how Snow's story is a tragedy, and his status as a fictional character allows him to be a complex, layered antagonist. Check out what Blyth had to say below:
I've heard a lot of people saying, 'Why should we tell this man's story?' And I'm like, 'Okay, first off, he's not real. The beauty of fictional characters is you get to look at parts of humanity that are difficult to understand. You're able to empathize.

I'd lived in his body for quite a while, and he [goes] through so many different, subtle transformations. To be with him in that moment of breaking down — that rage bubbling up inside him, which is then going to inform the rest of his life — I felt heartbroken for him. I wanted him to choose the righteous path.
Why President Snow Needed His Own Hunger Games Movie?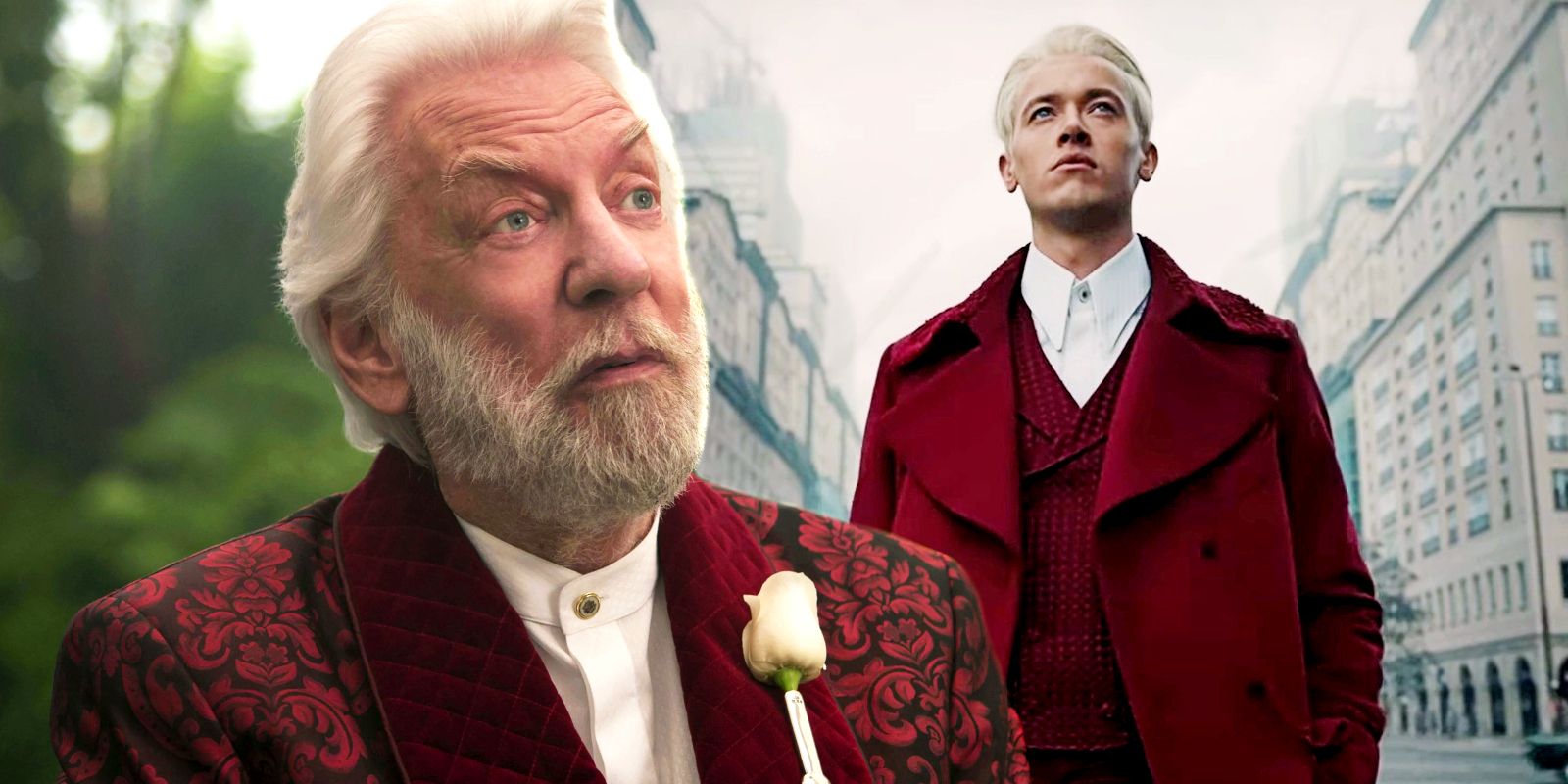 Plenty of heroes in The Hunger Games franchise, such as Haymitch or Finnick, have plenty of interesting backstories that could be made into more films. However, author Suzanne Collins chose to write her book The Ballad of Songbirds & Snakes about a younger Snow, revealing how he became the series' villain. Doing so allowed for a deeper exploration of his backstory that ended up being translated to the big screen.
While The Ballad of Songbirds and Snakes' cast consists of other stars such as Rachel Zegler (West Side Story) and Viola Davis (Air), Blyth's Snow is the core figure in the movie. By crafting a story about how he became a tyrannical Panem loyalist, the prequel offers a sympathetic look into the life of the franchise's most monstrous figure. Starting at a point where he could be swayed down a different path, his story becomes tragic because of which side he decided to become part of.
The decision to give Snow his own film may also draw an audience that wants to see a different side to the franchise. While it's unclear how The Ballad of Songbirds and Snakes box office will fare, the movie may be a success because of its focus on a villain instead of a hero. With plenty of interesting facts about the antagonist's backstory left to explore, it won't be long until Panem returns to the big screen in a brand new way.
The Hunger Games: The Ballad of Songbirds & Snakes will arrive in theaters on November 17, 2023.
Source: EW
The Hunger Games: The Ballad of Songbirds and Snakes

Release Date:

2023-11-17

Director:

Francis Lawrence

Cast:

Tom Blyth, Rachel Zegler, Hunter Schafer, Jason Schwartzman, Peter Dinklage, Josh Andrés, Josh Andrés Rivera, Viola Davis

Rating:

PG-13

Runtime:

157 Minutes

Genres:

Action, Adventure, Drama

Writers:

Michael Lesslie, Michael Arndt, Suzanne Collins

Studio(s):

Color Force, Lionsgate

Distributor(s):

Lionsgate

Sequel(s):

The Hunger Games, The Hunger Games: Catching Fire, The Hunger Games: Mockingjay Part 1, The Hunger Games: Mockingjay – Part 2

Franchise(s):

The Hunger Games