TV News
"I Am Never Going To Recover": Star Wars Fans React To Ahsoka Episode 6
Summary
Ahsoka episode 6 delivered long-awaited reunions from Star Wars Rebels, including the emotional reunion between Sabine and Ezra that fans have been waiting for since 2018. The episode finally follows up on the unresolved plot point of Ezra and Thrawn's disappearance.
The emotional reaction to seeing Sabine and Ezra reunite is understandable due to the length of time Ezra has been missing and the close bond they formed in Star Wars Rebels. However, the looming threat of Thrawn adds a dark shadow to the heartwarming moment.
Ahsoka episode 6 not only satisfied fans' desires for reunions but also built upon the threat of Thrawn that has been hanging over the series. The anticipation for the final two episodes is heightened by the presence of this antagonist.
Ahsoka episode 6 included major moments for the series and Star Wars as a whole, prompting plenty of emotional reactions from fans of the show online. While much of Ahsoka episodes 1, 2, and 3 were fairly straightforward regarding plot, episodes 4, 5, and 6 have been game-changing, to say the least. From episode 4's cliffhanger ending involving Anakin Skywalker to episode 5's journey through the World Between Worlds, Ahsoka's recent installments have had no shortage of mind-blowing moments for Star Wars fans to digest.
Ahsoka episode 6 was no stranger to this, delivering endlessly amazing moments from the reimagining of George Lucas' iconic "galaxy far, far away…" tagline to Ahsoka's retcons of Darth Maul's planet Dathomir. What's more, is that Ahsoka episode 6 featured the long-awaited return of Star Wars Rebels' Grand Admiral Thrawn and Ezra Bridger. These two character inclusions elicited plenty of emotional reactions from Star Wars fans, many of whom took to social media to share their thoughts on Ahsoka episode 6's universe-altering events.
Related: Thrawn In Ahsoka vs Star Wars Rebels: Hi-Res Screenshots & Breakdown
Star Wars fan KyloCool630 focuses on the reunion of two beloved Star Wars Rebels characters, Ezra Bridger and Sabine Wren. Given that Sabine's quest for Ezra was teased as far back as 2018 and Rebels' culmination, it makes sense that Star Wars fans would have a heightened emotional reaction to the characters' Ahsoka episode 6 meeting.
This sentiment was only echoed by bobreddit889, who shared a viral video stating that the emotional reaction to seeing Sabine and Ezra reunite was similar in nature.
Given that Ahsoka has been billed as Star Wars Rebels season 5, R10UTD highlighted the excitement at seeing Thrawn and Ezra be translated to live-action Star Wars after their return in Ahsoka episode 6.
When concerning the villainous Grand Admiral Thrawn in Ahsoka, IllegalCai noted the shared excitement at seeing the live-action Chiss Imperial in Ahsoka episode 6. Similarly, the promise of Thrawn's fledgling army was highlighted which makes the Empire's inevitable resurgence all the more threatening.
A common outcome of Ahsoka's social media reactions has continued after Ahsoka episode 6, with OneTakeNews heaping praise on the show's creator Dave Filoni after a third straight episode fans consider to be the pinnacle of Star Wars.
Aside from the excitement of seeing Sabine, Ezra, and Thrawn in Ahsoka episode 6, cap_rexofthe501 draws attention to the episode's opening scene in which Star Wars' iconic tagline of "A long time ago in a galaxy far, far away…" receives in-universe context from Ahsoka's trusty droid companion Huyang.
Finally, baileysbadomens shares the wide-reaching excitement at finally seeing the remaining living members of Star Wars Rebels in live-action. After Hera, Sabine, and Chopper's appearances in Ahsoka's early episodes and The Mandalorian's cameo of Garazeb Orelios, Ezra Bridger was the only remaining Rebel left to appear in live-action, something which Ahsoka episode 6 willingly provided.
Ahsoka Episode 6 Delivered The Star Wars Rebels Reunions We'd Been Waiting For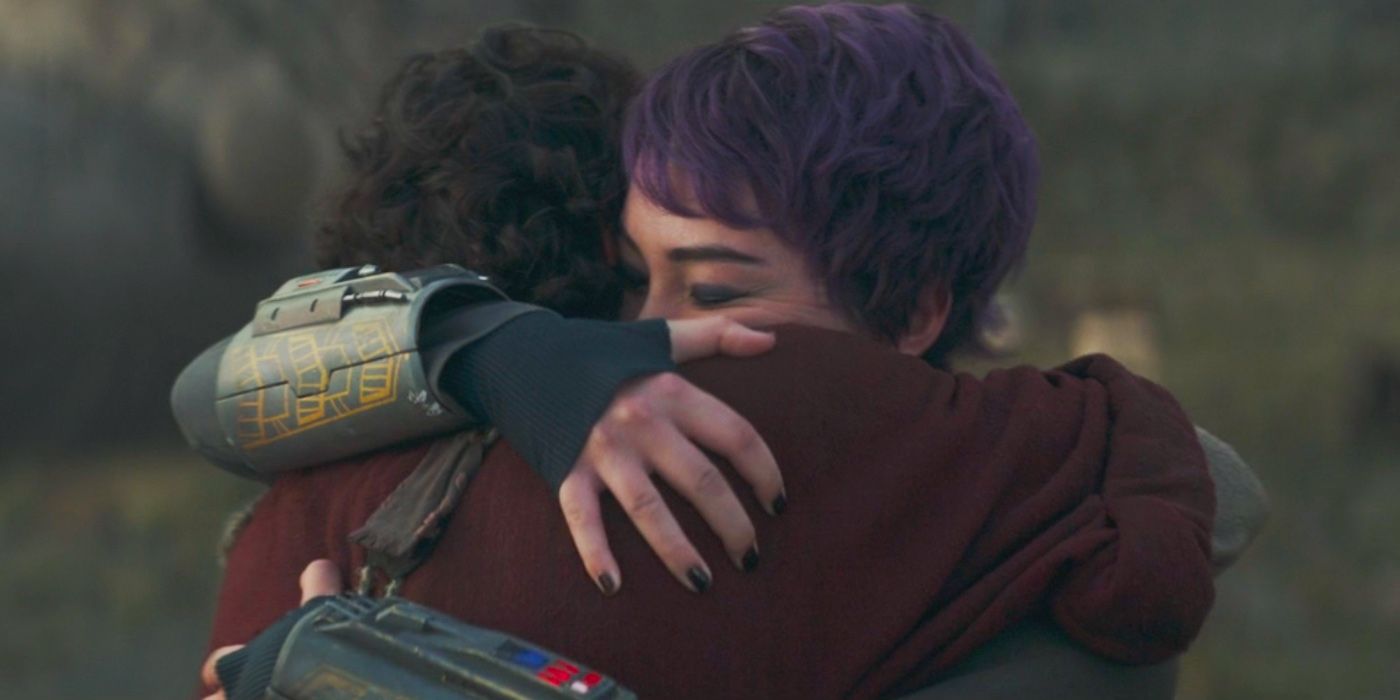 As echoed by the multitude of reactions above, Ahsoka episode 6 truly delivered on the Star Wars Rebels reunions fans have been waiting for since 2018. The disappearance of Ezra and Thrawn has long been a Star Wars plot point many have wished to see resolved since the final episode of Rebels five years ago, with Ahsoka episode 6 finally following up on the promise. Not only did the episode feature a heartwarming reunion between Sabine and Ezra long in the making, but it also delivered on the looming threat of Thrawn that has hung over Ahsoka's proceedings.
The reunion between Ezra and Sabine is clearly exciting to Star Wars fans. The reason for this stems from the length of time Ezra has been missing but also the close connection forged between the two in Star Wars Rebels. As such, the emotional reaction to seeing the duo reunite in Ahsoka episode 6 is entirely reasonable. That said, the threat of Thrawn hangs like a shadow over the heartwarming moment, a shadow which is only fated to grow darker going into Ahsoka's final two episodes.
New episodes of Ahsoka release every Tuesday at 6pm PT / 9pm ET on Disney+.