News
James Gunn Gives Update On New Superman Costume And Teases When It Might Be Revealed
Summary
Superman: Legacy is a crucial installment for the franchise and will be the official launch of the DC Universe.
The Superman: Legacy suit, as well as other costumes for the film, will not be revealed "until after we're filming," according to James Gunn.
More casting announcements for Superman: Legacy are expected soon, and the film will receive more attention as production begins next year.
James Gunn teases when the world may see the DC Universe costume for David Corenswet's superhero in Superman: Legacy. The new DC Universe is on its way as Gunn and Peter Safran, who both serve as CEOs for DC Studios, are working hard on Chapter 1, "Gods and Monsters." Gunn's Superman: Legacy movie will be one of the most crucial installments for the franchise since the 2025 movie will be the proper launch for the DC Universe.
Superman: Legacy is still in pre-production as filming is, as of now, aiming to start sometime in March 2024. When asked by a fan on Instagram when they may get a first look at Corenswet as the new Superman in the DC Universe, Gunn gave a blunt response.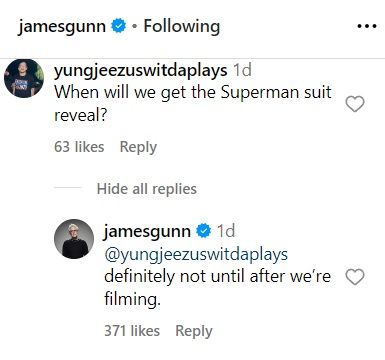 Without giving specifics, Gunn stated the Superman: Legacy suit will "definitely not" be revealed to the world "until after we're filming." While he never brought up other heroes, it wouldn't be shocking if this rule applies to the other Superman: Legacy characters, too.
| | |
| --- | --- |
| Superman: Legacy Superhero Actor | Their Confirmed Superhero Role |
| David Corenswet | Clark Kent/Superman |
| Nathan Fillion | Guy Gardner/Green Lantern |
| Isabela Merced | Hawkgirl |
| Edi Gathegi | Michael Holt/Mister Terrific |
| Anthony Carrigan | Rex Mason/Metamorpho |
| María Gabriela de Faría | Angela Spica/The Engineer |
RELATED: Every Actor Cast In Superman Legacy (So Far)
Everything We Know About Superman: Legacy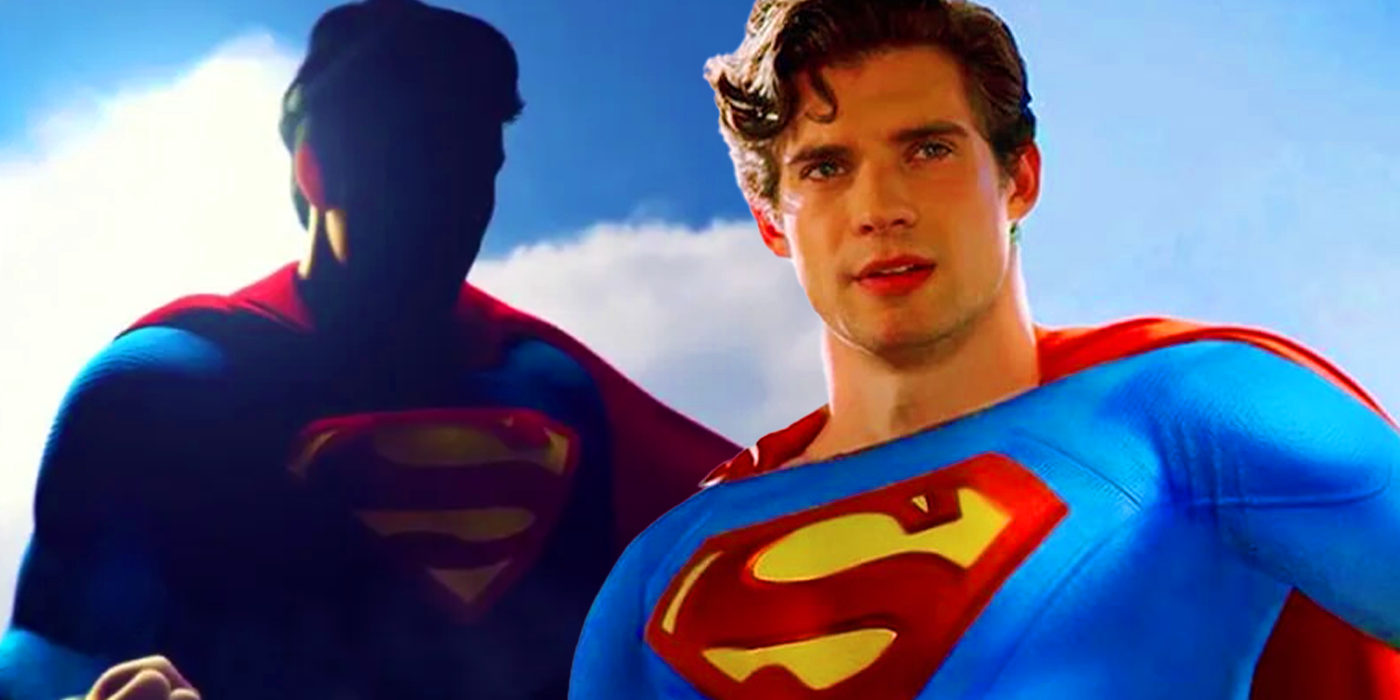 According to Gunn, Superman: Legacy will follow Clark early on in his career as the Man of Steel, with this version of the DC Universe set to already have established superheroes. As they are skipping the origin story, Superman: Legacy will essentially be a year-two setting for Corenswet's version of the character, similar to how Matt Reeves approached Bruce Wayne in The Batman.
Rachel Brosnahan will be the latest actress to bring Lois Lane to life on the big screen as she was cast on the same day as Corenswet for Superman: Legacy. According to Gunn, Jimmy Olsen will also be featured in the movie, although no casting announcement has been made yet. With Da Fariá set to play The Engineer, other members of The Authority are reportedly also showing up in Superman: Legacy.
Gunn teased in the same Instagram post that more Superman: Legacy casting will be coming soon.
Given how crucial Superman: Legacy will be for the whole DC Universe, there will be more attention paid to the film when production starts next year. Even though an official photo may not be shared, the Superman. Legacy costumes are bound to be glimpsed through set photos if the production is filming outside. Hopefully, with only a few more months left to go before principal photography kicks off, Gunn will have more Superman: Legacy news to share sooner rather than later.
Source: James Gunn/Instagram