News
Juno Temple & Jennifer Jason Leigh On Being Minnesota Nice
Summary
Fargo season 5 is set in 2019 and follows housewife Dot Lyon as she tries to keep her family together and evade her past.
The cast of Fargo season 5, including Juno Temple, Jennifer Jason Leigh, and Jon Hamm, is equally remarkable as previous seasons.
Juno Temple and Jennifer Jason Leigh discuss their excitement to work together and their admiration for creator Noah Hawley's vision in Fargo season 5.
Midwestern crime drama Fargo returns for season 5, and the FX show has come back home to Minnesota. Originally inspired by the Coen brothers' iconic movie, Noah Hawley's take on Fargo turns it into an anthology season featuring a different case and (mostly) different characters each year. Season 5 brings the story closest to the present, as it is set in 2019 and follows troubled housewife Dot Lyon (Ted Lasso's Juno Temple) as she tries to keep her family together and evade her past.
Previous seasons included legendary actors like Billy Bob Thorton, Kristen Dunst, Ewan MacGregor, and Chris Rock, and Fargo season 5's cast is equally as remarkable. Joining Temple is Jennifer Jason Leigh as Lorraine Lyon, Dot's mother-in-law whose success in the debt collection business has not made her any warmer towards her hapless son Wayne (David Rysdahl) or her suspicious daughter-in-law. Jon Hamm also stars as the "constitutional lawman" Roy Tillman, who is on the hunt for Dot due to a shared history that will be revealed as the season progresses. Joe Keery, Lamorne Morris, Richa Moorjani, Dave Foley, and Spruell complete the ensemble and make for a season full of dark humor and gruesome crime.
Related: Jon Hamm's Fargo Season 5 Role Looks Great, But These 2 Characters Are The Real Ones To Watch
Screen Rant interviewed stars Juno Temple and Jennifer Jason Leigh about their matriarchal roles in Fargo season 5, their excitement to work with each other, and their mutual admiration for creator Noah Hawley's vision.
Juno Temple & Jennifer Jason Leigh Talk Fargo Season 5
Screen Rant: I love Fargo, and you guys have been amazing so far in the episodes I've seen. I feel like anyone who's anyone would obviously want to be in Fargo, but what drew both of you to Minnesota?
Juno Temple: I remember the moment that it became a possibility and came into my universe. Firstly, I was unbelievably excited and overwhelmingly nervous, which meant also I had to do it because I think nerves are the greatest challenge and they normally turn into you working really hard to try and do the best that you can do.

But I think there are some big shoes to fill with the previous installments and the original movie, of just such extraordinary performances and such exquisite kind of dancing with the language and the tone of dark and comedy that, yeah, the thrill of being nervous and excited never goes away. But we also have Noah Hawley there to guide us, and Tom Bezucha is also on this installment, who was another great guiding force. Yeah, so it was a privilege.

Jennifer Jason Leigh: Yeah. I love Fargo so much. Of course, the original film, and then every installment of Fargo, every chapter of Fargo, I would just eat up. The tone, the specificity. Just the stories, there are these incredible things that just take on. Everyone is so different, and I love them all so much that I couldn't even believe it was a possibility to become a part of it.

Juno Temple: I feel like I'm processing it right now doing this with you. We're actually going to be in the fifth installment. It's kind of like, "Oh my God." It's kind of just hitting me.

Jennifer Jason Leigh: It's very surreal. Wow.
The two of you on screen together are so much fun. I loved watching this battle of the matriarchs, very different kinds of matriarchs. How do you both match each other's energy on set?
Juno Temple: I was so excited to work with Jennifer, and I remember the first day that she was coming, and I remember choosing to sit next to you in the green room. Then just getting to know somebody who is so brilliant at what they do as a partner, wanting to talk through things with your characters on and off set, and also just getting to know each other personally meant that we could have gone to space and come back again and matched each other.

Because it's not about matching each other, it's about being like, "How does that feel?" It's kind of taking each other's hand through a journey of an extraordinary relationship between these two women throughout this installment, I think.

Jennifer Jason Leigh: Yeah, and just the fun and the joy of creating it together. Juno is so open and generous and alive. It's just you can't help but… You can't even get too much in your head because she'll just always pull you back into the scene and into the reality of it. You're just such an incredible actress.

Juno Temple: We've got to do more together.

Jennifer Jason Leigh: It's just a pure pleasure.
Jennifer, I love Lorraine, and the family dynamic is so funny to me. She seems to disdain her son and hate her daughter-in-law, but maybe kind of like her granddaughter. What's it looking like from your perspective?
Jennifer Jason Leigh: Yeah. I think in her mind, she loves them all. She's a great mom! But I do think her granddaughter gets her in a way, and she still has hope for her. And yeah, I really love Lorraine as a character. She's really something. And the dialogue is unlike anything I've ever done, I have to say. It was really fun.
Juno, we get to see you be such a strong, fierce woman when it comes to self-preservation and protection of the family, but it's also almost balanced with the dream of being this happy-go-lucky domestic partner.
Juno Temple: Minnesota nice. [Laughs] I think they're both a part of her, right? It's the balancing of just knowing that they are both within her. She is a woman who loves being a wife and loves having a home and loves her daughter and loves protecting her baby cub, you know? And I think at the same time, throughout this installment, you'll find out more about why she's also very good at protecting exterior things from coming into her safe place of… Her sanctuary with the people that she loves the most. And her past starts catching up with her, so she's got to take some extra precautions.
About Fargo Season 5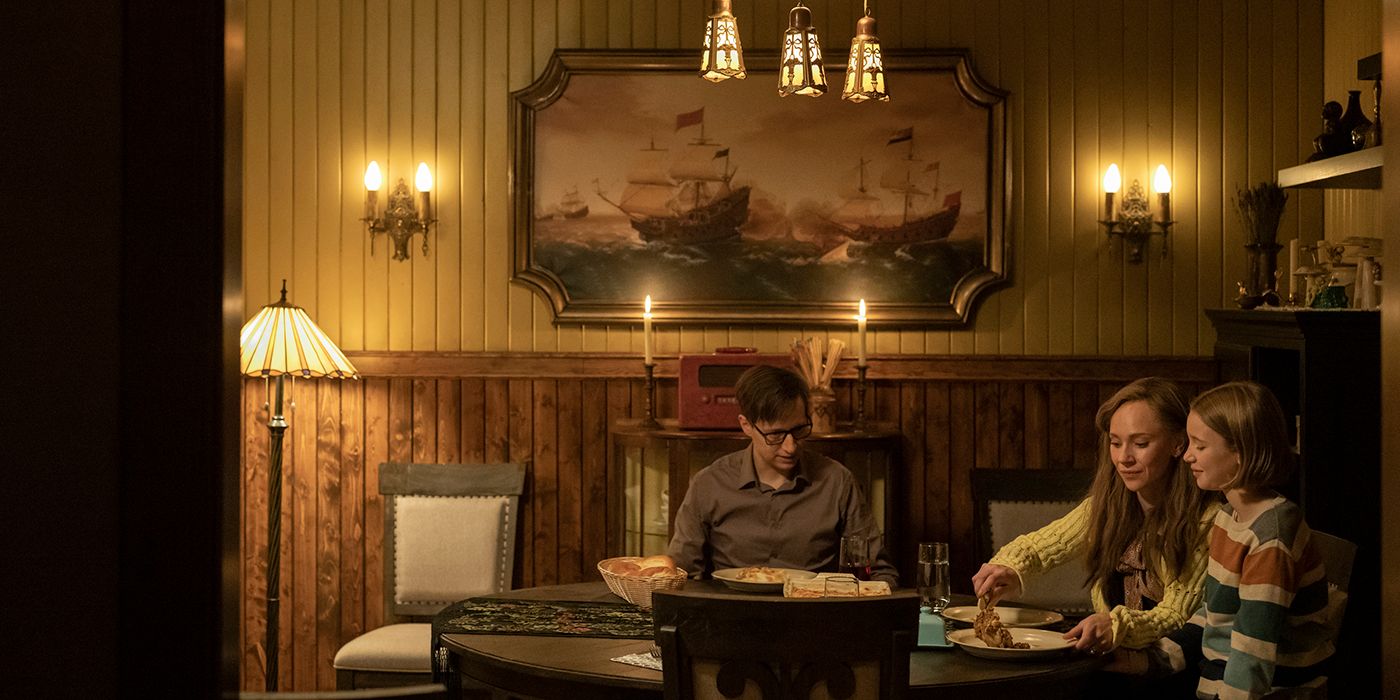 The latest installment of Fargo is set in Minnesota and North Dakota, 2019. After an unexpected series of events lands "Dorothy 'Dot' Lyon" (Juno Temple) in hot water with the authorities, this seemingly typical Midwestern housewife is suddenly plunged back into a life she thought she had left behind. North Dakota Sheriff "Roy Tillman" (Jon Hamm) has been searching for Dot for a long time. A rancher, preacher and a constitutional lawman, Roy believes that he is the law and therefore is above the law. At his side is his loyal but feckless son, "Gator" (Joe Keery), who is desperate to prove himself to his larger-than-life father. Too bad he's hopeless. So, when it comes to hunting Dot, Roy enlists "Ole Munch" (Sam Spruell), a shadowy drifter of mysterious origin.
Check out our other interviews with:
Jon Hamm
Lamorne Morris
Richa Moorjani
Sam Spruell
Dave Foley
The first two episodes of Fargo season 5 premiere November 21 on FX at 10pm ET, with new episodes airing every Tuesday. Each will be available to stream the next day on Hulu.
Source: Screen Rant Plus
Fargo

Release Date:

2014-04-15

Cast:

Billy Bob Thornton, Allison Tolman, Martin Freeman, Kirsten Dunst, Patrick Wilson, Jesse Plemons, Ewan McGregor, Carrie Coon, Chris Rock, Jessie Buckley, Jason Schwartzman, Juno Temple, Jon Hamm

Genres:

Anthology, Crime, Drama, Comedy, Thriller

Rating:

TV-MA

Seasons:

5

Story By:

Joel and Ethan Coen

Writers:

Noah Hawley

Network:

FX

Streaming Service(s):

Hulu

Franchise(s):

Fargo

Showrunner:

Noah Hawley