News
Meg Ryan's Bad Rotten Tomatoes Streak Makes Her Top Gun: Maverick Absence Worse
Summary
Meg Ryan's absence from the cast of Top Gun: Maverick highlights her negative Rotten Tomatoes streak and the decline of her films' critical reception.
Despite missing out on the opportunity to be a part of Top Gun: Maverick, the sequel received near-perfect scores, suggesting that it could have ended Ryan's Rotten Tomatoes curse.
Ryan's return to the franchise in a potential Top Gun 3 could strengthen the character of Rooster and potentially break her Rotten Tomatoes streak while adding depth to the storyline.
Actor-director Meg Ryan is in the midst of a negative Rotten Tomatoes streak, and it makes her absence from Top Gun: Maverick even worse. Ryan starred in the 1986 action-drama Top Gun as Carole Bradshaw, Nick "Goose" Bradshaw's (Anthony Edwards) wife. However, by the time Top Gun: Maverick was released 36 years after its predecessor, she was noticeably left out of the sequel's cast. The movie was limited in terms of the original cast members that returned alongside Tom Cruise, but the role that Goose's death and legacy played in Top Gun: Maverick's story made Meg Ryan's absence all the more glaring.
Top Gun was only Meg Ryan's third feature film, but it did not receive the type of critical praise she became accustomed to through her incredible run in rom-coms. The genre helped cement her as a charismatic romance heroine and spurred on her Fresh streak with films like When Harry Met Sally. However, her last Fresh score was 25 years ago with You've Got Mail, demonstrating Ryan's newer films aren't as appealing as before. Sadly, Meg Ryan's bad Rotten Tomatoes streak has continued with What Happens Later, which she stars in and directs. It only achieved a 52% aggregated score and a 28% audience score (via Rotten Tomatoes).
Top Gun: Maverick Would Have Ended Meg Ryan's Rotten Tomatoes Curse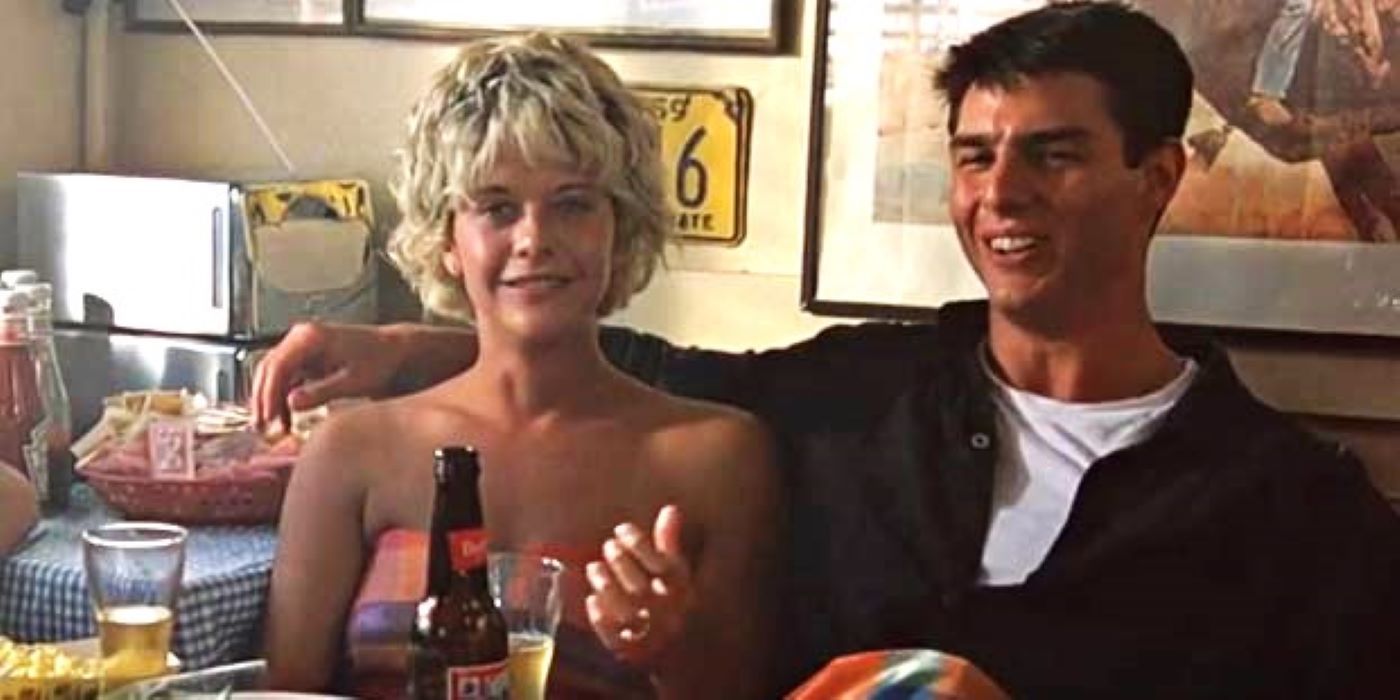 Meg Ryan's poor critical history over the last few decades becomes even worse when considering Top Gun: Maverick saw near-perfect scores both critically and from an audience perspective. The sequel has a whopping 96% critics score and a 99% audience score (via Rotten Tomatoes), which is even higher than Ryan's highest-ranking film, When Harry Met Sally. This means that Ryan's poor Rotten Tomatoes streak could have ended with Top Gun: Maverick if she had appeared in the film.
Why Top Gun Maverick didn't bring back Meg Ryan was at least partially due to Meg Ryan. She made the decision to take a step back from acting in 2015, meaning she was largely unavailable and uninterested in acting at the point when the sequel finally got moving. Although she has since decided to return to the screen with What Happens Later, it came after missing out on the chance to return and be part of the storyline for Bradley "Rooster" Bradshaw (Miles Teller). Even if Ryan's other movies continued to be in Rotten territory on Rotten Tomatoes, Top Gun: Maverick could have put an end to her rough streak.
Meg Ryan's Movie Streak Proves She Needs Top Gun 3
While Carole can't appear in the present in any future Top Gun films since she's confirmed dead, Ryan can still make an appearance. Before she dies, Carole tells Maverick not to let Rooster join the Top Gun program, evidently worried about her son meeting the same fate as her husband. However, Meg Ryan's Top Gun 3 return is possible if the film focuses on fleshing out Rooster's character more. Using flashbacks, Top Gun 3 can explore Carole's dying wishes to protect Rooster as well as the latter's relationship with his mother and how growing up without a father may have impacted him.
Should Ryan return to the franchise in Top Gun 3, it will undoubtedly strengthen Rooster's character by adding to his backstory. Additionally, building on a work-in-progress character like Rooster in Top Gun 3 can draw more appeal for audiences as it leaves space for him to develop on-screen. Therefore, Top Gun 3 has the potential to surpass Top Gun: Maverick's success if it shifts focus to Rooster and the newer generation of pilots. Ultimately, Ryan's presence in the film would also be a step towards breaking her Rotten Tomates streak.
Source: Rotten Tomatoes
Top Gun: Maverick

Release Date:

2022-05-27

Director:

Joseph Kosinski

Cast:

Jennifer Connelly, Jake Picking, Raymond Lee, Tom Cruise, Lewis Pullman, Monica Barbaro, Miles Teller, Danny Ramirez, Val Kilmer, Manny Jacinto, Ed Harris, Glen Powell, Jon Hamm

Rating:

PG-13

Runtime:

130 minutes

Main Genre:

Action

Genres:

Action

Writers:

Ashley Miller, Justin Marks, Peter Craig, Zack Stentz

Summary:

Top Gun: Maverick is the long anticipated sequel to the original Top Gun, setting Tom Cruise back into the pilot suit of Pete "Maverick" Mitchell. Having served for thirty years as one of the top aviators in the Navy, Maverick continues his calling as a test pilot and dodges the attempted efforts of the higher-ups to promote him to a less active role. Soon he finds himself training a group of TOP GUN graduates for a unique mission – one of those recruits is a young man named Bradley "Rooster" Bradshaw (Miles Teller), who happens to be the son of his late friend Nick Bradshaw, aka Goose. Now Maverick and his new trainees will face off with ghosts from his own past as they embark on the most dangerous mission they've ever flown. 

Website:

https://www.topgunmovie.com/home/

Franchise:

Top Gun

Cinematographer:

Claudio Miranda

Producer:

Jerry Bruckheimer, David Ellison, Don Granger, Dana Goldberg, Tom Cruise

Production Company:

Skydance Media, Tencent Pictures, TC Productions, Jerry Bruckheimer Films

Main Characters :

Pete "Maverick" Mitchell, Tom "Iceman" Kazansky, Bradley "Rooster" Bradshaw, Penelope "Penny" Benjamin, Beau "Cyclone" Simpson, Jake "Hangman" Seresin, Robert "Bob" Floyd, Chester "Hammer" Cain

Sfx Supervisor:

Scott R. Fisher

Distributor :

Paramount Pictures

Assistant Director :

Scott Robertson

prequel(s):

Top Gun

Franchise(s):

Top Gun