News
New Rick & Morty Voice Actors Open Up For The First Time About Landing Their Roles
Summary
Rick and Morty's new voice actors, Ian Cardoni and Harry Belden, express their excitement and gratitude for landing the iconic roles, calling it a "literal dream come true."
Cardoni and Belden also describe meeting each other for the first time after the producers had joked about how long they were kept apart.
Despite some concerns about the consistency of their performances compared to previous seasons, Cardoni and Belden have done an admirable job of bringing the beloved characters to life. As the season progresses, audiences will likely become more accustomed to the recasting.
Rick and Morty's new voice actors have finally spoken about landing the iconic roles once voiced by Justin Roiland. Earlier this year, Adult Swim officially terminated their relationship with Roiland in response to serious allegations being levelled at the show's co-creator, prompting the network to audition "thousands" of potential replacements in order to recast Rick and Morty's titular characters. While the show had initially kept Roiland's replacements a closely guarded secret, the season 7 premiere finally revealed that Ian Cardoni had been selected to voice Rick, while Harry Belden was chosen to voice his teenage grandson Morty.
In a recent interview with The Hollywood Reporter, Cardoni and Belden have finally spoken about their casting and revealed how they came to be told that they would be taking over the iconic animated duo. Calling their selection a "literal dream come true," Morty's Belden also explained that the show's producers even joked they were going to keep the pair separated "just to drive each other crazy." Check out their comments below:
Cardoni: I remember getting the call from my agents, and my wife was there, thankfully, to make sure I didn't fall over. It was a thrilling moment, a dream come true as an actor and as a fan.

Belden: This is a literal dream come true — like I'm pretty sure I had this dream at one point in my life [to do this show]. My agents actually tricked me. They said, "We have this weird project, can you Zoom with us?" I've been with them for six years, and they've never once wanted to Zoom with me. I told my girlfriend, and she kind of had an inkling of what was going on and was eavesdropping on the Zoom. As soon as they told me, my girlfriend was completely sobbing. Then seeing her crying was like, "Oh, this is real, I heard them correctly." […]

I was so excited [meeting Cardoni]. We'd been hearing each other's names and producers kept joking that they were going to keep us separated for as long as possible on purpose just to drive each other crazy. So, when I first met Ian, I felt like I already knew him because I just heard so much about him, and I had eavesdropped on some of his lines. It was like like meeting someone I've known for a very long time.

Cardoni: Which was evident by how often he called me "grandpa."
Rick And Morty's New Voice Actors Faced An Enormous Challenge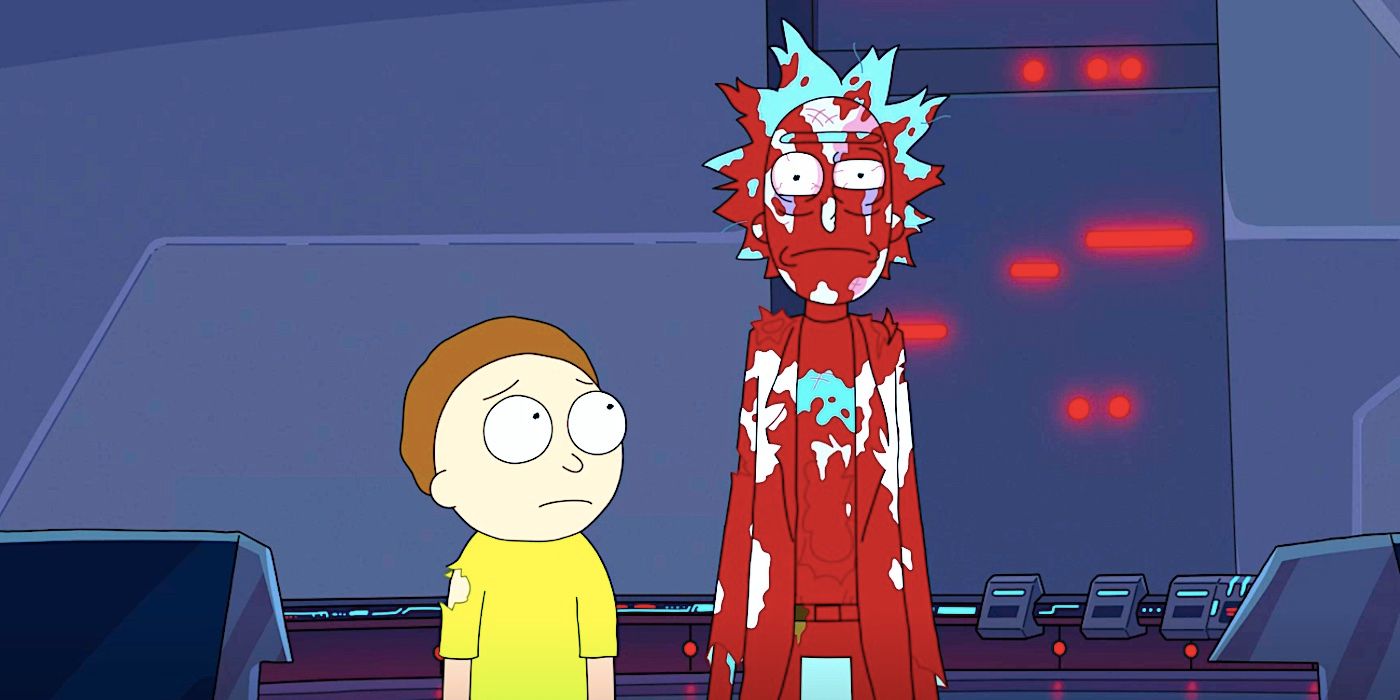 In the world of popular animated series, it is certainly not unheard of for shows like Rick and Morty to recast key characters for any number of purposes. Whether it be to continue on after the tragic death of a beloved castmate, much like what happened with the role of Uncle Iroh in Avatar: The Last Airbender, or to allow an actor to pursue their own retirement, such as happened with the original voice actor of Dexter in Dexter's Laboratory, voice recastings tend to happen far more frequently than many audience members may even realize.
However, Cardoni and Belden faced a rather unique challenge in being charged with taking over from Roiland as the voices of Rick Sanchez and Morty Smith. With Rick and Morty widely recognized as one of the most influential animated properties on television, the new voice actors not only had to contend with attempting to recreate Roiland's original vocals, but also live up to the expectations of a lively and passionate fanbase. Furthermore, the decision to keep the pair's identity a secret until the season 7 premiere only served to heighten questions about whether they could potentially do the roles justice.
While some concerns have been raised about the consistency of Cardoni's and Belden's respective performances compared to previous Rick and Morty seasons, the pair have still managed to do a more than admirable job of bringing the beloved characters to life. Yet with Rick and Morty season 7 now more than halfway through its eight-episode run, audiences have had more time to become accustomed to the subtle shift that inevitably comes with any recasting. Given enough time, viewers will likely begin to overlook the behind-the-scenes changes entirely, which is probably the highest compliment the new voice actors could possibly receive for their efforts.
Rick and Morty season 7 also recast Mr. Poopybutthole with voice actor Jon Allen.
Source: THR
Rick and Morty

Release Date:

2013-12-02

Cast:

Spencer Grammer, Justin Roiland, Kari Wahlgren, Chris Parnell, Sarah Chalke

Genres:

Animation, Adventure, Comedy

Seasons:

6

Summary:

Rick and Morty is an adventure/Sci-Fi animated series that follows the intergalactic, inter-dimensional adventures of super-genius Rick Sanchez and his less-than-average grandson Morty Smith. Rick's daughter, Beth, his granddaughter, Summer, and his hated stepson, Jerry, also take center stage more often than not. Hailing from creators Justin Roiland and Dan Harmon, the series blends comedy with science fiction as a way of exploring a wide variety of themes aimed at an adult audience.

Story By:

Dan Harmon, Justin Roiland, Tom Kauffman

Writers:

Dan Harmon, Justin Roiland, Tom Kauffman, Eric Acosta

Network:

Cartoon Network

Streaming Service(s):

Hulu

Franchise(s):

Rick and Morty

Directors:

Dan Harmon, Ryan Ridley, Lee Hardcastle

Showrunner:

Dan Harmon