News
Production Designer On Preserving The Film Franchise's Aesthetic
Summary
The Santa Clauses season 2 focuses on Scott's plans to turn the North Pole into a family business and train his son as the next Santa Claus.
The show's production designer, Melanie Jones, talks about differentiating Christmas decorations in the North Pole from those in the real world.
The aesthetic of the North Pole is a mix of vintage and contemporary elements, with a focus on the magic and treats associated with Christmas.
After a successful first season packed full of Christmas spirit and nostalgia, The Santa Clauses made its grand return to Disney+ on November 8. The first three episodes are currently available to stream, with new installments dropping every Wednesday until the finale on December 6. Season 2 focuses on Scott's new initiative to turn the North Pole into a family business and train his son, Cal, to replace him as Santa Claus. Meanwhile, Betty is forced to take time off due to the Kribble Krabble Clause, leaving Noel in charge as Head Elf.
Melanie Jones serves as the show's production designer and is responsible for recreating the world that was established in the original 1994 film. Jones has previously worked on projects such as Insidious: The Last Key, Painkiller, and The Woman in the House Across the Street from the Girl in the Window. Tim Allen leads the cast of The Santa Clauses season 2 as Scott Calvin with Elizabeth Mitchell, Elizabeth Allen-Dick, Devin Bright, Austin Kane, Matilda Lawler, Gabriel "Fluffy" Iglesias, and Eric Stonestreet also starring.
RELATED: How Many Episodes The Santa Clauses Season 2 Has Left (& When The Finale Releases)
Screen Rant exclusively interviewed Melanie Jones about differentiating the Christmas decorations in the North Pole from those in the real world and finding a way to modernize the series while still preserving the aesthetic of the original films.
Melanie Jones Talks The Santa Clauses Season 2
Screen Rant: Were you a fan of the original The Santa Clause films?
Melanie Jones: I am. I have people on my crew that were younger than me that actually grew up with it. I was an adult when it came out, and I still loved it. I thought it was really fun. It was a great opportunity for me to go back and look at all three films, which I did before doing the first season of this TV version. I really re-enjoyed it in a way. That's not a proper term, but it was fun to go back and see it as an even older adult, and it holds up. It's great stuff.
The Christmas year-round theme obviously differentiates this from other shows, so was there anything about that that excited you from a creative standpoint?
Melanie Jones: Honestly, yes and no. In season 2, we have the Santopolis Museum, which is a Santa Claus museum. There were quite a lot of Santa Claus statues and tchotchkes from all sorts of decades, and it does get a little overwhelming. I have to say that Christmas in the North Pole is a different kind of Christmas than Christmas in the world. It's not as materialistic in a certain sense. It's really about the magic of it. That, I can live in 24/7, easily. It's a great place to be. Creating the world of the North Pole is so much fun.
That touches on another question I had for you. In season 1, there's a lot of back and forth between the North Pole and the real world. Other than the real world being less decorative, how do you take different stylistic approaches to how Christmas is portrayed in each?
Melanie Jones: Color palette, mainly. The Christmas stuff that you would see in the real world is contemporary. A lot of the Christmas decorations in the North Pole are vintage or aspiring to be vintage, because we want to tell the story of the fact that the North Pole is quite old. We wanted to show Christmas through the decades, not only in that museum—the museum is a different thing. That's in the real world, but it's somebody who loves Santa Claus and has curated that. In the North Pole, it's just there because the elves built the structures in the North Pole, and they've populated those buildings with the things that they love, and they love Christmas. They live for Christmas. I think it feels just a little bit more vintage and a little older. Christmas in Illinois that we see is a contemporary Christmas. It's what people would go get.
When you're working on the aesthetic for the North Pole, is there ever a point when you say, "I don't want the Christmas decorations to clash or be overkill," or do you feel that's the goal of this world?
Melanie Jones: It depends on what's happening in the space. The workshop is a bit overkill because they're making toys and building things. I lightened that setup. I stayed true to the structure of that from the three movies. I thought it was really well done in those movies, but I brought the color up and made it a little lighter for TV. It depends on where you are. We have, for instance, the snowglobe depository, which was inside an ice cave. The ice caves are going to come back in season 2 because it's part of the backstory of how the North Pole came together.

There's nothing Christmas in there at all besides snowglobes. It really matters what story you're trying to tell and how the elves are making use of the space. There's the control center where they're there with the little gadgets and the bubbles and they're watching Santa's progress on Christmas night. That's very steampunk. I also based the design of that space on a picture that I saw from the Chrysler Building in New York—the way the top floor looked in the 1930s. I saw that picture and was inspired by it, so we're pulling from all sorts of sources—not just Christmas.
Do you draw any inspiration from any other classic or underrated Christmas movies?
Melanie Jones: I don't know if they're underrated. I certainly love A Christmas Story. I think it might be one of the best Christmas movies because it's so imbued with character and this family and their quirkiness. It's a Wonderful Life, also not underrated, but certainly. I looked at every Christmas thing that I could possibly find, in terms of research, to contrast and compare. A lot of the artwork that you would see in our North Pole ranges from Victorian through Art Deco. Nouveau and that style was in the earlier films, so we kept that style. A Christmas Story just has this kind of warmth and earthiness.

Although ours is a heightened reality, in a sense, the whole idea of the North Pole was that the elves built it, and elves like treats. Everything has a food aspect to it. It's fudge, it's peppermint, it's ice cream, it's pound cake. The prison was black licorice. I did a poll of everybody working on the show. I was like, "What are the two Christmas candies or cakes that you hate the most?" Black licorice came up and fruitcake. So the walls of that jail cell are fruitcake. There's a subtext of food to all of it, because I think the elf motivation for everything is treats.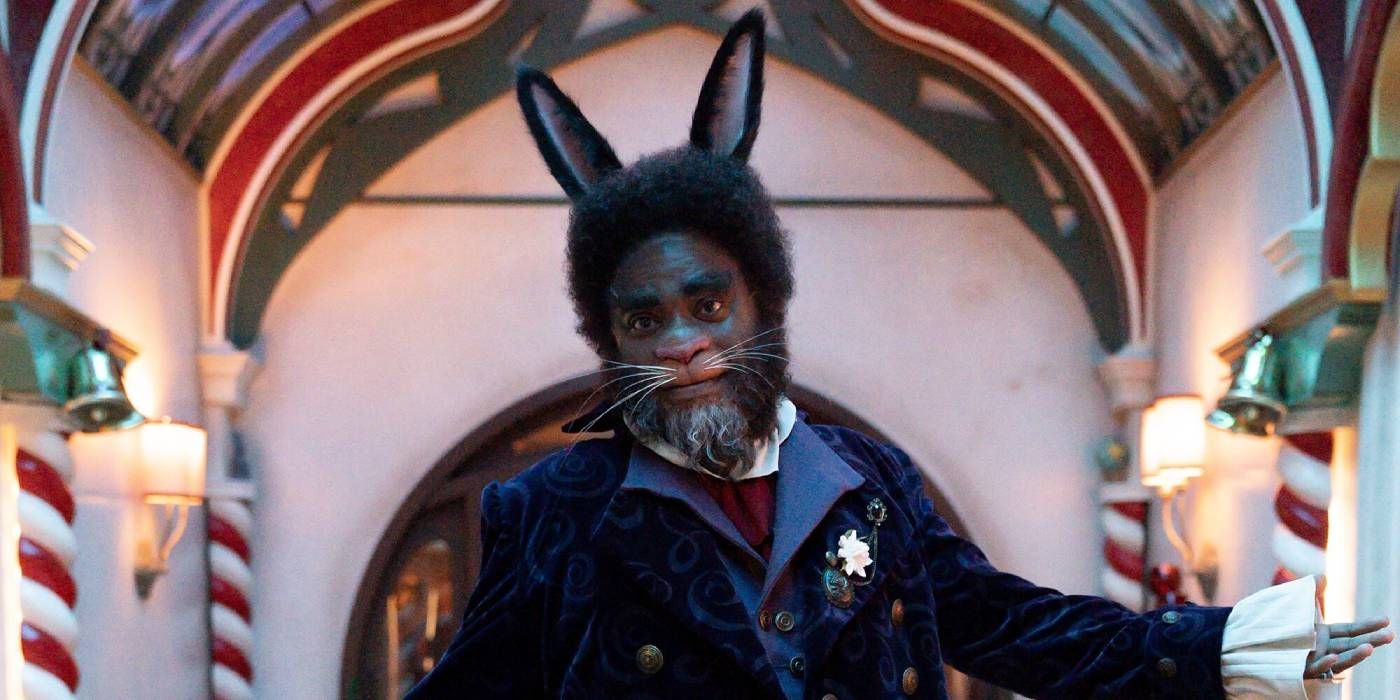 The movies have been around since the 90s, but there were a lot of technological upgrades in the first season. Can you give some insight into the process of preserving the North Pole that was created in the original films, while also modernizing it?
Melanie Jones: I would say most of that modernization comes from working on the volume stage at Disney. In terms of the technology at the North Pole, it's in the steampunk range. It's kind of Victorian. In the sets that I designed, I installed a pneumatic mail system. Particularly in season 1, you had everything now trying to take control of the North Pole, and it's very computer, internet, yadda, yadda. I didn't want that. Santa has that magnifying glass that has multiple different lenses on it, and we really just made one that looked like the original. I wanted to stick with the foundation that was built in those films for a couple of reasons.

One, because I respect the choices that those designers made. They made really great choices. Their stuff was mostly Art Nouveau. I broke out and made it broader because we wanted to show passage of time in a way. The elves had been there for hundreds of years, and you'll see that in this upcoming season. There's some classic architecture and Gothic stuff. It's very old. I really respected the work that they did. At the beginning of the show, Tim Allen stressed how important playing this character has been to him. He said it's the thing that people comment on more than any other work that he's done. Random people on the street go, "I loved you in The Santa Clause."

In terms of actually designing it, I wanted to keep it, particularly in season 1, the technology of the North Pole to read very far from the current day. We really needed it in season 1—less so in season 2 because it's not as much about that. The volume stage really helped us create the workshop. They had the great opportunity of building that whole workshop. That's a massive set. In reality, in 3D, we do not have the time to do that in a series of this sort. We designed it, and we drew it, and ILM painted it. 80% of what you see on camera is not set. It's just the stuff that the actors are moving around on that are. That was really interesting. It was so much fun to do that.
Going into season 2, how did you want to shake things up visually to reflect a new storyline?
Melanie Jones: We shook up things like the Easter Bunny. I got to do his house and it was so much fun. You get to see where Betty and Noel live. The elves' houses are a whole new world. That does not look like Christmas. Their homes reflect where they came from, originally, hundreds of years ago. They've styled their homes to feel forest-like. It's a different color palette and a different aesthetic for sure. We also see the letters department. The snowglobe depository from last year, where the kids went to look at how real families live, the letters department is the nuts and bolts of the pneumatic mail system. It's also magic, because that's where the letters that you write to Santa show up.

It's inside an ice cave. It's all of these pipes and cogs, but the mail is moving around magically. It's not only Santa Claus mail that people send to him. It's also the business interdepartmental communication that happens at the North Pole. They're not picking up a cell phone or texting each other. The writers can change their minds down the road, but I personally like to keep the technology separate. I think that's part of the mystery and the magic of this place. It is run by magic. The North Pole is not really a friendly environment to live in. There has to be something besides blood and sweat to keep it going.
You've worked on a broad range of projects. Is there a genre or a specific type of world you enjoy bringing to life, or is it all about the story?
Melanie Jones: Early on in my career, when I got my agent, I told him that I didn't want to be typecast as a designer. That happens to production designers. You do a film, and then people go, "Oh, that person does this kind of look." If you hop genres, you get an experience of building things you've never built before. I'm probably not going to do the North Pole in a horror movie, but I'm probably not going to do some kind of torture dungeon basement in a kid's family-friendly thing. To me, it's about having the experience of reading a script and seeing something in it that I haven't designed before and tackling it. You also get the opportunity to play with different color palettes and really stretch mood.

I was a theater kid. It's not my vision. The script tells me what needs to happen most of the time. Then you get a director or somebody else coming in and saying, "Hey, let's try this," or "Let's do that." I see it. As I'm reading it, I see it. It's just there in front of me. You don't want to be stuck in a horror movie aesthetic your whole life or something else. I want to have the opportunity to stretch. We made a point of looking at outside stuff. Luckily, for me, there were people who were willing to give me the chance to do it. This, specifically, has been, maybe, my favorite project. The North Pole is an incredible thing to create. There's so much there that you can do with it, and there's so much freedom.
About The Santa Clauses Season 2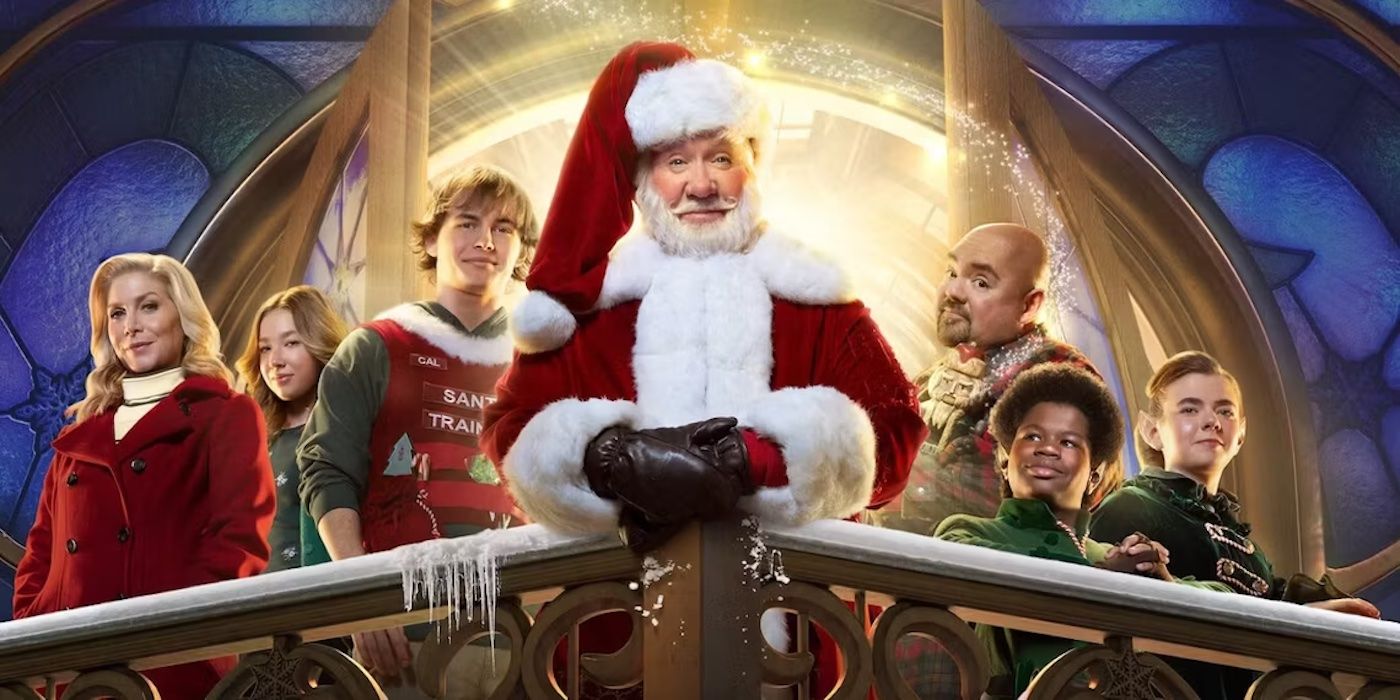 In the second season, the Calvin family is back in the North Pole as Scott Calvin continues his role as Santa Claus after retirement plans were thwarted when failing to find a worthy successor in season one. Now that Scott and his family have successfully saved Christmas, Scott turns his focus towards training his son Calvin to eventually take over the "family business" as Santa Claus.
Check out our other interviews with The Santa Clauses season 2 team:
The Santa Clauses season 2 is available to stream exclusively on Disney+.
Source: Screen Rant Plus
The Santa Clauses

Release Date:

2022-11-16

Cast:

Tim Allen, Elizabeth Mitchell, Eric Lloyd, Kal Penn, Matilda Lawler, David Krumholtz

Genres:

Comedy, Family, Holiday

Seasons:

1

Summary:

Tim Allen returns as Scott Calvin in The Santa Clauses, a mini-series follow-up to the original Santa Clause trilogy. Scott has spent thirty years spreading Christmas cheer and managing operations in the North Pole as Santa Clause, but he notices a change is coming. With Christmas's popularity declining and Scott's inability to keep up with the pressures of his job and be a capable father, Scott discovers there may be a way to step down from his role. Scott begins his search for his new successor so that he can finally adjust his priorities for his family. Several returning film cast members will appear here, including David Krumholtz as Bernard the Elf.

Story By:

Jack Burditt

Writers:

Leo Benvenuti, Jack Burditt

Network:

CBS

Streaming Service(s):

Disney+

Directors:

Jack Burditt

Showrunner:

Jack Burditt