TV Reviews
Sex Education Season 4 Review: A Worthy End To One Of Netflix's Best Shows
Summary
Sex Education season 4 continues the show's legacy of inclusivity and tackles a wide range of social and sexual issues with its bold, in-your-face approach.
The new setting at Cavendish Sixth Form College allows the show to explore the flaws and challenges of radical inclusivity while emphasizing the importance of kindness and empathy.
The characters in Sex Education season 4 experience hardships and trauma, but find solace in the support and acceptance of others, showcasing the healing power of kindness and community.
Editor's note: This piece was written during the 2023 WGA and SAG-AFTRA strikes. Without the labor of the writers and actors currently on strike, the series being covered here wouldn't exist.
In this period of hyper-awareness of the precarity of streaming programming, it was a relief to learn that Sex Education, which I consider among the best of Netflix's original shows, got the chance to end on its own terms. Having now seen season 4 in its entirety, it's clear the writers were looking to make the most of that opportunity. It is not unlike previous seasons in terms of storytelling, and while much is wrapped up nicely, there isn't an overwhelming need to narratively conclude across these episodes – life will continue for these characters beyond our time with them. But there is a sense of meditation on the show's message and mission, as if to express more resolutely the meaning behind it all. It makes for some of this dramedy's most poignant moments, and confirms this show's legacy as a compelling expression of the value of inclusivity as an ethos.
Season 4 picks up from the dangling threads of the Sex Education season 3 finale, which saw Moordale Secondary, the high school of this high school series, shut down for good. Enter Cavendish Sixth Form College, a student-led, uber-progressive school where the popular kids are so for being kind. The teen characters who remain — Otis (Asa Butterfield); Eric (Ncuti Gatwa); Aimee (Aimee Lou Wood); Isaac (George Robinson); Ruby (Mimi Keene); Jackson (Kedar Williams-Sterling); Viv (Chinenye Ezeudu); and Cal (Dua Saleh) — enroll here, except for Adam (Connor Swindells), who decides not to return to traditional schooling, and Maeve (Emma Mackey), who is in the US after having been accepted to the writing program at Wallace University last season. She and Otis, finally together, are apart, and trying to make the long distance thing work.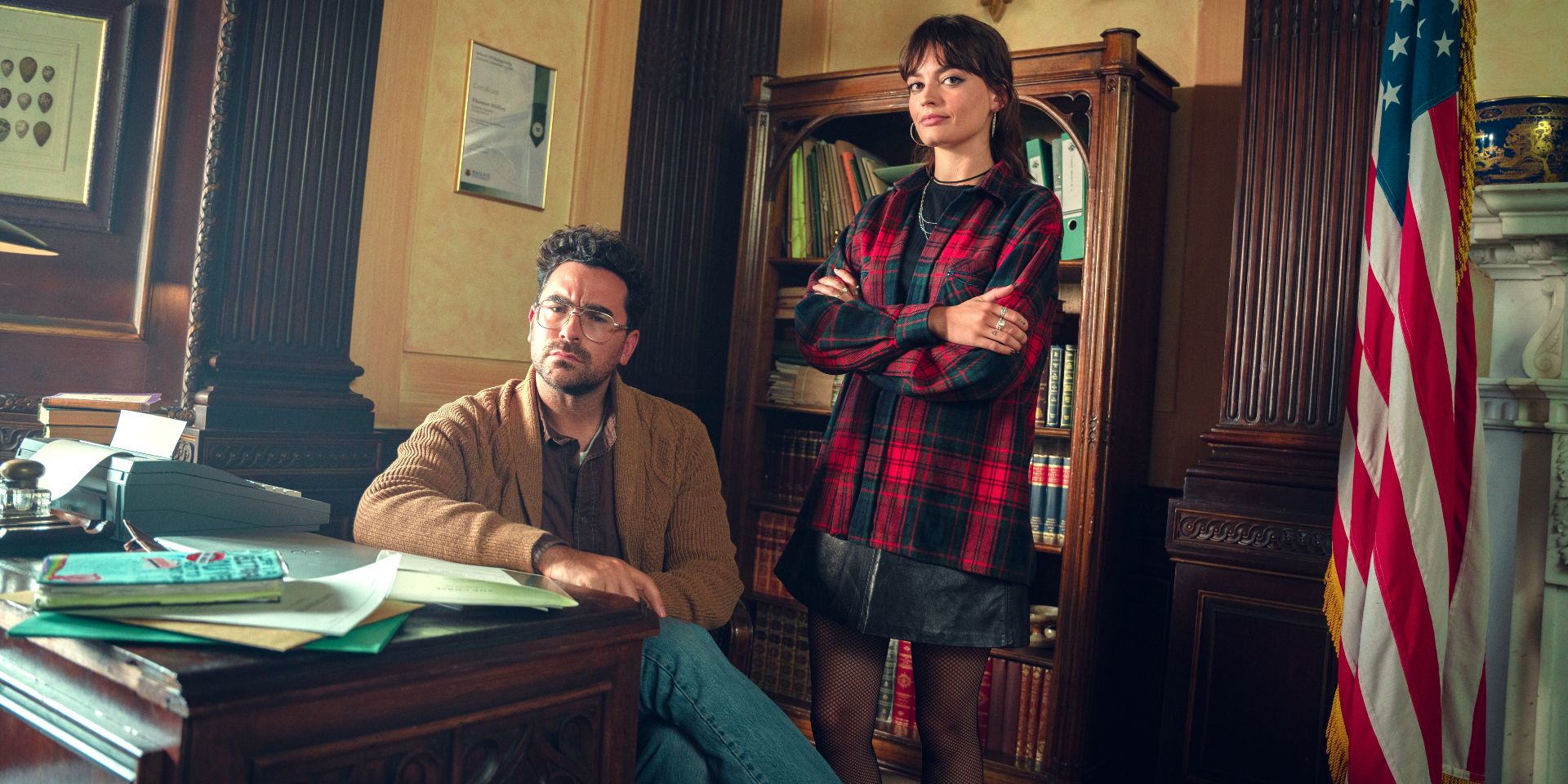 Jean (Gillian Anderson), meanwhile, is at her wits' end. Jakob, not the father of baby Joy, is no longer in the picture, and after almost certainly not enough time off, she decides to pursue a new job hosting a radio show. Michael (Alistair Petrie), now a substitute at Cavendish, continues his journey of self-improvement, determined to reconnect with his wife and son. A number of new faces join the Sex Education cast as well, each seeming to knock an existing character off their current trajectory. O (Thaddea Graham), Cavendish's established student sex therapist, gives Otis an instant rival. Abbi (Anthony Lexa), Roman (Felix Mufti), and Aisha (Alexandra James), the queer trio at the top of the social food chain, ding Ruby off her perch and give Eric peers who can finally understand everything he goes through. Thomas Molloy (Dan Levy), acclaimed author and Maeve's professor, is primed to push her buttons, while Joanna (Lisa McGrillis), Jean's sister, comes to help with baby care and brings a host of new headaches with her.
There are more, and I could spend this entire review teasing out the show's multiple storylines and how they intertwine. More important, though, are the ideas at play. This series has always taken a bold, in-your-face approach to tackling its social and sexual issues, and Sex Education season 4 pushes this into overdrive. Among them this time are trans identity, disability and accessibility, depression, gender dysphoria, religion and queerness, erectile dysfunction, childhood trauma, bullying, and on and on. As in the past, the frank dialogue (often explicitly therapy-speak) can at times verge on the didactic, in the vein of an after-school special. This remains as intentional as ever, but Cavendish, styled somewhat parodically as a right-wing commentator's worst nightmare, gives the show a new way to explore the method to its madness.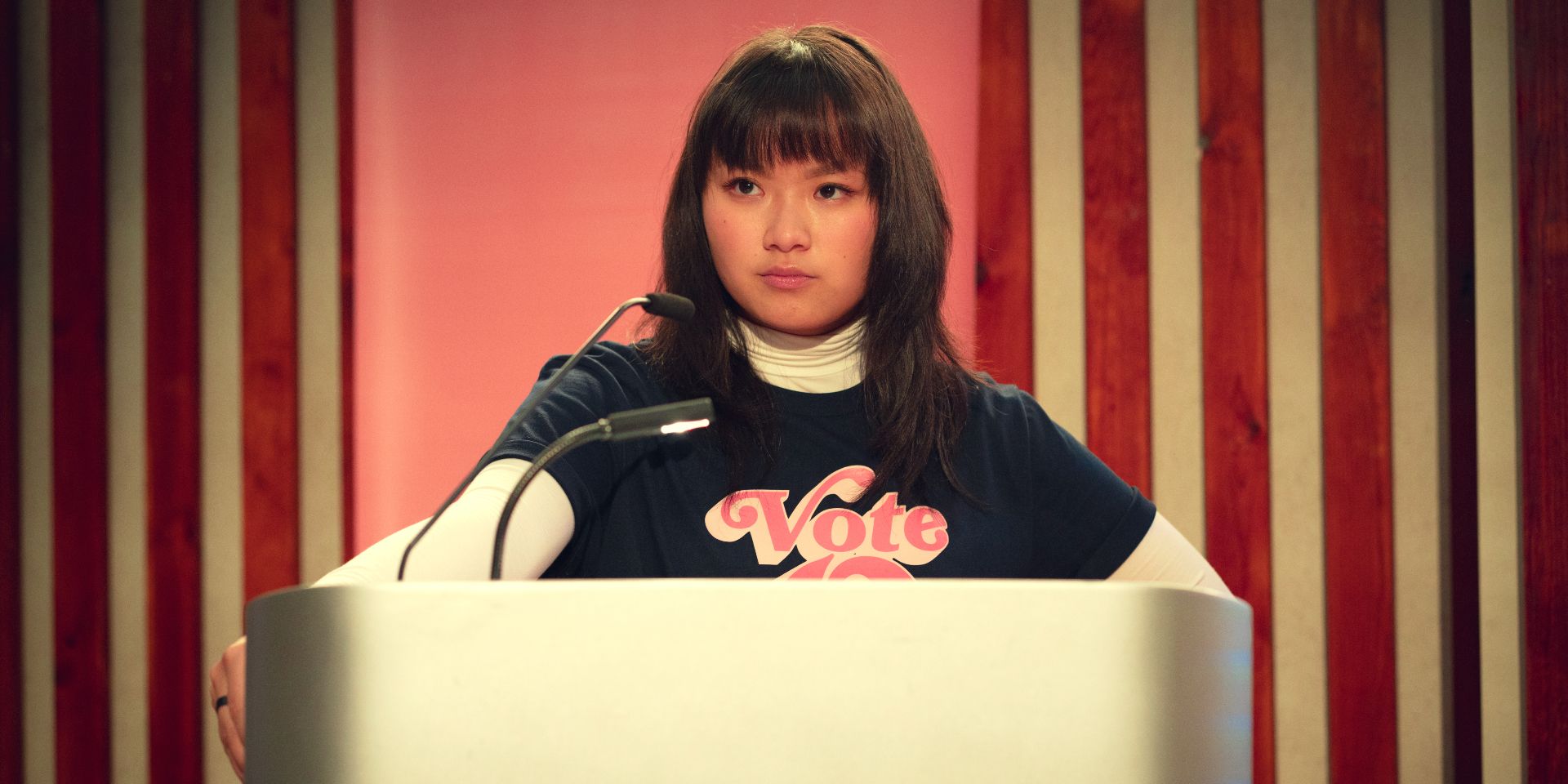 This school, with its dedicated social media platform, "speakers' corner" for students to give impromptu talks on anything, and bee colonies, is often silly. Its progressive social climate remains just as cliquey as any high school. There's a tendency to focus on societal causes over real, practical issues faced by their student body. Their emphasis on positivity, when pushed too far, can become toxic. These and other criticisms are given voice in the text of Sex Education season 4. The show's goal is to demonstrate why such radical inclusivity, for all its flaws, is always worth it anyway. Everyone is going through something, and a baseline willingness to listen and empathize, even if understanding eludes us, can be enough to ease the pain of another person's life. Sex, with its wildly varied kinks, hangups, and taboos, is Sex Education's apt way to access this idea, but it's not the show's sole focus.
For this reason, I have always considered Adam and Michael the keys to its essential project. They are a proof of concept of sorts, simultaneously representing the damage that repression and cruelty, cyclical and self-perpetuating, can do to a person, and the ability of acceptance and kindness to heal those wounds. They get to enjoy hard-earned upswings this season, but everyone else takes on a variation of that arc, though not necessarily as perpetrators. All the principal characters receive a severe blow from something in their lives, some form of malice, rejection, resurfaced trauma, or even bad luck. The writers and filmmakers embrace their perspectives wholeheartedly, so that we as viewers can feel their pain along with them (this proves especially radical in Eric's case, and is perhaps more remarkable for it). Then, they have to seek solace in the kindness of others: a community's embrace, a friend's support, or (my favorite this season) the right piece of advice at the right time.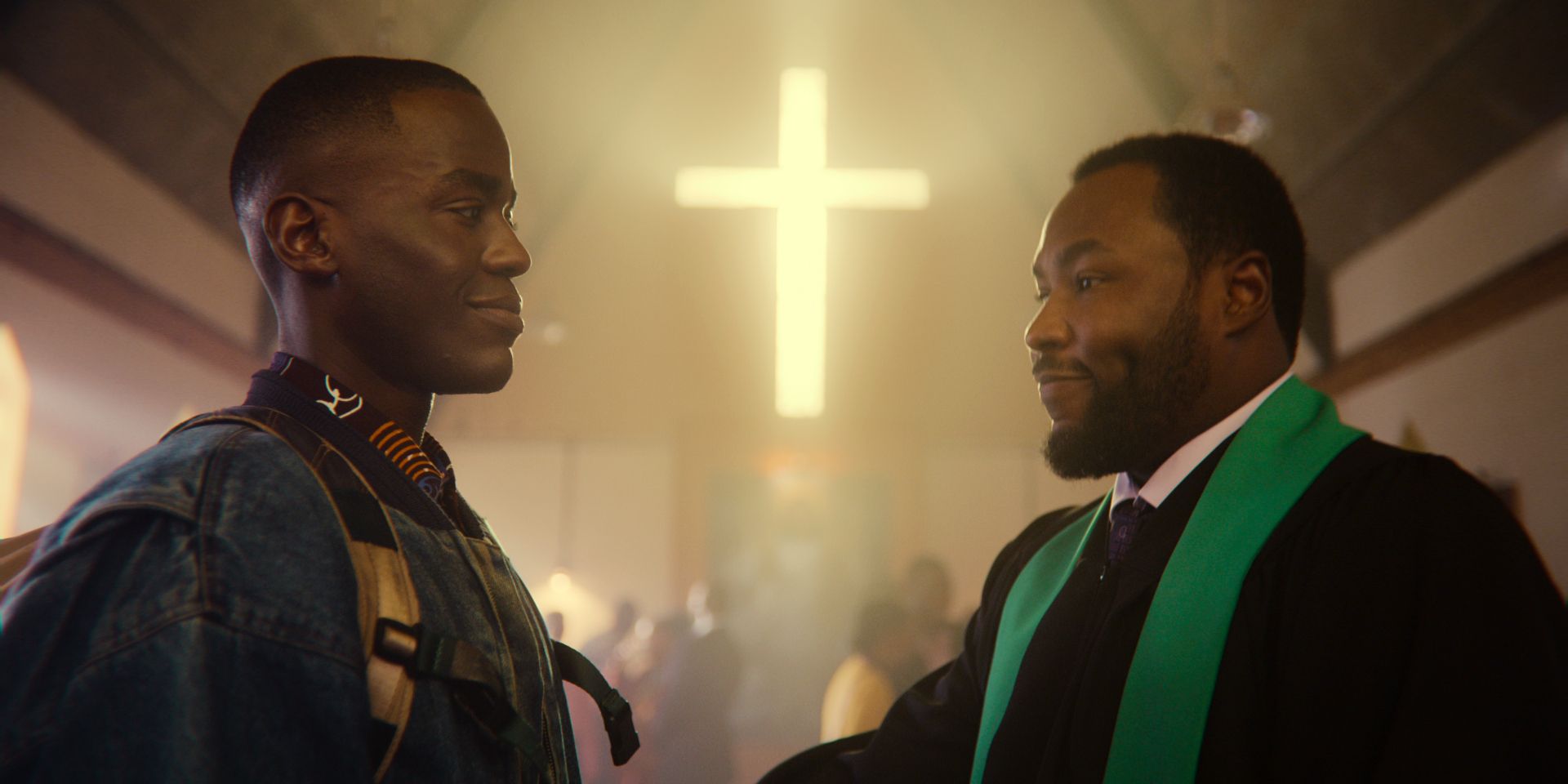 But kindness is no panacea — your problems don't just go away when someone validates your feelings. One of the most commendable aspects of Sex Education season 4 is its acknowledgment that some things cannot be fixed, only confronted. The 83-minute finale lives up to a series that for all its heightened, comedic moments (there's a stretch in this first episode that had me in stitches) has kept one foot on the ground to make sure its message rings true. The show does right by its characters, even if that means the pervasive feeling we're left with is a bittersweet hopefulness. The very last lines even read like what the creators wish the Sex Education ending will mean to us, its audience. Let it, and our response to it, remind the powers that be in Hollywood why good writing should not be taken for granted.
All eight episodes of Sex Education season 4 release on Netflix September 21. The series is rated 16+.