News
Ted Lasso's Emotional Therapy Scene Assessed By Real Therapist
This post contains mentions of suicide.
Summary
The therapy scene in Ted Lasso is praised by a real therapist for its realistic portrayal and effective approach to therapy.
Dr. Sharon Fieldstone's skill lies in asking open-ended questions and allowing Ted to arrive at his own breakthroughs regarding his father's death.
The therapist appreciates how Dr. Fieldstone gently corrects Ted's view of his father while allowing him to come to his own realization. By asking the right questions, she helps Ted understand that his father's actions were driven by pain and not solely a reflection of his character. Overall, it is considered exemplary therapy.
Ted Lasso's emotional therapy scene gets assessed by a real therapist. Despite Ted's (Jason Sudeikis) otherwise optimistic demeanor, he was rather resistant to therapy, and even reacted negatively to the idea of it. His reluctance to open up emerges with the addition of Dr. Sharon Fieldstone (Sharon Niles). Although he begins by mocking Sharon's profession, he eventually relents, and the two characters develop a genuine bond that is especially showcased in the season 2 episode "No Weddings and a Funeral," which has Ted opening up about losing his father.
In a new video for Cinema Therapy (starting around 1:46 below), licensed therapist Jonathan Decker and filmmaker Alan Seawright review Ted Lasso season 2's most emotional therapy scene. The episode, directed by MJ Delaney and written by Jane Becker, immediately stands out to Decker. He calls the writing of the scene an example of "great therapy," citing the way that Sharon doesn't steer Ted toward any specific answers. Overall, Decker gives Dr. Sharon Fieldstone and Ted Lasso an A+. He says:
That seems like awesome therapy. And the reason I would say it's really great therapy is because she is only steering this in the vague direction that she wants it to go. She's not looking for a specific outcome. But what she is doing is asking him questions, because the best therapy is when the ideas and the breakthroughs come from within the mind of the person across from you. People may come to you as a therapist expecting you to have the answers. That's not actually your job. Your job is a plumber of the soul, like you're unclogging. She doesn't know exactly what she's going to ask or exactly what the outcome is. But she trusts the process. And that's her skill set.

A lot of people's inclination, including a lot of therapists inclination, would be like, 'Your dad didn't quit. He was depressed. He was overwhelmed. He wasn't himself. He wasn't seeing the world clearly'. And all of that, by the way, is absolutely accurate, right? True. The more immersed you are in the mental health literature you realize that people who take their own lives… it's generally not a selfish act. They believe that they are absolving everybody else of the burden of their existence. It's almost always a completely misguided, altruistic act. I'm not saying they're right, I'm saying that's the thinking. It's not selfish. It's wanting a release from their pain and wanting to release everybody else. And so she's judging perfectly not only what she needs to do but the order in which to do it.

I do like my point about making the note about correcting him about his father. She could make the note in your head and come back to it later. Oftentimes, if you give people the right questions and let them work through it, they'll arrive at themselves. Because he arrived at 'life is hard.' I'm not gonna let a person pass by without considering they might be hurting, right? And if 'my dad knew how good a dad he was, he might not have done what he did.' Ted already knows. Right? It's a very human thing to blame his dad and to hate his dad. But he also loves his dad. And he's also got the side that understands, at least to some extent, my dad was hurting.

A+. Thumbs up. That's good therapy.
Ted Lasso's Therapy Scene Highlights The Show's Switch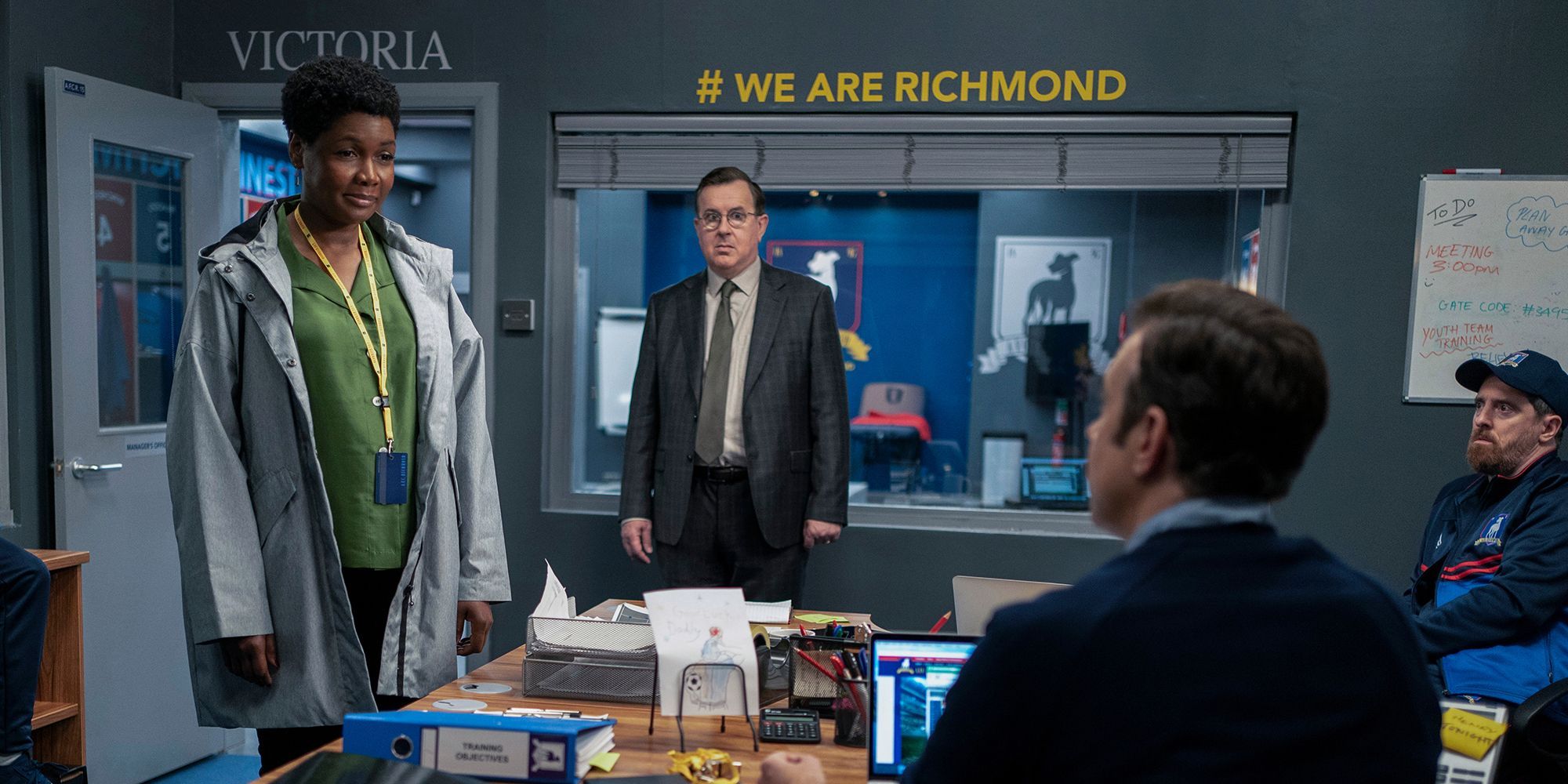 Ted Lasso season 2's pivotal therapy scene has received praise from experts in the past. However, by broadening the focus a little more, it actually reveals a great deal about what the show truly is. Although it's often thought of as a fish-out-of-water sports comedy, the first two seasons of Ted Lasso can also be understood as a character study. The premiere season presents an almost stubbornly optimistic protagonist, and the follow-up almost entirely questions that presentation.
Although it's true that Ted Lasso season 2 suffered from backlash, it serves as a more complete story when compared to season 3. The second installment is about questioning the philosophy of season 1, as exemplified by Ted, and it leads to a scene that's delicate and wonderfully performed by both Niles and Sudeikis. Both actors have received significant acclaim.
The follow-up to the therapy scene suffers from a lot of problems, many of which stem from the uncertainty about whether Ted Lasso season 4 will happen. However, there's an argument to be made that the show could have ended shortly after the stellar therapy scene, as it arguably serves as a satisfying stop for the titular character. Ted achieves an important breakthrough, and it comes about thanks to Dr. Fieldstone's impressive work as a therapist.
Source: Cinema Therapy
Ted Lasso

Release Date:

2020-08-14

Cast:

Jeremy Swift, Phil Dunster, Hannah Waddingham, Nick Mohammed, Brendan Hunt, Jason Sudeikis, Brett Goldstein, Juno Temple, Toheeb Jimoh, James Lance

Genres:

Comedy, Drama, sport

Rating:

TV-MA

Seasons:

3

Summary:

Ted Lasso (Jason Sudeikis) is an American football coach who moves to England when he's hired to manage a struggling soccer team despite having no experience. With cynical players and a doubtful town, Ted will have to convince them that he's fit for the job. Ted Lasso has become one of Apple TV Plus' most successful shows, earning over 10 Primetime Emmys.

Writers:

Brendan Hunt, Joe Kelly, Bill Lawrence

Streaming Service(s):

Apple TV+

Showrunner:

Bill Lawrence