News
What Happened To Christine Brown After Sister Wives Season 18?
Summary
Sister Wives star Christine Brown left her 26-year-old plural marriage to Kody Brown. She announced her relationship with David Woolley on Valentine's Day in 2023 and they got engaged two months later.
Christine and David tied the knot in Moab, Utah, in front of 330 guests. Christine described her wedding as a fairytale and shared photos on Instagram, expressing her happiness at marrying her best friend.
Christine shared photos of her cruise ship adventure with David, and it was revealed that Janelle, her fellow Sisterwife, had joined them on their vacation. Christine considers Janelle and her kids to be a part of her. Also, Christine's daughter Gwendlyn got married to her partner, Beatrix Queiroz.
A lot has happened in Sister Wives star Christine Brown's life since she left Kody Brown in November 2021. Christine is a 51-year-old from Utah who comes from a long line of polygamists. Christine's family is considered royalty in the Apostolic United Brethren (AUB.) Kody had been legally married to his first wife, Meri Brown, since April 1990 and his second wife, Janelle Brown, through a "spiritual" marriage in January 1993 when he married Christine in March 1994. Christine and Kody had six kids together: Aspyn, Mykelti, Gwendlyn, Ysabel, Truely, and Paedon Brown. Christine was the first of a three-woman exodus that left the Sister Wives patriarch with only one wife.
Christine announced her relationship with David Woolley on Valentine's Day in 2023. Christine began dating David after meeting him on a dating website in 2022. Christine and David had supposedly been dating for three months before going public. The news came a year after Christine's split from Kody. Christine was happy to reveal that she'd finally found the love of her life. Two months later, in April 2023, Christine and David were engaged.
Related: 20 Best Reality TV Shows Right Now
Christine Got Married To David Woolley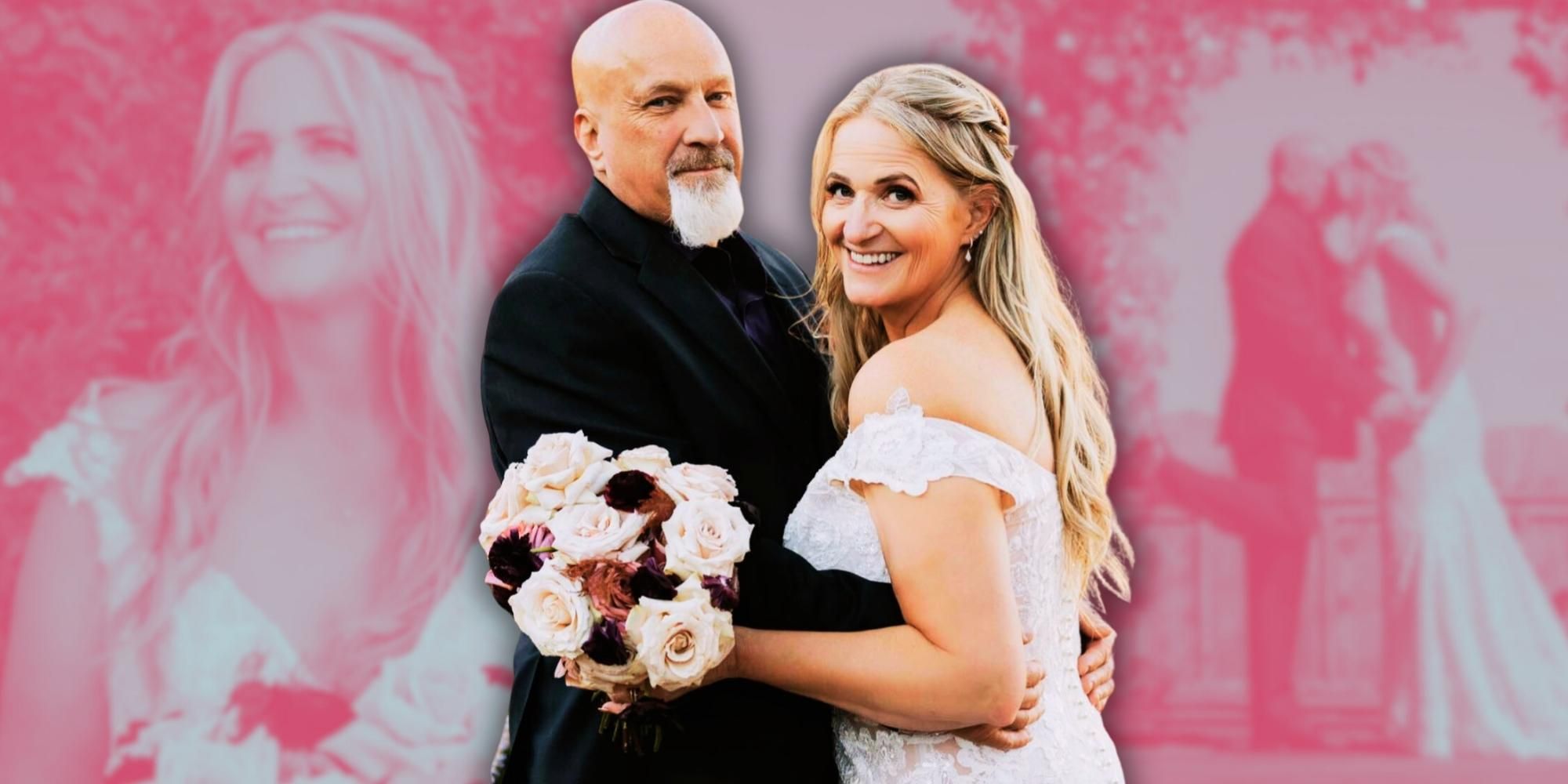 Christine tied the knot with David on October 7, 2023. The ceremony took place in Moab, Utah, in front of 330 guests, according to People. Christine was only "spiritually" wed to Kody, so her marriage to David was her first legal union. Christine described her wedding as a "fairytale" and a "dream come true." Christine looked youthful in her off-shoulder wedding gown with delicate floral embroidery. Meanwhile, David looked dapper in his formal black suit with a deep purple shirt. Christine shared photos from her wedding day on Instagram. She captioned her post, "I'm so blessed! I've married my best friend."
Christine Went On A Cruise With David & Janelle Joined Them
Christine shared several photos of her cruise ship adventure with David on an Instagram carousel a month after their wedding. The newlyweds posed on the ship's deck in one picture, while David kissed his wife, and she embraced him. Another picture showed them enjoying a fun dinner with the ocean view in the background. Another new post revealed Janelle joined Christine and David on their vacation. Janelle smiled as she posed next to David and Christine on the ship's deck. "In the very beginning of our relationship, I told David that Janelle and her kids are part of me," Christine said about Janelle in her caption.
Her Daugther Gwendlyn Brown Got Married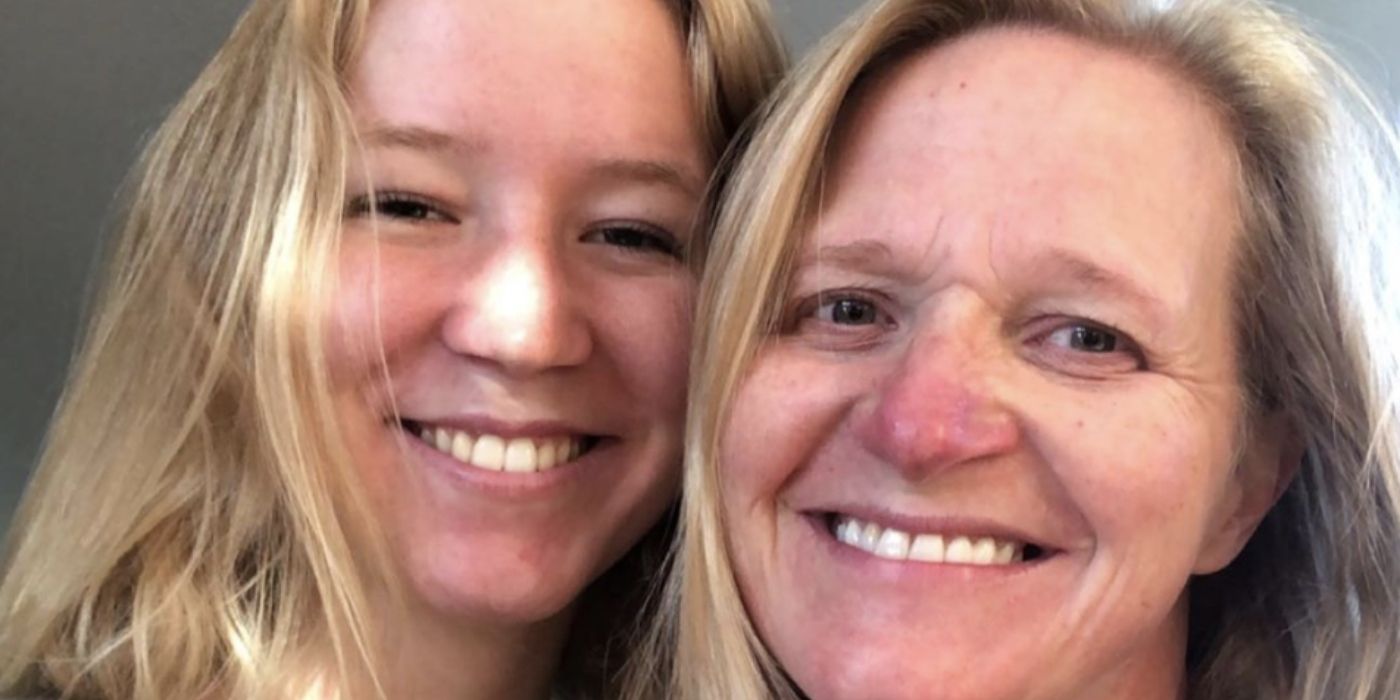 Christine's 21-year-old daughter Gwendlyn Brown married her partner Beatrix Queiroz in an intimate ceremony in Flagstaff, Arizona, on July 15, 2023. Gwen had met Beatrix while working at a fast-food restaurant. Gwen had a crush on Beatrix for a year before they started dating. They were engaged within six months of dating when Beatrix proposed to Gwen during a romantic snow-covered picnic date. They made their relationship Instagram official in May 2022.
Sister Wives airs Sundays at 10 p.m. EST on TLC.
Sources: People, Christine Brown/Instagram, Christine Brown/Instagram, Christine Brown/Instagram, Gwendlyn Brown/Instagram
Sister Wives

Cast:

Kody Brown, madison Brown, Janelle Brown, Tamron Hall, Aspyn Brown, Robyn Brown, Andrea Canning, Gwendlyn Brown, Meri Brown, Logan Brown, Christine Brown, Sukanya Kirshnan

Main Genre:

Reality

Genres:

Reality TV, Drama

Rating:

TV-PG

Seasons:

16

Summary:

Sister Wives follows the brown family, which observes polygamist practices. Headed by Kody Brown as the father, he and his four wives and their 18 children have moved across the United States, from Utah to Nevada and Arizona. Kody and his wives have secret marriages, as polygamy is illegal. Still, the show follows the family as it covers the trials and tribulations of four wives that split their familial duties of themselves amongst one husband and eighteen children. The children themselves are a significant focus of Sister Wives, as it also focuses on the challenges the children face due to their home life.Sister Wives attempts to dispel negative stereotypes around polygamy, as it aired around 2010 when the general public commonly discussed the topic in the United States. The four Brown wives agreed to participate in the show to accomplish this goal, and TLC continues to chronicle the family's life over a decade later.

Website:

https://go.tlc.com/show/sister-wives-tlc

Cinematographer:

Doug Monroe, Callan Griffiths, Richard Alexander Walkling, Anthony Derosa, Matthew Thompson, Ray Farmer

Distributor:

TLC

Filming Locations:

Nevada, Utah, Arizona

Main Characters:

Timothy Gibbons, Kirk Streb, Deanie Wilcher, Christopher Poole, Bill Hayes

Producer:

Deanie Wilcher

Production Company:

Puddle Monkey Productions, Figure 8 Films

Number of Episodes:

167